International Journal of Hybrid Intelligence
This journal also publishes Open Access articles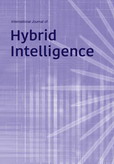 Editor in Chief

Prof. Siddhartha Bhattacharyya

ISSN online

2515-4281

ISSN print

2515-4273
4 issues per year

IJHI focuses on the role of the hybrid intelligence paradigm in the modern context of rapidly evolving technologies. Hybrid intelligent systems research aims to develop state-of-the-art devices for implementing efficient hybrid intelligent algorithms for pattern recognition, sensors and networks, social networks and computational intelligence. It also aims to foster the development of intelligent human-centric computer interfaces in areas including portfolio management, network security, ubiquitous computing and cloud computing. IJHI provides comprehensive and up-to-date coverage in this research field.
Topics covered include
Hybrid intelligent information systems
Quantum-inspired intelligent information processing
Signal processing, image processing and pattern recognition
Data mining, data warehousing and bioinformatics
Information security, network security and steganography
Sensor networks
Grid, cloud and high-speed/performance computing
Microwave IC, antennas and wave propagation
VLSI, embedded systems and hardware design/implementation
Social networks
Industrial control and monitoring
Mobile computing
Virtual reality and augmented reality
Internet of Things and big data analytics
Portfolio management
More on this journal...
Objectives
The primary objective of IJHI is to provide comprehensive coverage and understanding of cutting-edge research in fields as diverse as computational intelligence, network security, mobile and ubiquitous computing, social networks, and other interdisciplinary areas that contribute to efficient and robust information system design. Moreover, IJHI aims to broaden the overall body of knowledge regarding how the hybrid intelligence paradigm builds upon existing technological innovations and is characterised by systems and technologies that are embedded and adaptive in nature.
Readership
IJHI provides a vehicle to help professionals, academics and researchers working in the field of hybrid intelligent system design and development to disseminate information and to learn from each other's work.
Contents
IJHI publishes original papers, review papers, technical reports, case studies and book reviews. Special Issues devoted to important topics in hybrid intelligence will occasionally be published.
Editor in Chief
Bhattacharyya, Siddhartha, Rajnagar Mahavidyalaya, India
(dr.siddhartha.bhattacharyyagmail.com)
Editor
Koeppen, Mario, Kyushu Institute of Technology, Japan
Associate Editors
Behrman, Elizabeth, Wichita State University, USA
Bobyr, Maxim V., Southwest State University, Russian Federation
Gorbachev, Sergey, National Research Tomsk State University, Russian Federation
Hassanien, Aboul Ella, Cairo University, Egypt
Muhammad, Khan, Sejong University, South Korea
Nakamatsu, Kazumi, IRNet International Academic Communication Center and Hokkaido Hair Dressing and Beauty Welfare Association, Japan
Advisory Board
Alippi, Cesare, Politecnico di Milano and Universita' della Svizzera Italiana, Italy
Babulak, Eduard, Fort Hays State University, USA
Coello Coello, Carlos A., CINVESTAV-IPN, Mexico
Gao, Xiao-Zhi, University of Eastern Finland, Finland
Pedrycz, Witold, University of Alberta, Canada
Editorial Board Members
Ahmed, Shakeel, King Faisal University, Saudi Arabia
Almushleh, Mohammad Ibrahim, Al-Baha University, Saudi Arabia
Banati, Hema, Dyal Singh College,University of Delhi, India
Bhatia, Surbhi, King Faisal University, Saudi Arabia
Chatterjee, Amlan, California State University Dominguez Hills, USA
Chatterjee, Prasenjit, MCKV Institute of Engineering, India
Das, Rik, Xavier Institute of Social Service, India
Dasgupta, Kousik, Kalyani Government Engineering College, India
De, Debashis, Maulana Abul Kalam Azad University of Technology, West Bengal, India
Ghobaei-Arani, Mostafa, Islamic Azad University, Iran
Klepac, Goran, Algebra University College, Croatia
Milanova, Mariofanna, University of Arkansas at Little Rock, USA
Mukherjee, Anirban, RCC Institute of Information Technology, India
Platos, Jan, VSB - Technical University of Ostrava, Czech Republic
Rahouma, Kamel Hussein Abdel Razik, Minia University, Egypt
Raja, S.P., Vellore Institute of Technology, India
Souri, Alireza, Haliç University, Turkey
Zhang, Tengfei, Nanjing University of Posts and Telecommunications, China
A few essentials for publishing in this journal
Submitted articles should not have been previously published or be currently under consideration for publication elsewhere.
Conference papers may only be submitted if the paper has been completely re-written (more details available here) and the author has cleared any necessary permissions with the copyright owner if it has been previously copyrighted.
Briefs and research notes are not published in this journal.
All our articles go through a double-blind review process.
All authors must declare they have read and agreed to the content of the submitted article. A full statement of our Ethical Guidelines for Authors (PDF) is available.
There are no charges for publishing with Inderscience, unless you require your article to be Open Access (OA). You can find more information on OA here.



Submission process

All articles for this journal must be submitted using our online submissions system.
View Author guidelines.