International Journal of Forensic Engineering and Management
This journal also publishes Open Access articles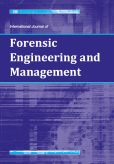 Editor in Chief

Dr. M. Affan Badar

ISSN online

1479-3091

ISSN print

1478-1476
4 issues per year

IJFEM provides a refereed source of information on failure in technical and societal systems. The journal specifically recognizes the interplay of engineering and management in the causation and prevention of failures.
Topics covered include
Politics of standards, change and innovation
Development of proactive quality management in organisations, innovation and societies
Design of experiments and learning
Knowledge and project management in innovation
Tools and processes to detect management and engineering failures
Inter-project and organisational learning
Reflection and risk in innovation
System engineering and management
Development and refinement of failure management tools and techniques
Managing failure databases and analysis
Safety and risk management
Failure tolerance and training
Insurance, liability and legal issues
Emergency response systems
Failure-based innovation and learning
More on this journal...
Objectives
The aim of IJFEM is to further societal progress through technological and organisational improvements and innovation, and to establish channels of communication between relevant academics and research experts, policy makers and executives in industry, commerce and government institutions.
Readership
Professionals, academics, researchers and policy makers.
Contents
The IJFEM publishes original papers, review papers, case studies, conferences reports, relevant technology and management reports, news, book reviews and notes. Commentaries on papers and reports published in the journal are encouraged. Authors will have the opportunity to respond to a commentary on their work before the entire treatment is published.
Editor in Chief
Badar, M. Affan, Indiana State University, USA
(m.affan.badarindstate.edu)
Regional Editor for Australasia and the Pacific
Iyer-Raniga, Usha, RMIT University, Australia
Editorial Board Members
Al-Shamma'a, Ahmed, Liverpool John Moores University, UK
Bulsara, Hemantkumar, S.V. National Institute of Technology (SVNIT), India
Chattopadhyaya, Somnath, Indian Institute of Technology (Indian School of Mines), India
Das, Kanchan, East Carolina University, USA
Dweiri, Fikri, University of Sharjah, United Arab Emirates
Garg, Dixit, National Institute of Technology, India
Misnan, Mohd Saidin, Universiti Tecknologi Malaysia, Malaysia
Mohamed Ismail, Mohamed Wahab, Ryerson University, Canada
Muzammil, M., Aligarh Muslim University, India
Sachdeva, Anish, Dr B R Ambedkar National Institute of Technology (NIT), Jalandhar, India
Sertyesilisik, Begum, Izmir Democracy University, Turkey
Shamsuzzaman, Mohammad, University of Sharjah, United Arab Emirates
Sharma, Vinay, Birla Institute of Technology, India
A few essentials for publishing in this journal
Submitted articles should not have been previously published or be currently under consideration for publication elsewhere.
Conference papers may only be submitted if the paper has been completely re-written (more details available here) and the author has cleared any necessary permissions with the copyright owner if it has been previously copyrighted.
Briefs and research notes are not published in this journal.
All our articles go through a double-blind review process.
All authors must declare they have read and agreed to the content of the submitted article. A full statement of our Ethical Guidelines for Authors (PDF) is available.
There are no charges for publishing with Inderscience, unless you require your article to be Open Access (OA). You can find more information on OA here.



Submission process

All articles for this journal must be submitted using our online submissions system.
View Author guidelines.