International Journal of Economic Policy in Emerging Economies
An Open Access-only journal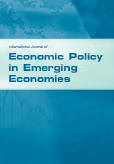 Editor

Prof. Bruno S. Sergi

ISSN online

1752-0460

ISSN print

1752-0452
8 issues per year


CiteScore

2.1 (2022)

IJEPEE is at the forefront of analysing the economic development of emerging economies in the global context, fostering discussion on research with significant, long-term impact. It explores the causal factors, potential and limits of economic policy in Eastern Europe, Eurasia, Africa, Asia, Latin America and the Middle East, projecting possible economic developments in the light of growing opportunities. Booming markets, massive potential for local consumer markets and abundant low-cost labour make emerging economies key players in international trade and business.
IJEPEE is an Open Access-only journal and article processing charges (APCs) apply.
Topics covered include
Microeconomics
Macroeconomics
Monetary economics
Labour markets
Investment
Business
Industrial policy
Central banking
Commercial banks
Exchange rates
Open economy macroeconomics
Finance and financial markets
International trade
Economic integration
More on this journal...
Objectives
The objectives of
IJEPEE
are to provide a global platform to facilitate communication between policy makers, academics, scholars, international economic organisations and consultants working on the issues of interest to newly emerging countries. Given a rapidly changing field,
IJEPEE
encourages original scientific contributions on policy relevant analysis and articles which are empirical in nature, with emphasis on the application of modern economic theory and methods of quantitative analysis. It applies a rigid peer-reviewed approach, which aims to publish only very selective, substantive new empirical, methodological and theoretical research.
Readership
IJEPEE provides a vehicle to help researchers and policy makers, experts working at international organisations, and academic institutions. The journal provides a forum for discussion of issues of interest to an international readership.
Contents
IJEPEE publishes original papers, review papers, technical reports, case studies, conference reports, and book reviews. The journal will regularly publish special issues.
Editor
Sergi, Bruno S., University of Messina, Italy
(bsergiunime.it)
Managing Editors
Pamungkas, Putra, Universitas Sebelas Maret, Indonesia
Trinugroho, Irwan, Universitas Sebelas Maret (UNS), Indonesia
Associate Editors
Balashova, Svetlana, Peoples' Friendship University of Russia (RUDN University), Russian Federation
Tiwari, Aviral Kumar, Indian Institute of Management Bodh Gaya, India
Volgina, Natalia, Peoples' Friendship University of Russia (RUDN University), Russian Federation
Editorial Board Members
Andreff, Wladimir, Université Paris 1 Pantheon Sorbonne, France
Chawluk, Antoni, University of Oxford, UK
Chetvernina, Tatiana, State University Higher School of Economics, Russian Federation
Courakis, Anthony S., Permanent Delegation of Greece to the OECD, France
Fuentes García, Fernando J., University of Córdoba, Spain
Galgoczi, Bela, European Trade Union Institute, Belgium
Högselius, Per, Lund University, Sweden
Inotai, András, Hungarian Academy of Sciences, Hungary
Isachenko, Tatiana M., Moscow State Institute of International Relations (MGIMO), Russian Federation
Jaber, Khalifa Hmood, Al Falah University, United Arab Emirates
Jena, Pabitra Kumar, Shri Mata Vaishno Devi University, India
Kernohan, David, Middlesex University Business School, UK
Korpysa, Jarosław, University of Szczecin, Poland
Limosani, Michele, University of Messina, Italy
Mallick, Sushanta, Queen Mary, University of London, UK
Matousek, Roman, Queen Mary University of London, UK
Navarra, Pietro, University of Messina, Italy
O'Sullivan, Patrick, Grenoble School of Management, France
Petrevski, Goran, Ss. Cyril and Methodius University, North Macedonia
Popkova, Elena G., Moscow State Institute of International Relations, Russian Federation
Sawyer, W. Charles, Texas Christian University, USA
Sengenberger, Werner, 7 Les Collines de Pitegny, France
Šević, Željko, Universiti Utara Malaysia, Malaysia
Sironi, Emiliano, Catholic University of the Sacred Heart, Italy
Soufani, Khaled, University of Cambridge, UK
Stefanov, Stefan, New Bulgarian University , Bulgaria
Sutela, Pekka, Institute for Economies in Transition (BOFIT), Finland
Tikhomirov, Vladimir, UralSib Finance Corporation, Russian Federation
Vinokurov, Evgeny, Eurasian Development Bank, Kazakhstan
Walter, Ingo, New York University, USA
Yakovlev, Andrei, State University - Higher School of Economics, Russian Federation
A few essentials for publishing in this journal
Submitted articles should not have been previously published or be currently under consideration for publication elsewhere.
Conference papers may only be submitted if the paper has been completely re-written (more details available here) and the author has cleared any necessary permissions with the copyright owner if it has been previously copyrighted.
Briefs and research notes are not published in this journal.
All our articles go through a double-blind review process.
All authors must declare they have read and agreed to the content of the submitted article. A full statement of our Ethical Guidelines for Authors (PDF) is available.
This is an Open Access-only journal. There is an article processing charge of US $1500 to publish in this journal. You can find more information on Open Access here. Authors who have submitted articles prior to 14 July, 2022 will still have a choice of publishing as a Standard or an Open-Access article.


It is essential that authors basing their papers on datasets use the most up-to-date available. Papers based on outdated datasets will be rejected.
If using their own dataset, authors are required to
° deposit their research data in a relevant data repository
° cite and link to this dataset in their article. If this is not possible, please add
a statement explaining why the research data cannot be shared.
Submission process
All articles for this journal must be submitted using our online submissions system.
View Author guidelines.