International Journal of Entertainment Technology and Management
This journal also publishes Open Access articles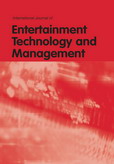 Editor in Chief

Prof. George F. Fragulis

ISSN online

1741-8046

ISSN print

1475-8954
4 issues per year

IJEntTM covers and disseminates the rapidly growing research and application domain of entertainment technology and management. In the knowledge society, entertainment is a key pillar towards a new era of human experience and transcendence supported by new media. Within this context, IJEntTM addresses an emerging discipline which stands in the converging domains of high tech and new media. In IJEntTM, entertainment management stands for the "holistic approach to interactivity as being the dominant transformation enhanced by digital media".
Topics covered include
Infotainment, edutainment
Digital interactivity, interactive TV, virtual/augmented reality
Gameplay design, mobile gaming
Persistent worlds, alternative reality gaming
Ubiquitous computing, responsive environments
Affective/haptic interfaces, tangible media
3D modelling, animation technology
Constructionist learning technologies
Digital psychodrama/therapeutic entertainment technologies
Sociable media
Inspirational interfaces, computational aesthetics
Interactive animatronic robotics
Remix design
Transmedia storytelling, viral/guerrilla marketing
Social/cultural issues in media production
More on this journal...
Objectives
The statement above provides the key differentiation of the journal and its unique value proposition. IJEntTM aims to become the leading scholarly edition covering multiple areas and disciplines by developing and diffusing knowledge in horizontal and vertical pillars.
It investigates entertainment technology and management issues in different contexts; it promotes in horizontal lines the different views of entertainment management by structuring a scientific debate featuring the participation of new kinds of interactive media industries and researchers.
Readership
IJEntTM aims to establish value-adding knowledge transfer and personal development channels in three distinctive areas: academia, industry and society, which summarise the three pillars in which a new scientific publication can play a significant role.
Contents
IJEntTM publishes original papers, review papers, technical reports, case studies, conference reports, management reports, book reviews, notes, commentaries and news. Special Issues devoted to important topics will occasionally be published.
IJENTTM is indexed in:
IJENTTM is listed in:

This journal is yet to be included in any lists or directories.

Editor in Chief
Fragulis, George F., University of Western Macedonia, Greece
(gfragulisuowm.gr)
Associate Editors
Dhou, Khaldoon, Texas A&M University, USA
Vrana, Vasiliki, International Hellenic University, Greece
Regional Editor Asia
Roy, Debopriyo, University of Aizu, Japan
Editorial Board Members
Antoniadis, Ioannis, University of Western Macedonia, Greece
Barin, Claudia Smaniotto, Universidade Federal de Santa Maria, Brazil
Bartel, Alexander, Kempten University of Applied Sciences, Germany
Bekhiti, Belkacem, University M'Hamed Bougara of Boumerdes, Algeria
Bertacchini, Francesca, University of Calabria, Italy
Caci, Barbara, University of Palermo, Italy
Casas, David Lizcano, Madrid Open University, Spain
David, H. Benjamin Fredrick, K.R. College of Arts and Science, India
Ferraz de Abreu, Jorge Trinidad, Universidade de Aveiro, Portugal
Gabriele, Lorella, University of Calabria, Italy
García-Luna Romero, Ana Cristina, University of Monterrey, Mexico
Ghaban, Wad, Tabuk University, Saudi Arabia
Horváth, Ildikó, Széchenyi István University, Hungary
Lappas, George, University of Western Macedonia, Greece
Lopes, Phil, École Polytechnique Fédérale de Lausanne, Switzerland
Machajewski, Szymon, Grand Valley State University, USA
Meletiou-Mavrotheris, Maria, European University Cyprus, Cyprus
Mishra, Krishn Kumar, Motilal Nehru National Institute of Technology Allahabad, India
Oliveira, Wilk, University of São Paulo, Brazil
Pham, Quoc Trung, Ho Chi Minh City University of Technology (VNU-HCM), Vietnam
Saprikis, Vaggelis, University of Western Macedonia, Greece
Shohieb, Samaa, Mansoura University, Egypt
Solorzano Alcivar, Nayeth Idalid, Escuela Superior Politécnica del Litoral, Ecuador
Tachie-Menson, Akosua, Kwame Nkrumah University of Science and Technology, Ghana
Tsintotas, Konstantinos, Democritus University of Thrace, Greece
Zheng, Yong, Illinois Institute of Technology, USA
A few essentials for publishing in this journal
Submitted articles should not have been previously published or be currently under consideration for publication elsewhere.
Conference papers may only be submitted if the paper has been completely re-written (more details available here) and the author has cleared any necessary permissions with the copyright owner if it has been previously copyrighted.
Briefs and research notes are not published in this journal.
All our articles go through a double-blind review process.
All authors must declare they have read and agreed to the content of the submitted article. A full statement of our Ethical Guidelines for Authors (PDF) is available.
There are no charges for publishing with Inderscience, unless you require your article to be Open Access (OA). You can find more information on OA here.



Submission process

All articles for this journal must be submitted using our online submissions system.
View Author guidelines.