International Journal of Economics and Accounting
This journal also publishes Open Access articles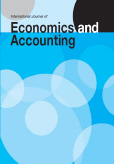 Editor in Chief

Prof. Tony Tinker

ISSN online

2041-8698

ISSN print

2041-868X
4 issues per year

IJEA promotes academic debates on the status quo, aiming to bridge disciplines, theory and practice. Audit and accounting/financial failures instigated the recent economic and financial crisis, triggering the worldwide recession. These factors require ongoing investigation to alleviate the present crises and help avert the next one. Beyond the immediate crisis, economic policies, accounting and auditing affect the stability of major institutions and even national and international economies, with the centre of gravity of the industrial sector in constant transition.
Topics covered include
Accounting/auditing in economic/financial crises
Accounting within the global economy, climate change
Definitions/origins of accounting
Business theories/models, early economic theories
Political economy, exercise of power
International capital markets/accounting/regulations
Reporting impact on stock market instabilities
Accounting/auditing and money laundering's impact on economies
Regulation of national/international banking
Accounting and the labour process
Government functions'accountability
Accounting history; as social memory
Accounting/democracy in the workplace
International relations (e.g. Third World debt)
Gender/class conflicts
More on this journal...
Objectives
The objective of IJEA is to establish an effective channel of communication between policy makers, government agencies, academic and research institutions and persons concerned with the complex role of economics and accounting in society. The international dimension is emphasised in order to overcome cultural and national barriers and to meet the needs of accelerating technological and ecological change and changes in the global economy.
Readership
IJEA provides a vehicle to help professionals, academics, researchers and policy makers working in the fields of economics, accounting, managerial accounting and business education to disseminate information and to learn from each other's work. Our focus is on bringing scholars from emerging markets together with those from Europe and the USA.
Contents
IJEA publishes original double-blind refereed papers, Special Issues and case studies.
Editor in Chief
Tinker, Tony, Baruch College at the City University of New York, USA
(tony.tinkergmail.com)
Editors
Elad, Charles, University of Westminster, UK
Sy, Aida, Farmingdale State College, USA
Editorial Board Members
Arnold, Vicky, University of Central Florida, USA
Aronowitz, Stanley, City University of New York, USA
Arrington, Edward, North Carolina at Greensboro, USA
Asuman, Atik, Marmara University, Turkey
Balachandran, Bala, South Bank University, UK
Bastida, Francisco, University of Murcia, Spain
Bean, David, Iona College, USA
Benito, Bernardino, University of Murcia, Spain
Bettner, Mark, Bucknell University, USA
Bricard, Agnes, Cabinet ABC Audit Bilan Conseil, France
Briggs, Susan, University of South Australia, Australia
Briloff, Abe, Baruch College at the City University of New York, USA
Cherry, Alan, Loyola Marymount University, USA
Colasse, Bernard, University of Paris-Dauphine, France
De Lange, Paul, RMIT University, Australia
Degos, Jean-Guy, Montesquieu University, France
Donleavy, Gabriel, University of Western Sydney, Australia
Ferreira, Leonor, Universidade Nova de Lisboa, Portugal
Formigoni, Henrique, Presbyterian University Mackenzie, Brazil
Fuerman, Ross, Suffolk University, USA
Gaffikin, Michael, University of Wollongong, Australia
Imoniana, Joshua Onome, University of São Paulo, Brazil
James, Kieran, University of the West of Scotland, UK
Lawrence, Stewart, University of Waikato, New Zealand
Leech, Stewart, University of Melbourne, Australia
Mickhail, George, University of Wollongong, Australia
O'Connell, Brendan, RMIT University, Australia
Ollman, Bertell, New York University, USA
Ouvrard, Stephane, Montesquieu Bordeaux IV University, France
Owolabi, Akintola, Pan-African University, Nigeria
Peace, Bob, North Carolina State University, USA
Pesqueux, Yvon, C.N.A.M., France
Sawabe, Norio, Kyoto University, Japan
Simyar, Farhad, Chicago State University, USA
Smith, L. Murphy, Texas A&M University-Corpus Christi, USA
Vasarhelyi, Miklos, Rutgers, The State University of New Jersey, USA
A few essentials for publishing in this journal
Submitted articles should not have been previously published or be currently under consideration for publication elsewhere.
Conference papers may only be submitted if the paper has been completely re-written (more details available here) and the author has cleared any necessary permissions with the copyright owner if it has been previously copyrighted.
Briefs and research notes are not published in this journal.
All our articles go through a double-blind review process.
All authors must declare they have read and agreed to the content of the submitted article. A full statement of our Ethical Guidelines for Authors (PDF) is available.
There are no charges for publishing with Inderscience, unless you require your article to be Open Access (OA). You can find more information on OA here.



Submission process

All articles for this journal must be submitted using our online submissions system.
View Author guidelines.