International Journal of Collaborative Intelligence
This journal also publishes Open Access articles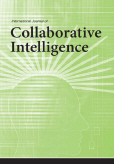 Editor in Chief

Prof. Shifei Ding

ISSN online

2051-7130

ISSN print

2051-7122
4 issues per year

Collaborative intelligence is an interdisciplinary subject involving topics from cognitive science, neuroscience, intelligence science and information science, among others. IJCI proposes and fosters discussion on the development and evolution of artificial intelligence and machine intelligence. This perspective acknowledges the nature of the research in collaborative intelligence.
Topics covered include
Cognitive science
Neuroscience
Information science
Intelligence science
Artificial intelligence
Machine intelligence
Human-machine cooperation
Machine learning and pattern recognition
Data mining and knowledge discovery
Swarm intelligence and optimisation
Computational intelligence
Granular computing and cloud computing
Integration of aspects of intelligence
More on this journal...
Objectives
The objectives of IJCI are to establish an effective channel of communication between researchers, scientists, engineers and persons concerned with the progress of collaborative intelligence and to promote and coordinate developments in the field. The primary aim of the journal is to publish high-quality papers on new developments and progress with novel techniques and approaches in the theory and applications of collaborative intelligence.
Readership
IJCI provides a vehicle to help professionals, academics, researchers and policy makers working in the field of collaborative intelligence and its constituent disciplines to disseminate information and to learn from each other's work.
Contents
IJCI publishes original papers, review papers, technical reports, case studies and book reviews. Special Issues devoted to important topics on collaborative intelligence will occasionally be published.
Editor in Chief
Ding, Shifei, China University of Mining and Technology, China
(ijci_dingsf163.com)
Editorial Board Members
Boongoen, Tossapon, Royal Thai Air Force Academy, Thailand
Chen, Ke, University of Manchester, UK
Dylla, Frank, University of Bremen, Germany
Huang, Guang-Bin, Nanyang Technological University, Singapore
Jain, Vishal, Bharati Vidyapeeth's Institute of Computer Applications and Management (BVICAM), India
Leake, David, Indiana University Bloomington, USA
Li, Lihua, Hangzhou Dianzi University, China
Meena, Purushottam Lal, College of Charleston, USA
Milani, Alfredo, University of Perugia, Italy
Neri, Filippo, University of Naples Federico II, Italy
Pahariya, Yogesh, Technocrat Institute of Technology & Science, India
Shi, Zhongzhi, Chinese Academy of Sciences, China
Si, Bailu, Weizmann Institute of Science, Israel
Tseng, Vincent Shin-Mu, National Cheng Kung University, Taiwan, Province of China
Vadera, Sunil, University of Salford, UK
Weng, Juyang, Michigan State University, USA
Wu, Si, Beijing Normal University, China
Yang, Qiang, Hong Kong University of Science and Technology, Hong Kong SAR, China
Yao, Yiyu, University of Regina, Canada
Zhang, Tong, Rutgers University, USA
Zhang, Yanchun, Victoria University, Australia
Zhong, Ning, Maebashi Institute of Technology, Japan
Zhou, Changle, Xiameng University, China
Zhou, Zhihua, Nanjing University, China
A few essentials for publishing in this journal
Submitted articles should not have been previously published or be currently under consideration for publication elsewhere.
Conference papers may only be submitted if the paper has been completely re-written (more details available here) and the author has cleared any necessary permissions with the copyright owner if it has been previously copyrighted.
Briefs and research notes are not published in this journal.
All our articles go through a double-blind review process.
All authors must declare they have read and agreed to the content of the submitted article. A full statement of our Ethical Guidelines for Authors (PDF) is available.
There are no charges for publishing with Inderscience, unless you require your article to be Open Access (OA). You can find more information on OA here.



Submission process

All articles for this journal must be submitted using our online submissions system.
View Author guidelines.