International Journal of Competitiveness
This journal also publishes Open Access articles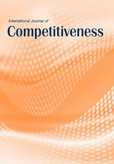 Editor in Chief

Prof. Mark Esposito

ISSN online

2056-9440

ISSN print

2056-9432
4 issues per year

IJC researches the broad scope of competitiveness policies and practices across regions of the world. With emphasis on mechanisms of economic development, creation of prosperity and long-term sustainable development, IJC aspires to represent both theoretical and applied frameworks of research, at both macro and micro levels. The journal stems from the work conducted by Professor Michael Porter at the Institute of Strategy and Competitiveness and the best practices emerging from the Microeconomics of Competitiveness framework.
Topics covered include
National competitiveness
Regional competitiveness
Urban and sub-urban competitiveness
Economic development and economic theory of growth
Aggregate economics
Economic geography
Policies for clusters
Agglomerate versus clusters tension
Microeconomics of competitiveness
Economic complexity and integrated economic systems
Economic policy for regional development
More on this journal...
Objectives
The objective of IJC is to advance the trans-disciplinary nature of competitiveness of nations, regions and cities. The journal aspires to broaden the debate of competitiveness at a sub-national, national and international level, while bringing together researchers from diverse geographies to share their insights about competitiveness policy and research. Insights from people across diverse disciplines on issues of importance will be integrated to better facilitate the ease of doing business and boost competitiveness.
Readership
Professionals, academics, researchers, managers, policy makers and advisors, public servants and government officials.
Contents
IJC publishes papers that are able to show how competitiveness relates to a number of disciplines capable of building both macro and micro economic reflections. It promotes a pragmatic and easy-to-read jargon-free style, and encourages papers that develop frameworks and discover the impact of policy on the definition of processes that nurture the nexus between business, government and society, seen through the lens of competitiveness. The journal will also publish rigorously selected case studies, qualitative, quantitative and mixed methodology papers, across the spectrum of competitiveness and policy advising for clusters.
Editor in Chief
Esposito, Mark, Hult International Business School and Harvard University, USA
(markespositog.harvard.edu)
Editor
Tse, Terence, ESCP Europe, UK
Managing Editor
Kapoor, Amit, Institute for Competitiveness and Council for Competitiveness, India
Associate Editors
Soufani, Khaled, University of Cambridge, UK
Vecchi, Veronica, Bocconi University, Italy
Regional Editor Asia
Kuah, Adrian, James Cook University, Singapore
Regional Editor Europe
O'Sullivan, Patrick, Grenoble School of Management, France
Regional Editor Americas
Ramirez, Jorge Vallejo, Harvard Business School, USA
Editorial Board Members
Alberti, Fernando G., LIUC Università Cattaneo, Italy
Caselli, Stefano, Universita' Bocconi, Italy
Cateura, Olivier, EM Lyon Business School, France
Chailan, Claude, École de Management Strasbourg, France
Coletti, Michele, Grenoble School of Management, France
Collazzo, Pablo, WU Vienna University of Economics and Business, Austria
Di Serio, Luiz C., Fundação Getulio Vargas (FGV), Brazil
Doyle, Eleanor, University College Cork, Ireland
Fragoudakis, Roselita, Merrimack College, USA
Goyal, Sandeep, Institute for Competitiveness, India
Grasso, Filippo, University of Messina, Italy
Groth, Olaf, Hult International Business School and University of California Berkeley, USA
Halkias, Daphne, École des Ponts ParisTech, France
Korchagina, Nataliya, University of Toronto, Canada
Martin, Eric Christopher, Bucknell University, USA
Min, Maung K., Penn State University Lehigh Valley, USA
Pizzurno, Emanuele, LIUC Università Cattaneo, Italy
Prado, Julio-Jose, IDE Business School, Ecuador
Rattalino, Francesco, ESCP Europe, Italy
Reve, Torger, BI Norwegian Business School, Norway
Selim, Tarek H., American University in Cairo, Egypt
Sergi, Bruno S., University of Messina, Italy
Triki, Leila, Mediterranean School of Business, Tunisia
Van Eenennaam, Fred, Erasmus University, Netherlands
Wang, Yong, University of Wolverhampton, UK
A few essentials for publishing in this journal
Submitted articles should not have been previously published or be currently under consideration for publication elsewhere.
Conference papers may only be submitted if the paper has been completely re-written (more details available here) and the author has cleared any necessary permissions with the copyright owner if it has been previously copyrighted.
Briefs and research notes are not published in this journal.
All our articles go through a double-blind review process.
All authors must declare they have read and agreed to the content of the submitted article. A full statement of our Ethical Guidelines for Authors (PDF) is available.
There are no charges for publishing with Inderscience, unless you require your article to be Open Access (OA). You can find more information on OA here.



Submission process

All articles for this journal must be submitted using our online submissions system.
View Author guidelines.