International Journal of Behavioural and Healthcare Research
This journal also publishes Open Access articles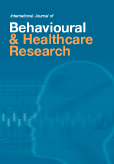 Editor in Chief

Associate Prof. Sivaram Vemuri

ISSN online

1755-3547

ISSN print

1755-3539
4 issues per year

IJBHR addresses a broad range of original experimental and theoretical papers that deal with behavioural and healthcare concerns. It welcomes high-quality papers from scientists in academic and non-academic organisations as well as business and government worldwide. IJBHR is sponsored by the Business and Economics Society International and the Frontiers in Immunology Research Network.
Topics covered include
Healthcare services/business, economics and ethics
Healthcare sociology, insurance
Culture, religion and health
Human resources and education/training
Innovations in healthcare
E-medical records, healthcare information systems
Infectious/chronic diseases
Aging, ambulatory care
Quality and patient safety
Mental, environmental health
Reproductive health
Nutrition
Biomedical research
More on this journal...
Objectives
The objectives of IJBHR are to establish an effective channel of communication between scientists (in academic and non-academic institutions), policy makers, and all concerned with the complex role and importance of behavioral and healthcare inquiries. It also aims to promote developments in the area of scientific resources ranging from engineering of new tools and R&D funding to education. The international dimension is emphasised in order to overcome cultural and national barriers and to meet the needs of accelerating global and ecological changes.
Readership
IJBHR provides a means to help professionals, academics, researchers and policy makers, concerned with behavioral and healthcare issues in laboratories, relevant industries, governmental and non-governmental institutions, with their efforts to disseminate information and to learn from each other's work.
Contents
IJBHR publishes original papers, review papers, case studies, notes, commentaries, reports relating to technology and education, and book reviews. Special Issues devoted to themes in vogue will occasionally be published.
Honorary Editor
Kantarelis, Demetri, Assumption University, USA
Editor in Chief
Vemuri, Sivaram, Charles Darwin University, Australia
(svemuri935gmail.com)
Associate Editors
Manolopoulos, Chistos, University of Patra, Greece
Mirmirani, Sam, Bryant University, USA
Pires, Guilherme D., University of Newcastle, Australia
Editorial Board Members
Abhyankar, Ashok, Waikato District Health Board, New Zealand
Anastasiou, Athanasios, University of Peloponnese, Greece
Asadoorian III, Malcolm O., Lynn University, USA
Berry, Helen, University of Brighton, UK
Das, Priti, SCB Medical College and Hospital, India
De Marcellis-Warin, Nathalie, Ecole Polytechnique de Montréal, Canada
Demediuk, Peter, Victoria University, Australia
Hedge, Jerry W., Organizational Solutions Group, USA
Laouisset, Djamel Eddine, Northeastern Institute of Technology, Algeria
Rodosthenous, Nicos, CDA College Cyprus, Cyprus
Solli, Rolf, Göteborg University, Sweden
Villaverde, Sonia M.N., Lynn University, USA
Zanca, Nürşen A., University of the Incarnate Word, USA
A few essentials for publishing in this journal
Submitted articles should not have been previously published or be currently under consideration for publication elsewhere.
Conference papers may only be submitted if the paper has been completely re-written (more details available here) and the author has cleared any necessary permissions with the copyright owner if it has been previously copyrighted.
Briefs and research notes are not published in this journal.
All our articles go through a double-blind review process.
All authors must declare they have read and agreed to the content of the submitted article. A full statement of our Ethical Guidelines for Authors (PDF) is available.
There are no charges for publishing with Inderscience, unless you require your article to be Open Access (OA). You can find more information on OA here.



Submission process

All articles for this journal must be submitted using our online submissions system.
View Author guidelines.
Journal news
Assessing and addressing academic burnout
21 September, 2023
A research study in International Journal of Behavioural and Healthcare Research has found a profound connection between the dynamics of the work environment and the widespread problem of burnout syndrome among professors in Brazilian academic institutions. The study considers six key facets of work life outlined by the areas of work life scale (AWS) – workload, control, reward, community, fairness, and values, and uses them to discern insights into their predictive potential of academic burnout. The team of Adriana Porto (Lutheran University of Brazil), Luis Felipe Dias Lopes (Federal University of Santa Maria), and Claudimar Pereira da Veiga (Fundação Dom Cabral) used the Maslach Burnout Inventory General Survey (MBI-GS) tool, which they tailored and calibrated for the Brazilian context, to delve into the measurement of three distinct dimensions of burnout: exhaustion, cynicism, and efficacy [...]
More details...