International Journal of Blockchains and Cryptocurrencies
This journal also publishes Open Access articles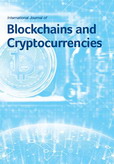 Editor in Chief

Prof. Sam Goundar

ISSN online

2516-6433

ISSN print

2516-6425
4 issues per year

Blockchain and cryptocurrencies are now topics of substantial impact that academia and industry need to contemplate, exploit and adopt. The mission of IJBC is to be the premier resource for the most innovative scholarly and professional research information pertaining to the management and use of blockchains and cryptocurrencies. Its articles will be essential for anyone interested in this area. IJBC is the first journal dedicated to the topic.
Topics covered include
Blockchain
Blockchain applications
Blockchain technologies
Cryptocurrency
Blockchain security
Bitcoin
Bitcoin security
FinTech
Digital currencies
Distributed ledger technologies
Smart contracts
Permissioned ledgers
More on this journal...
Objectives
The main objective of IJBC is to be a primary forum for scholars, researchers and practitioners for the dissemination of knowledge, methodologies, theoretical analyses and modelling, simulation and empirical studies on blockchain technologies and cryptocurrencies. Articles on the evolving theory and practice related to distributed ledger technologies and peer-to-peer digital currencies are intended to provide comprehensive coverage and understanding of their use within technological, business and organisational dimensions. The secondary objective of IJBC is a thorough examination of blockchains and cryptocurrencies with respect to issues of management, governance, trust and privacy, and interoperability.
Readership
The target audience for this journal is academics, IT professionals, researchers, industry professionals, postgraduate-level students, government officials and other practitioners working in this field.
Contents
IJBC publishes original papers, review papers, technical reports, case studies and book reviews. Special Issues devoted to important topics in financial technology will occasionally be published.
Editor in Chief
Goundar, Sam, RMIT University, Vietnam
(sam.goundargmail.com)
Associate Editors
Ahuja, Sanjay, University of North Florida, USA
Al-Saqaf, Walid, Södertörn University, Sweden
Bhardwaj, Akashdeep, University of Petroleum and Energy Studies, India
Garcia, Andréa Romaoli, Instituto Brasileiro de Estudos Tributários, Brazil
Quist-Aphetsi, Kester, Ghana University Technology College, Ghana
Editorial Board Members
Alghamdi, Mohammed, Al-Baha University, Saudi Arabia
Aliu, Florin, Institute of Technology and Business in Ceske Budejovice, Czech Republic
Azrour, Mouarde, Moulay Ismail University of Meknes, Morocco
Baba, Asif Iqbal, Tuskegee University, USA
Babu, Satish, APRALO, ICANN, India
Behera, Tapan Kumar, Forrester Research, USA
Bouhassoune, Kamal, Hassan First University of Settat, Morocco
Cui, Changze, Amazon Web Service, USA
da Cunha, Paulo Rupino, University of Coimbra, Portugal
Da Rosa Righi, Rodrigo, Universidade do Vale do Rio dos Sinos, Brazil
Dhiman, Mayank, Notion, USA
Dubey, Ashutosh Kumar, Chitkara University, India
Echchabi, Abdelghani, Higher Colleges of Technology, United Arab Emirates
Fofack, Achille Dargaud, Rauf Denktaş University, Turkey
Garita, Mauricio, Universidad del Istmo, Guatemala
Gebremeskel, Gebeyehu, Bahir Dar University, Ethiopia
Gururaj, H.L., Manipal Institute of Technology Bengaluru, India
Haqiq, Abdelkrim, Hassan 1st University, Morocco
Kafhali, Said, Hassan 1st University, Morocco
Kanagarajoo, Muralitheran V., Central Queensland University, Australia
Kathiresan, Shankar, Alagappa University, India
Kumar, Randhir, SRM University, AP, India
Kumar, Ravi, Vidyavardhaka College of Engineering, India
Lai, P.C., University Malaya, Malaysia
Ling, Aifan, Jiangxi University of Finance and Economics, China
McKnight, Glenn, Foundation for Building Sustainable Communities, Canada
Moore, Philip, Lanzhou University, China
Nayyar, Anand, Duy Tan University, Vietnam
Nuhiu, Artor, University of Prishtina, Republic of Kosovo
Pandey, Rajiv, Amity University, India
Prabhu, Aniruddha B.P., Cambridge Institute of Technology, India
Raja, S.P., Vellore Institute of Technology, India
Ramljak, Dusan, West Texas A&M University, USA
Reis Furtado, Fabricio, Universidade do Vale do Rio dos Sinos, Brazil
Sahu, Aditya Kumar, Amrita Vishwa Vidyapeetham, India
Sasaki, Elton Eiji, Universidade Federal do Paraná, Brazil
Sathye, Milind, University of Canberra, Australia
Seebaruth, Jason, Tech World Oracle, UK
Upadhyay, Chandra Kant, Manipal University Jaipur, India
Velotto, Giovanni, ABB Corporate Research, Sweden
Vyas, Pranav, Charotar University of Science and Technology, India
Wan, Hong, Purdue University, USA
Yadav, Jitendra, Indian Institute Of Information Technology, India
Zakizadeh, Mahdieh, Islamic Azad University, Iraq
Zareravasan, Ahad, Masaryk University, Czech Republic
A few essentials for publishing in this journal
Submitted articles should not have been previously published or be currently under consideration for publication elsewhere.
Conference papers may only be submitted if the paper has been completely re-written (more details available here) and the author has cleared any necessary permissions with the copyright owner if it has been previously copyrighted.
Briefs and research notes are not published in this journal.
All our articles go through a double-blind review process.
All authors must declare they have read and agreed to the content of the submitted article. A full statement of our Ethical Guidelines for Authors (PDF) is available.
There are no charges for publishing with Inderscience, unless you require your article to be Open Access (OA). You can find more information on OA here.



Submission process

All articles for this journal must be submitted using our online submissions system.
View Author guidelines.