International Journal of Arts and Technology
This journal also publishes Open Access articles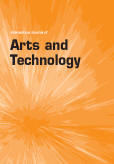 Editor in Chief

Prof. Athanasios Vasilakos

ISSN online

1754-8861

ISSN print

1754-8853
4 issues per year


Impact factor (Clarivate Analytics) 2023

0.6 (5 Year Impact Factor 0.5)
JCI 0.09

CiteScore

0.9 (2022)

IJART addresses arts and new technologies, highlighting computational art. With evolution of intelligent devices, sensors and ambient intelligent/ubiquitous systems, projects are exploring the design of intelligent artistic artefacts. Ambient intelligence supports the vision that technology becomes invisible, embedded in our natural surroundings, present whenever needed, attuned to all senses, adaptive to users/context and autonomously acting, bringing art to ordinary people, offering artists creative tools to extend the grammar of the traditional arts. Information environments will be the major drivers of culture.
Topics covered include
New media arts, science and technology
Interactive/visual theatre, neurobiological base of acting, digital/wearable cinema
Augmented performance in dance
Artificial intelligence-based art practice, web art and postmodernism
Using analysis of artworks in conjunction with AmI to produce novel objects
Using AmI to promote the creativity of a human user
Autonomic sensor networks and wearable computers in the performing arts
Computer vision and optical tracking for music and dance performance
Cognitive intelligence and natural intelligence for the arts
Collaborative distributed environments
Evolutionary art systems that create drawings/images/animations/sculptures/poetry/text
Evolutionary music systems that create musical pieces/sounds/instruments/voices
Choreographing media for interactive virtual environments
New media actors, new media aesthetics
Social and ethical issues in the arts and technology
More on this journal...
Objectives
The objectives of IJART are to address new works, research and performances in the multi-disciplinary emerging area of new technologies and the arts - and to provide a common platform under which this artwork can be published and disseminated. IJART provides a high-quality platform for this purpose.
Readership
IJART provides a vehicle to help professionals, academics, researchers ,artists, museum curators, and graduate students working in the field of arts and technology, to disseminate information and to learn from each other's work.
Contents
IJART publishes original research papers, review papers, artworks, performances, conference reports, book reviews, notes, commentaries, and news. Special Issues devoted to important topics in the arts and new technologies will occasionally be published.
Editor in Chief
Vasilakos, Athanasios, Lulea University of Technology, Sweden
(th.vasilakosgmail.com)
Managing Editors
Wan, Jiafu, South China University of Technology, China
Xia, Zhihua, Nanjing University of Information Science and Technology, China
Editorial Board Members
Brooks, Tony, Aalborg University, Denmark
Chen, Min, Seoul National University, South Korea
Cheok, Adrian David, National University of Singapore, Singapore
Draisin, Maya, International Academy of Digital Arts & Sciences (IADAS), USA
El-Nasr, Magy Seif, Simon Fraser University, Canada
Fisher, Scott S., University of Southern California, Los Angeles, USA
Fishwick, Paul, University of Florida, USA
Grau, Oliver, Danube University, Austria
Gross, Tom, University of Bamberg, Germany
Hu, Jun, Eindhoven University of Technology, Netherlands
Inakage, Masa, Keio University, Japan
Ishii, Hiroshi, MIT Media Laboratory, USA
Kato, Hirokazu, Nara Institute of Science and Technology, Japan
Lee, Newton, Institute for Education, Research, and Scholarships, USA
Maes, Patti, MIT Media Laboratory, USA
Marranca, Bonnie, PAJ Publications, USA
Natkin, Stéphane, Conservatoire National des Arts et Métiers, France
Pan, Zhigeng, Zhejiang University, China
Pentland, Alex (Sandy), MIT Media Laboratory, USA
Rokem, Freddie, Tel Aviv University, Israel
Salem, Ben, Kwansei Gakuin University, Japan
Sarfraz, Muhammad, Kuwait University, Kuwait
Selker, Ted, MIT Media Laboratory, USA
Shu, Lei, Guangdong University of Petrochemical Technology, China
Vercoe, Barry, MIT Media Laboratory, USA
Wilson, Stephen, San Francisco State University, USA
Xiong, Neal Naixue, Colorado Technical University, USA
Yang, Bin, Jiangnan University, China
Yang, Jian, Shanghai Conservatory of Music, China
A few essentials for publishing in this journal
Submitted articles should not have been previously published or be currently under consideration for publication elsewhere.
Conference papers may only be submitted if the paper has been completely re-written (more details available here) and the author has cleared any necessary permissions with the copyright owner if it has been previously copyrighted.
Briefs and research notes are not published in this journal.
All our articles go through a double-blind review process.
All authors must declare they have read and agreed to the content of the submitted article. A full statement of our Ethical Guidelines for Authors (PDF) is available.
There are no charges for publishing with Inderscience, unless you require your article to be Open Access (OA). You can find more information on OA here.



Submission process

All articles for this journal must be submitted using our online submissions system.
View Author guidelines.
Journal news
Indie music and mental health
3 October, 2023
Music can be healing for all of us, but what about the mental health of musicians themselves grappling with the challenges of their working lives? Research in the International Journal of Arts and Technology has looked at the emotional and psychological challenges apparently faced by almost three-quarters of jobbing musicians. Stress, anxiety, and depression are all high on the agenda it seems and part of the problems arise because of the highly competitive nature of the music industry and earlier in the world of music education competitions. Crismary Ospina Gallego, Maria Nuria Lloret Romero, and Valeria Herrero Ruiz of the Universitat Polytecnica de Valencia, in Spain, delve into the connection between the pressures of music education competitions and the alarming rates of mental health issues among musicians. The work reveals how these competitions can trigger negative emotions and conditions detrimental to artists, including isolation, loneliness, anxiety, stress, and even aggression [...]
More details...
Musical emotion detector
5 October, 2023
Research in the International Journal of Arts and Technology outlines a new approach to the recognition of the emotional content of music, addressing many of the challenges in this field and opening up the possibility of classifying music more accurately for efficient retrieval. Fanguang Zeng of the Academy of Music at Pingdingshan University, China, explains how his approach based on multiple data fusion achieves an accuracy of up to 99% and takes less than 14 seconds per task [...]
More details...
11 - 16 May 2024, Honolulu, Hawaii, USA
Selected authors will be invited to elaborate on their research topic and submit the results to the journal for review and potential publication.