International Journal of Agriculture Innovation, Technology and Globalisation
This journal also publishes Open Access articles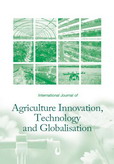 Editor in Chief

Prof. Tzong-Ru (Jiun-Shen) Lee

ISSN online

2516-1970

ISSN print

2516-1962
4 issues per year

IJAITG publishes national and international research, review and industry note articles based on interdisciplinary and transdisciplinary studies relating to sustainability. The journal promotes current and potential future trends in agricultural innovation, technology and globalisation that help to accelerate sustainable development. IJAITG provides a platform for scientists, educators, students, extension workers, business people, managers and policy makers in any fields of knowledge concerning sustainability.
Topics covered include
Land productivity
Climate change
COVID-19 pandemic
Environmental, Social and Governance (ESG) and Sustainable Development Goals (SDGs)
Biotechnology
Applications in agriculture
Organic farming
Sustainable agriculture
Big data applications in agriculture
Branding for agriculture products
Production innovation
Marketing management
Business model innovation
Supply chain management
Globalisation agriculture
More on this journal...
Objectives
The main objective of IJAITG is to highlight agricultural innovation and technology discovery. IJAITG aims to explore the relationships between agricultural innovation and technology for sustainable agriculture. The international dimension is emphasised to overcome cultural and national barriers, and to meet the needs raised by accelerating technological and ecological change and developments in global agriculture.
Readership
IJAITG is aimed at audiences interested in research in agricultural innovation and applications, including researchers, agriculture associations, universities, government organisations, companies and students.
Contents
IJAITG publishes original papers, review papers, technical reports and case studies. Special Issues devoted to important topics in agriculture innovation and agricultural technology management will occasionally be published.
IJAITG is indexed in:
IJAITG is listed in:

This journal is yet to be included in any lists or directories.

Editor in Chief
Lee, Tzong-Ru (Jiun-Shen), National Chung Hsing University, Taiwan, Province of China
(ijaitg.editorgmail.com)
Associate Editors
Hadiguna, Rika Ampuh, Andalas University, Indonesia
Song, Jiuzhou, University of Maryland, USA
Assistant Editor
Lin, Yong-Shun (James), Ling Tung University, Taiwan, Province of China
Regional Editor Asia
Ganesh, Kothandapani, Mckinsey Inc. & Company, India
Regional Editor Europe
Svensson, Göran, Kristiana University College, Norway
Subject Editor (Carbon)
Howe, Julie A., Texas A&M University, USA
Subject Editor (Sustainability)
Tseng, Ming-Lang, Asia University, Taiwan, Province of China
Editorial Board Members
Bina, Vladislav, University of Economics, Prague, Czech Republic
Brodowsky, Glen H., California State University San Marcos, USA
Chao, Yun-Yang, National Pingtung University of Science Technology, Taiwan, Province of China
Cherni, Maryem, Institut Polytechnique UniLaSalle, France
Dao, The Anh, Vietnam Academy of Agriculture Sciences, Vietnam
Dharmasena, Prasad, National Institute of Plantation Management, Sri Lanka
Fabeiro, Carmen Padin, University of Vigo, Spain
Fang, Wei, National Taiwan University, Taiwan, Province of China
Filina-Dawidowicz, Ludmiła, West Pomeranian University of Technology, Szczecin, Poland
Gunasekaran, Angappa, Penn State Harrisburg, USA
Habib, Md. Mamun, Independent University, Bangladesh
Han, Doo Bong, Korea University, South Korea
Hilletofth, Per, Jönköping University, Sweden
Kess, Pekka, University of Oulu, Finland
Koul, Saroj, OP Jindal Global University, India
Lee, Jay, University of Cincinnati, USA
Lin, Ku-Ho, National Chung Hsing University, Taiwan, Province of China
Lin, Rong-Shinn, National Ilan University, Taiwan, Province of China
Mirosa, Miranda, University of Otago, New Zealand
Miyagawa, Hisashi, Kyoto University, Japan
Mohd, Khamsah Suryati, Universiti Sultan Zainal Abidin, Malaysia
Nermend, Kesra, University of Szczecin, Poland
Niu, Genhua, Texas A&M AgriLife Research, USA
Oraveerakul, Kanisak, Chulalongkorn University, Thailand
Paliszkiewicz, Joanna Olga, Warsaw University of Life Science, Poland
Pastuszak, Zbigniew, Maria Curie-Sklodowska University, Poland
Phusavat, Kongkiti, Kasetsart University, Thailand
Seiter, Christian, Karlsruhe University of Applied Sciences, Germany
Sinnarong, Nirote, Maejo University, Thailand
Skobelev, Petr, Samara State Technical University, Russian Federation
Sriwattana, Sujinda, Chiang Mai University, Thailand
Tang, Yonghong, Xiamen University, China
Ting, Kuan Chong, Zhejiang University, China
Tuan, Le Quoc, Nong Lam University, Vietnam
Wei, Cheng-i, University of Maryland, USA
Yueh, Hsiu-Ping, National Taiwan University, Taiwan, Province of China
Zerrillo, Philip C., Singapore Management University, Singapore
Zinn, Walter, Ohio State University, USA
A few essentials for publishing in this journal
Submitted articles should not have been previously published or be currently under consideration for publication elsewhere.
Conference papers may only be submitted if the paper has been completely re-written (more details available here) and the author has cleared any necessary permissions with the copyright owner if it has been previously copyrighted.
Briefs and research notes are not published in this journal.
All our articles go through a double-blind review process.
All authors must declare they have read and agreed to the content of the submitted article. A full statement of our Ethical Guidelines for Authors (PDF) is available.
There are no charges for publishing with Inderscience, unless you require your article to be Open Access (OA). You can find more information on OA here.



Submission process

All articles for this journal must be submitted using our online submissions system.
View Author guidelines.