International Journal of Arab Culture, Management and Sustainable Development
This journal also publishes Open Access articles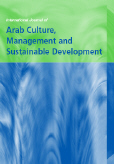 Editor in Chief

Dr. M.A. Dorgham

ISSN online

1753-9420

ISSN print

1753-9412
4 issues per year

The Arab world finds itself at a critical crossroads. The global community is thus interested in a deeper understanding of the culture, business perspectives and realities of the Arab world as well as in the opportunities within the region. IJACMSD explores global economic, educational, cultural and business collaboration in the Arab world. Promoting dialogue for sustainable development in the Arab world, the journal aims to synthesise opinions, providing sound propositions and bringing together ideas and thoughts for a prosperous future.
Topics covered include
Arab region; Arabs abroad, globalisation of Arab perspectives
Culture and cultural heritage
Business perspectives and opportunities, education
International collaboration
Sustainable development, ecology and environmental protection
Development of a United Region of Economic Activities
Economy, entrepreneurship
Information and communication technologies
Management, ethics, innovation, marketing
Foreign investment, foreign trade
Modernisation
Protocol and etiquette
Social issues
Technology
Tourism
More on this journal...
Objectives
The objectives of the IJACMSD are to establish an effective channel of communication between academic and research institutions, policy makers, government agencies and persons concerned with the complexities of Arab culture, management and sustainable development, among other topics. It also aims to promote and coordinate developments in the field of Arab studies.
IJACMSD is the leading source of information for all those interested in doing business in the Arab world since it promotes scientific discussion for the qualititative characteristics of the Arab world region economy. Furthermore, and most significantly, IJACMSD is a forum that demonstrates the capacity of culture, management and sustainable development for the mutual undertanding, prosperity and well being of all the citizens in the Arab Region.
Readership
IJACMSD provides a vehicle to help professionals, academics, researchers and policy makers, working in the field of Arab issues to disseminate information and to learn from each other's work.
Corporate heads of firms
Senior general managers
Managing directors
Board directors
Academics and researchers in the field both in universities and business schools
Information technology directors and managers
Quality managers and directors
Human resource directors
Libraries and information centres serving the needs of the above
Contents
IJACMSD publishes original papers, technical reports, case studies, conference reports, management reports, book reviews, and news. Special Issues devoted to important topics in Arab economy, business, culture and sustainable development in Arab countries will occasionally be published.
IJACMSD is indexed in:
More indexes...
IJACMSD is listed in:
This journal is yet to be included in any lists or directories.

Editor in Chief
Dorgham, M.A., International Centre for Technology and Management, UK
(supportinderscience.com)
Associate Editor
Faris, Waleed F., International Islamic University Malaysia, Malaysia
Editorial Board Members
Al-Ameen, Abdulwahab, University of Bahrain, Bahrain
Al-Sallal, Khaled A., UAE University, United Arab Emirates
Aldosary, Adel S., King Fahd University of Petroleum and Minerals, Saudi Arabia
AlHinai, Yousuf Salim, Sultan Qaboos University, Oman
Ashrafi, Rafi, Sultan Qaboos University, Oman
Bakry, Saad Haj, King Saud University, Saudi Arabia
Choudhury, Masudul Alam, Sultan Qaboos University, Oman
Ismail, Salaheldin, Qatar University, Qatar
Mezher, Toufic, Masdar Institute of Science and Technology, United Arab Emirates
Muñoz, Gema Martín, Casa Arabe - International Institute of Arab and Muslim World Studies, Spain
A few essentials for publishing in this journal
Submitted articles should not have been previously published or be currently under consideration for publication elsewhere.
Conference papers may only be submitted if the paper has been completely re-written (more details available here) and the author has cleared any necessary permissions with the copyright owner if it has been previously copyrighted.
Briefs and research notes are not published in this journal.
All our articles go through a double-blind review process.
All authors must declare they have read and agreed to the content of the submitted article. A full statement of our Ethical Guidelines for Authors (PDF) is available.
There are no charges for publishing with Inderscience, unless you require your article to be Open Access (OA). You can find more information on OA here.



Submission process

All articles for this journal must be submitted using our online submissions system.
View Author guidelines.