Electronic Government, an International Journal
This journal also publishes Open Access articles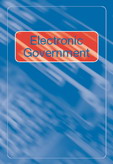 Editor in Chief

Dr. June Wei

ISSN online

1740-7508

ISSN print

1740-7494
6 issues per year


CiteScore

2.7 (2022)

Electronic Government, a fully refereed journal, publishes articles that present current practice and research in the area of e-government.
Topics covered include
Digital divide/social exclusion/rural applications
Efficiencies, effectiveness, transparency, security and trust
E-governance, e-democracy and e-voting
E-payments, public procurement and e-taxation
Administrative reengineering/ERP and supply chain
Human-computer interactions
Data warehousing/mining and RFID
Knowledge management systems, innovativeness in intelligent government
Infrastructure integration and interoperability
Mobile or ubiquitous cities or society
E-readiness and e-business models
Mobile/ubiquitous/smart government diffusion
Internet of Things (IoT) in government services
Cloud computing applications in governance.
Software-as-a-service (SAAS), platform-as-a-service (PAAS) and infrastructure-as-a-service (IAAS)

More on this journal...

Objectives

EG is dedicated to design, development, management, implementation, technology, and application issues in e-government. EG aims to help professionals working in the field, academic educators and policy makers to contribute, to disseminate knowledge, and to learn from each others| work through cutting-edge thinking in e-government. The international dimension is emphasised in order to overcome cultural and national barriers and to meet the needs of accelerating technological change and changes in the global economy. EG is an outstanding outlet where e-government research can take a shape of its own and results can be shared across institutions, governments, researchers and students, as well as industry.

Up-to-date, leading edge research to keep readers ahead and maintain a competitive edge best practice in e-government
Practical guidance on ways to achieve great effectiveness and efficiency in e-government development and implementation.
In-depth analysis and interpretation to advance our understanding and provide a framework for further study of e-government.
International coverage that allows us to share information, knowledge and insight on a worldwide scale.

Readership

Professionals, academics, researchers, managers, policy makers, and non-profit organisations.

Contents

EG publishes original and review papers, technical reports, case studies, conference reports, management reports, book reviews, and notes, commentaries, and news. Contribution may be by submission or invitation, and suggestions for special issues and publications are welcome.

High quality papers to keep readers at the forefront of the latest thinking and research in e-government.
Case studies and practical applications to illustrate e-government design, development, management and implementation.
Editor in Chief
Wei, June, University of West Florida, USA
(jweiuwf.edu)
Associate Editors
Choudrie, Jyoti, University of Hertfordshire, UK
Liu, Lai C., University of Texas Rio Grande Valley, USA
Ozok, Ant, University of Maryland, Baltimore County, USA
Senior Editor
Lee, Sang M., University of Nebraska – Lincoln, USA
Editorial Board Members
Anttiroiko, Ari-Veikko, University of Tampere, Finland
Anussornnitisarn, Pornthep, Kasetsart University, Thailand
As-Saber, Sharif, RMIT University, Australia
Barnes, Stuart J., King's College London, UK
Beldjehem, Mokhtar, University of Ottawa, Canada
Benlamri, Rachid, Lakehead University, Canada
Bojnec, Štefan, University of Primorska, Slovenia
Chen, Ye-Sho, Louisiana State University, USA
Chircu, Alina, Bentley College, USA
Detlor, Brian, McMaster University, Canada
Dominic, P. D. D., Universiti Teknologi PETRONAS (UTP), Malaysia
Dwivedi, Yogesh Kumar, Swansea University, UK
Fang, Xiaowen, DePaul University, USA
Fok, Wing M., Loyola University, USA
Golden, Willie, National University of Ireland Galway, Ireland
Gulledge, Thomas R., Enterprise Integration, Inc., USA
Huang, Shi-Ming, National Chung Cheng University, Taiwan, Province of China
Joia, Luiz Antonio, Getulio Vargas Foundation and Rio de Janeiro State University, Brazil
Lesjak, Dušan, International School for Social and Business Studies, Slovenia
Lin, Binshan, Louisiana State University in Shreveport, USA
Malamis, Simos, National Technical University of Athens, Greece
McMahon, Sr., Richard A., University of Houston - Downtown, USA
Mentzas, Gregoris, National Technical University of Athens, Greece
Mishra, Alok, Atilim University, Turkey
Muganda, Nixon Ochara, University of Pretoria, South Africa
Reddick, Christopher G., The University of Texas at San Antonio, USA
Sergi, Bruno S., University of Messina, Italy
Šević, Željko, Universiti Utara Malaysia, Malaysia
Shams Baragh, Armin, Metro College of Management Sciences, UK
Sharif, Hossein, University of Portsmouth, UK
Tehrani, Mehdi S., Minot State University, USA
Trimi, Silvana, University of Nebraska - Lincoln, USA
Yang, Jiaqin, Georgia College & State University, USA
Yang, Ming-Hsien, Fu Jen Catholic University, Taiwan, Province of China
Zhuo, Jun, Zhejiang University, China
Zwass, Vladimir, Fairleigh Dickinson University, USA
A few essentials for publishing in this journal
Submitted articles should not have been previously published or be currently under consideration for publication elsewhere.
Conference papers may only be submitted if the paper has been completely re-written (more details available here) and the author has cleared any necessary permissions with the copyright owner if it has been previously copyrighted.
Briefs and research notes are not published in this journal.
All our articles go through a double-blind review process.
All authors must declare they have read and agreed to the content of the submitted article. A full statement of our Ethical Guidelines for Authors (PDF) is available.
There are no charges for publishing with Inderscience, unless you require your article to be Open Access (OA). You can find more information on OA here.



Submission process

All articles for this journal must be submitted using our online submissions system.
View Author guidelines.
Journal news
Cyber security readiness
5 September, 2023
In a world grappling with escalating cyber threats, research in the journal Electronic Government sheds light on the essential elements for enhancing cyber security readiness. As governments, the private sector, and individuals confront this growing menace, this work looks at five critical factors affecting how well an organization manages its cyber security readiness: employee expertise, awareness, organizational investment, compliance with standards, and risk assessment. Zainab AlMeraj, Ali K. Alenezi, and Paul D. Manuel of the Information Science Department at Kuwait University in Al-Shadadiya, Kuwait, offer several important points for organisations to consider. Foremost is the importance of expertise within the organisation, compliance with standards, and risk assessment. Failures within any of these areas will inevitably compromise the organisation's readiness when it comes to cyber security. These insights underscore the need for any organization to prioritize building expertise and awareness into its workforce, adhering to established cyber security standards, and consistently evaluating risks to maintain their cyber security at a sufficiently high level [...]
More details...