International Journal of Technology Policy and Law
This journal also publishes Open Access articles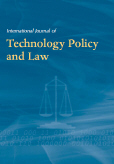 Editor in Chief

Dr. M.A. Dorgham

ISSN online

1742-4259

ISSN print

1742-4240
4 issues per year

IJTPL is a double-blind refereed, highly professional and authoritative source of information in the fields of technology policy and law. It encourages articles representing synergy between theory and practices to help policy makers and executives govern and manage technologies and their relations with society, policies and law. Emphases will be on the related social, political and economic issues, as well as emerging issues of interest to legislators, professionals and academics.
Topics covered include
Commercial/copyright law, consumer protection
Creativity, innovativeness, cross-cultural comparisons
Digital divide, digital rights management
E-governance/government, e-service related law
Electronic funds transfer, insurance
Information ethics/literacy/privacy/sharing
Innovation process management, technology innovation
Intellectual property rights/trading, patent law
International law/standards, national competitiveness
Internet abuse
Knowledge/technology management
Knowledge sharing/trading
National information infrastructure, security
Social engineering/impact
Technology/telecommunications law/policy
More on this journal...
Objectives
The objective of the IJTPL is to establish an effective channel of communication between policy makers, government agencies, academic and research institutions and persons concerned with the complex role of technologies in society. It also aims to promote and share technology policy and law in the fields of science and technology, political science, informatics, sociology and economics. The international dimension is emphasised in order to overcome cultural and national barriers and to meet the needs of accelerating global technological, social and economical changes.
Readership
Professionals, policy-makers, government officers, academics, researchers, and managers in IT, business and commerce.
Contents
IJTPL publishes original and review papers, technical reports, case studies, conference reports, management reports, book reviews, notes and commentaries. Contributions may be by submission or invitation, and suggestions for Special Issues and publications are welcome.
Honorary Editor in Chief
Li, Eldon Y., National Chung Cheng University, Taiwan, Province of China
Editor in Chief
Dorgham, M.A., International Centre for Technology and Management, UK
(supportinderscience.com)
Former Editor in Chief
Selvadurai, Niloufer, Macquarie University, Australia
Production Editor
Kelly, Shannon, Macquarie University, Australia
Editorial Board Members
Arun, Thankom Gopinath, The University of Manchester, UK
Backhouse, James, London School of Economics, UK
Berman, Paul Schiff, University of Connecticut, USA
Björnsson, Hans, Stanford University, USA
Bowie, Nolan, Harvard University, USA
Bruce, Thomas R., Cornell University, USA
Camp, L. Jean, Harvard University, USA
Chen, Houn-Gee, National Taiwan University, Taiwan, Province of China
Christie, Andrew, The University of Melbourne, Australia
Clark, Eugene, Griffith University, Australia
Davison, Mark, Monash University, Australia
Denning, Dorothy, Naval Postgraduate School, USA
Edwards, Paul N., University of Michigan, USA
Fitzgerald, Anne, Queensland University of Technology, Australia
Fong, Jerry G., National Chengchi University, Taiwan, Province of China
Gillies, Peter, Macquarie University, Australia
Gold, Richard E., McGill University, Canada
Greenleaf, Graham, University of New South Wales, Australia
Hörnle, Julia, Queen Mary University of London, UK
Jones, Faye, University of the Pacific, USA
Klein, Gary, University of Colorado, USA
Lee, Matthew, City University of Hong Kong, Hong Kong SAR, China
Liu, Kung-Chung, Academia Sinica - General, Taiwan, Province of China
Liu, Paul Chang Bin, National Chengchi University, Taiwan, Province of China
Lu, Shey-Shi, National Taiwan University, Taiwan, Province of China
Müller, Jürgen, Berlin School of Economics, Germany
Mao, Chi-Kuo, National Chiao Tung University, Taiwan, Province of China
Mechling, Jerry, Harvard University, USA
Monotti, Ann, Monash University, Australia
Obi, Toshio, Waseda University, Japan
Owens, Richard C., Macdonald-Laurier Institute, Canada
Paté-Cornell, M. Elisabeth, Stanford University, USA
Peng, Shin-yi, National Tsing Hua University, Taiwan, Province of China
Puri, Kamal, University of Queensland, Australia
Radin, Margaret-Jane, The University of Michigan Law School, USA
Rice, Mitchell F., Texas A&M University, USA
Richardson, Megan, The University of Melbourne, Australia
Rossi, James E., Florida State University, USA
Rotenberg, Marc, Electronic Privacy Information Center (EPIC), USA
Seely, Bruce E., Michigan Technological University, USA
Sobel, Richard, Harvard University, USA
Sobol, Marion G., Southern Methodist University, USA
Wen, Jordan Chao-tung, National Chengchi University, Taiwan, Province of China
Winn, Jane K., University of Washington, USA
A few essentials for publishing in this journal
Submitted articles should not have been previously published or be currently under consideration for publication elsewhere.
Conference papers may only be submitted if the paper has been completely re-written (more details available here) and the author has cleared any necessary permissions with the copyright owner if it has been previously copyrighted.
Briefs and research notes are not published in this journal.
All our articles go through a double-blind review process.
All authors must declare they have read and agreed to the content of the submitted article. A full statement of our Ethical Guidelines for Authors (PDF) is available.
There are no charges for publishing with Inderscience, unless you require your article to be Open Access (OA). You can find more information on OA here.



Submission process

All articles for this journal must be submitted using our online submissions system.
View Author guidelines.