International Journal of Theoretical and Applied Multiscale Mechanics
This journal also publishes Open Access articles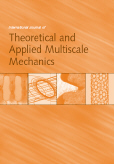 Editor in Chief

Prof. Yufeng Yao

ISSN online

1756-0004

ISSN print

1755-9995
4 issues per year

IJTAMM is a fully-refereed journal that encourages the sharing of knowledge and discoveries amongst researchers in mechanics working at different length scales. Its scope is broad to encompass mechanics research at the atomistic, micro and macro length scales. It includes experimental, computational and theoretical works in both solid and fluid mechanics.
Topics covered include
Atomistic modelling, Eigenstrain theory, Eigenvalue problems
Big data analysis and high-performance computing application in mechanics
Computational fluid mechanics of finite-difference, finite-volume methods
Constitutive and co-current modelling and phenomenology of engineering processes
Experimental mechanics of multi-body and multi-level structures and materials, NDT
Mechanics-based modern engineering systems design, validation and manufacturing
Mechanics of surface structure, surface finishing and surface engineering
Mechanics of thin films, thin layer, residual and thermal stresses quantification
Mechanical characteristics of elasticity, plasticity, viscoelasticity and viscoplasticity
Mechanics of metal, composite, renewable, recyclable, bio and smart materials
Mechanics of cutting-edge additive and subtractive manufacturing and processing
Multiscale, multiphysics, multi-phase in transitional and turbulent flows
Nanomechanics, micromechanics, mechanics of MEMS, NEMS system
Solid mechanics of finite-element and boundary-element modelling and simulation
More on this journal...
Objectives
The main objective of IJTAMM is to provide a comprehensive global forum for researchers to publish their discoveries and findings in mechanics. It aims to encourage the linking of length scales in mechanics research, as the complexity of nature dictates. It provides a forum emphasising the importance of both theoretical and applied approaches with the aim of improving the knowledge base in mechanics to help solve the world's ever growing challenges in engineering design and practice.
Readership
The expected readership of IJTAMM varies from mechanics researchers to professionals, academics and scholars. The journal should be of interest essentially to anyone involved in mechanics.
Contents
IJTAMM publishes original research papers, review articles and research notes. Research papers are full-length manuscripts. Review articles provide a comprehensive review of state-of-the-art or up-to-date coverage of a certain topic of interest. Research notes are short communications or technical briefs. In addition, Special Issues will be published from time to time. Such issues typically represent conference or symposium proceedings, or contributions gathered by invited Guest Editors from experts in their particular specialties.
Editor in Chief
Yao, Yufeng, University of the West of England, UK
(yufeng.yaouwe.ac.uk)
Associate Editors
Marmier, Arnaud, University of the West of England, UK
Sevostianov, Igor, New Mexico State University, USA
Yao, Jun, University of Lincoln, UK
Editorial Board Members
Al-Rub, Rashid K. Abu, Masdar Institute of Science and Technology, United Arab Emirates
Bauer, Pascal, Ecole Nationale Supérieure de Mécanique et d'Aérotechnique, France
Chen, Lijie, Xiamen University, China
Decrocq, Cedric, French-German Research Institute at Saint-Louis, France
Effendy, Marwan, Universitas Muhammadiyah Surakarta, Indonesia
Kaitwanidvilai, Somyot, King Mongkut's Institute of Technology Ladkrabang, Thailand
Kennedy, David, Cardiff University, UK
Li, Jian, Xiamen University, China
Libsig, Michel, French-German Research Institute at Saint-Louis, France
Mo, Y. L., University of Houston, USA
Sarjito, Ir, Universitas Muhammadiyah Surakarta, Indonesia
Seeboonruang, Uma, King Mongkut's Institute of Technology Ladkrabang, Thailand
Swadener, J. Gregory, Aston University, UK
Weng, Peifeng, Shanghai Institute of Energy and Power, China
Xing, Fei, Xiamen University, China
A few essentials for publishing in this journal
Submitted articles should not have been previously published or be currently under consideration for publication elsewhere.
Conference papers may only be submitted if the paper has been completely re-written (more details available here) and the author has cleared any necessary permissions with the copyright owner if it has been previously copyrighted.
Briefs and research notes are not published in this journal.
All our articles go through a double-blind review process.
All authors must declare they have read and agreed to the content of the submitted article. A full statement of our Ethical Guidelines for Authors (PDF) is available.
There are no charges for publishing with Inderscience, unless you require your article to be Open Access (OA). You can find more information on OA here.



Submission process

All articles for this journal must be submitted using our online submissions system.
View Author guidelines.