International Journal of Six Sigma and Competitive Advantage
This journal also publishes Open Access articles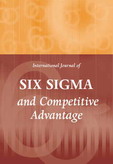 Editor in Chief

Prof. Purushothaman Damodaran

ISSN online

1479-2753

ISSN print

1479-2494
4 issues per year


CiteScore

2.1 (2022)

Six Sigma is a statistics-based, process-focused, data-driven strategy and methodology, coupled with management concepts and lean tools, that aims to improve the quality of process outputs. Six Sigma seeks to identify the causes of failures and minimize variability in key industrial processes in areas, such as healthcare, manufacturing, and service. IJSSCA aims to publish original research that strengthens the current theoretical base and suggests potential for the advancement of industrial practice.
Topics covered include
Healthcare quality
Six Sigma for new product/service development processes
Six Sigma and lean thinking
Best practice of Six Sigma
Quality improvement initiatives in manufacturing, service, and transactional processes
Analytics
Big data
Monitoring and detection
More on this journal...
Objectives
The primary goal of IJSSCA is to present state-of-the-art, high quality research developments in all areas of Six Sigma. The Editorial Board is committed to a swift evaluation process from submission to initial decision, and the latest developments and advances will be published without delay
Readership
IJSSCA provides a platform for the dissemination of new developments in continuous quality improvement to inform academics, professionals, researchers, and various practitioners.
Contents
IJSSCA publishes original papers, technical reports, and case studies. Review and tutorial papers may also be accepted if they are presented in a style suitable for practicing engineering, management, and science. For a special issue devoted to a specific sub-field of Six Sigma, authors are encouraged to contact the Editor-in-Chief.
Editor in Chief
Damodaran, Purushothaman, Northern Illinois University, USA
(pdamodaran.ijssca.editoroutlook.com)
Associate Editor
Panneerselvam, R., Pondichery University, India
Associate Editor Manufacturing
Besseris, George, University of West Attica, Greece
Associate Editor Services
Yang, Kai, Wayne State University, USA
Editorial Board Members
Agustiady, Tina, BASF, USA
Cudney, Elizabeth Anne, Missouri University of Science and Technology, USA
Edgeman, Rick L., Aarhus University, Denmark
Etienne, Eisenhower, Florida A&M University, USA
Grabenstetter, Doug, Milwauke School of Engineering, USA
Mitra, Amit, Auburn University, USA
Nithyanandam, Ganesh, PSG College of Technology, India
Rajendran, Chandrasekharan, Indian Institute of Technology Madras, India
Rathi, Rajeev, Lovely Professional University, India
Suresh, M., Amrita Vishwa Vidyapeetham University, India
Yadav, Om Prakash, North Dakota State University, USA
Yeung, Shirley Mo-Ching, Gratia Christian College, Hong Kong SAR, China
A few essentials for publishing in this journal
Submitted articles should not have been previously published or be currently under consideration for publication elsewhere.
Conference papers may only be submitted if the paper has been completely re-written (more details available here) and the author has cleared any necessary permissions with the copyright owner if it has been previously copyrighted.
Briefs and research notes are not published in this journal.
All our articles go through a double-blind review process.
All authors must declare they have read and agreed to the content of the submitted article. A full statement of our Ethical Guidelines for Authors (PDF) is available.
There are no charges for publishing with Inderscience, unless you require your article to be Open Access (OA). You can find more information on OA here.



Submission process

All articles for this journal must be submitted using our online submissions system.
View Author guidelines.
Journal news
14 - 16 December 2023, Vellore Institute of Technology, Vellore, India
Selected authors will be invited to elaborate on their research topic and submit the results to the journal for review and potential publication.