International Journal of Supply Chain and Inventory Management
This journal also publishes Open Access articles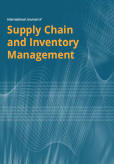 Editor in Chief

Prof. Eleonora Bottani

ISSN online

2054-1007

ISSN print

2054-099X
2 issues per year

IJSCIM provides a unique focus by explicitly linking supply chains with inventory management. Inventory, transport, location of production and storage spaces significantly influence supply chain performance. Modifications of inventory policies can lead to a dramatic alteration of supply chain efficiency and responsiveness. Increasing supply chain inventories will improve customer service and revenue but also increase supply chain cost. Therefore, key areas to be explored include the correct sizing of inventory, links with supply chain efficiency and impact on logistics services.
Topics covered include
Inventory optimisation
Inventory management models (analytic and simulated)
Retail inventory management
Analytic or simulated models for supply chain design
Supply chain optimisation
Facility location
Supply chain performance measurement
Supply chain management
Supply network management
Distribution management
Logistics management
Reverse logistics and closed-loop supply chains
Cold supply chain design and optimisation
Food supply chain design and optimisation
Interdependencies between inventory management and supply chain design
More on this journal...
Objectives
IJSCIM aims to provide a forum for research devoted to topics that relate inventory management to supply chain management. Its objective is to become a leading outlet for relevant research in the fields of inventory and supply chain management. Contributions are expected to increase the available knowledge in those areas, with a particular emphasis toward the improvement of all aspects of inventory management and supply chain efficiency, with an international dimension.
Readership
The targeted audience includes academics, researchers and professionals such as inventory managers, supply chain managers, purchasing managers, logistics managers and operations managers.
Contents
IJSCIM will primarily publish original research articles, review articles and application papers, the latter intended as scientific papers where the authors propose industrial applications of theoretical models related to the topics of inventory and supply chain management. Book reviews and special issues devoted to related topics will occasionally be published.
IJSCIM is indexed in:
IJSCIM is listed in:

This journal is yet to be included in any lists or directories.

Editor in Chief
Bottani, Eleonora, University of Parma, Italy
(eleonora.bottaniunipr.it)
Editor
Montanari, Roberto, University of Parma, Italy
Associate Editors
Cai, Wenbo (Selina), New Jersey Institute of Technology, USA
Grassi, Andrea, University of Modena and Reggio Emilia, Italy
Rubio Lacoba, Sergio, University of Extremadura, Spain
Vignali, Giuseppe, University of Parma, Italy
Editorial Board Members
Abdel-Malek, Layek, New Jersey Institute of Technology, USA
Bhattacharya, Arijit, University of Dubai, United Arab Emirates
Braglia, Marcello, University of Pisa , Italy
Chaudhry, Sohail S., Villanova University, USA
Choi, Tsan-Ming (Jason), The Hong Kong Polytechnic University, Hong Kong SAR, China
Coltman, Tim, University of Wollongong, Australia
Coronado Mondragon, Adrian, Royal Holloway, University of London, UK
Dolgui, Alexandre, IMT Atlantique, France
Govindan, Kannan, University of Southern Denmark, Denmark
Hussain, Matloub, Abu Dhabi University, United Arab Emirates
Jain, Vipul, Victoria University of Wellington, New Zealand
Kaviani, Mohamad Amin, Islamic Azad University, Iran
Khan, Sharafuddin Ahmed, University of Sharjah, United Arab Emirates
Konstantaras, Ioannis, University of Macedonia, Greece
Maleki, Meysam, Universidade Nova de Lisboa, Portugal
Medini, Khaled, Ecole Nationale Supérieure des Mines de Saint-Etienne, France
Meena, Purushottam Lal, College of Charleston, USA
Phanden, Rakesh Kumar, Amity University, India
Rane, Santosh, Sardar Patel College of Engineering, India
Sgroi, Filippo, University of Palermo, Italy
Shah, Mrinalini, Institute of Management Technology, India
Shekarian, Ehsan, University of Oulu, Finland
Shi, Jing, North Dakota State University, USA
Simic, Dragan, University of Novi Sad, Serbia
Song, Dongping, University of Liverpool, UK
Topcu, Aysegul, Boston College, USA
Valverde, Raul, Concordia University, Canada
Yenisey, Mehmet Mutlu, Istanbul Technical University, Turkey
A few essentials for publishing in this journal
Submitted articles should not have been previously published or be currently under consideration for publication elsewhere.
Conference papers may only be submitted if the paper has been completely re-written (more details available here) and the author has cleared any necessary permissions with the copyright owner if it has been previously copyrighted.
Briefs and research notes are not published in this journal.
All our articles go through a double-blind review process.
All authors must declare they have read and agreed to the content of the submitted article. A full statement of our Ethical Guidelines for Authors (PDF) is available.
There are no charges for publishing with Inderscience, unless you require your article to be Open Access (OA). You can find more information on OA here.



Submission process

All articles for this journal must be submitted using our online submissions system.
View Author guidelines.