International Journal of Systems, Control and Communications
This journal also publishes Open Access articles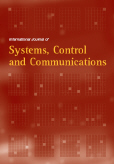 Editor in Chief

Prof. Jianbo Su

ISSN online

1755-9359

ISSN print

1755-9340
4 issues per year


CiteScore

1.3 (2021)

A fundamental, omnipresent feature of the global information age is that cyber-capabilities, e.g. computing, communication and control, are inherently embedded in numerous physical/engineered systems from the nano-world to large-scale systems-of-systems. Many scientific/technological challenges require intensive multidisciplinary studies, calling for new formulations, techniques and innovative solutions from a spectrum of communities in systems engineering/control/communications. IJSCC offers a vibrant discussion forum in this interdisciplinary area, especially communication systems augmented by control techniques and control systems whose components are interconnected via communication networks.
Topics covered include
Information-based control systems
Distributed and cooperative control systems
Networked control systems (NCS)
Wired and wireless networks
Network control (admission/flow/congestion control, etc.)
Network scheduling and bandwidth allocation
Informatics in control and communication
Cyber-physical systems (CPSs)
Sensor and actuator networks
Multi-agent systems
Case studies and applications
Disturbance rejection in control and communications
More on this journal...
Objectives
The main objectives of IJSCC are to form a vibrant international forum to report on the interdisciplinary developments of theoretical studies, modelling and design methods, computational algorithms and successful applications. Furthermore, it aims at establishing an effective channel of communication between systems engineers, control scientists and communication experts from industries, academe and research laboratories within this field. It particularly welcomes new theoretical results with practical applications.
Readership
IJSCC provides a vehicle to help professionals, academics and researchers working in the interdisciplinary field of systems, control and communications engineering to disseminate valuable knowledge and novel findings.
Contents
IJSCC publishes original papers, review papers, technical reports, book reviews, notes and commentaries. Special Issues devoted to important and timely topics in integrated control and communication systems will occasionally be published.
Honorary Editor
Pedrycz, Witold, University of Alberta, Canada
Editor in Chief
Su, Jianbo, Shanghai Jiao Tong University, China
(ijscc.editorhotmail.com)
Editor
Guo, Ge, Northeastern University, China
Editorial Board Members
Castelano, Giovanna, University of Bari, Italy
Chen, Long, University of Macau, China
Dhaka, Arvind, Manipal University Jaipur, India
Ding, Lei, Nanjing University of Posts and Telecommunications, China
Ekel, Petr, Pontifical Catholic University of Minas Gerais, Brazil
Gao, Weinan, Northeastern University, China
Gao, Zhenyu, Northeastern University, China
Jiang, Zhong-Ping, Polytechnic Institute of New York University, USA
Koczy, Laszlo T., Budapest University of Technology and Economics, Hungary
Lim, Sangsoon, Sungkyul University, South Korea
Liu, Huaping, Tsinghua University, China
Lu, Jun-Guo, Shanghai Jiao Tong University, China
Mo, Huadong, University of New South Wales, Australia
Parthasarathy, Velusamy, Karpagam Academy of Higher Education, India
Sahu, Aditya Kumar, Amrita Vishwa Vidyapeetham, India
Shen, Yantao, University of Nevada, USA
Wang, Kevin I-Kai, University of Auckland, New Zealand
Watada, Junzo, Waseda University, Japan
Wen, Shixi, Dalian University, China
Xiang, Linying, Northeastern University, China
Xue, Wenchao, Academy of Mathematics and Systems Science, China
Yang, Guang-Hong, Northeastern University, China
Yun, Jong Nam, Kim Il Sung University, Democratic People|S South Korea
Zhang, Jun, University of Michigan–Shanghai Jiao Tong University Joint Institute, China
Zhang, Xuebo, Nankai University, China
Zheng, Qing, California Baptist University, USA
Zong, Guangdeng, Qufu Normal University, China
Editorial Assistant
Li, Zhaokun, Xidian University, China
A few essentials for publishing in this journal
Submitted articles should not have been previously published or be currently under consideration for publication elsewhere.
Conference papers may only be submitted if the paper has been completely re-written (more details available here) and the author has cleared any necessary permissions with the copyright owner if it has been previously copyrighted.
Briefs and research notes are not published in this journal.
All our articles go through a double-blind review process.
All authors must declare they have read and agreed to the content of the submitted article. A full statement of our Ethical Guidelines for Authors (PDF) is available.
There are no charges for publishing with Inderscience, unless you require your article to be Open Access (OA). You can find more information on OA here.



Submission process

All articles for this journal must be submitted using our online submissions system.
View Author guidelines.
Journal news
Insect identification
12 December, 2022
The accurate identification of insects is critical in research of ecosystems and in pest control in agriculture and forestry. Writing in the International Journal of Systems, Control and Communications, a team from China has focused on the identification of insects in the Wudalianchi Scenic Area in Heilongjiang Province. This region of China is considered one of the most useful for studying species adaption and the evolution of biological communities. In such studies, rapid and accurate insect identification in the field is critical. Yao Xiao, Aocheng Zhou, Lin Zhou, and Yue Zhao of The School of Technology at Beijing Forestry University have developed an automatic insect identification system based on the SE-ResNeXt convolutional neural network, which they suggest could reduce the researchers' workload as well as reducing the incorrect assignment to species. The team demonstrated 98 percent accuracy with their system, which coupled with field expertise could improve such studies in a meaningful way. The development of a website and app using the neural network will improve data storage and visualisation. Such efforts will ultimately supplant the archaic storage of insect specimens, especially given that such specimens do not represent the currency of ecosystems [...]
More details...