International Journal of Portfolio Analysis and Management
This journal also publishes Open Access articles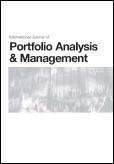 Editor in Chief

Dr. Panos Xidonas

ISSN online

2048-237X

ISSN print

2048-2361
4 issues per year

IJPAM establishes an international state-of-the-art knowledge platform in the field of portfolio management (PM) and thoroughly captures all underlying research developments. Acknowledging the singularities of the modern financial environment, this research vehicle seeks to significantly improve current PM technologies and portfolio engineering frameworks by publishing only novel and high quality theoretical or empirical contributions. IJPAM finally shapes its content by the research drift and motivation of people involved both in academia and the financial industry.
Topics covered include
Asset allocation and security selection
Portfolio construction/optimisation
Portfolio risk measurement/management
Portfolio performance evaluation/attribution
Portfolio re-engineering/rebalancing
Mutual and hedge funds management
Pension funds and institutional portfolio management
Wealth and private portfolio management
Equity and bond portfolio management
Hedging and management of derivatives portfolios
Commodities and alternative instruments portfolio management
Active-passive portfolio management, investment styles
Quantitative/algorithmic portfolio management
Portfolio econometrics and foundations of portfolio theory
Portfolio analytics and decision support investment platforms
More on this journal...
Objectives
IJPAM is a scholarly journal whose objective is to contribute to PM as a distinct scientific field of economics and finance. Moreover, it aims at cultivating and fostering the generic idea of PM.
IJPAM intends to act as a forum and to establish a platform for academic researchers and industry practitioners in the PM field. Its objectives are to establish an effective channel of communication between all people involved in the underlying research area and to promote and coordinate relevant developments and innovative research initiatives.
It will:
Raise awareness of importance regarding the gravity of the PM research field
Focus on excellence in developing PM methodologies, models and techniques to deal with major economic and financial decision making problems
Provide insights relative to the latest PM developments, and
Offer a networking forum for academic researchers and industry practitioners
Readership
IJPAM shapes its content from the research needs of a wide-ranging but tightly focused set of groups that are actively involved in advancing the fields of PM. These groups include academic researchers active within the areas of economics and finance. Contributions from industry practitioners and professionals such as financial analysts, investment consultants, portfolio managers and financial engineers are also welcome.
Contents
IJPAM publishes high quality empirical, theoretical and survey research pieces that contribute significantly and provide meaningful insights in the field of PM. Priority is given to articles that reveal novel concepts of broad interest to the research community of finance. Contributions may be by submission or invitation. Suggestions for Special Issues that address specific and well-defined relevant topics are welcome.
IJPAM hosts all of the basic methodological streams of PM. It focuses on papers presenting new theoretical insights and developments, as well as real-world case studies illustrating the implementation of PM approaches in financial practice. Papers exploring the interactions of PM with other relevant disciplines such as information technology, computer science, decision support systems and artificial intelligence are of particular interest. Research papers from eminent scientists reviewing the existing state-of-the-art are also welcome.
Editor in Chief
Xidonas, Panos, ESSCA Grande École, France
(panos.xidonasessca.fr)
Editors
Benninga, Simon, Tel Aviv University, Israel
Steuer, Ralph, University of Georgia, USA
Advisory Board
Brealey, Richard, London Business School, UK
Constantinides, George M., University of Chicago Booth, USA
Gruber, Martin, New York University, USA
Hull, John, University of Toronto, Canada
Jensen, Michael, Harvard University, USA
Levy, Haim, Hebrew University of Jerusalem, Israel
Luenberger, David, Stanford University, USA
Markowitz, Harry, University of California, San Diego, USA
Editorial Board Members
Adcock, Chris, University of Sheffield, UK
Batten, Jonathan, RMIT University, Australia
Bielecki, Tomasz, Illinois Institute of Technology, USA
Brown, Keith, University of Texas, USA
Chong, Tsui Kai, SIM University, Singapore
Choudhry, Taufiq, University of Southampton, UK
Coakley, Jerry, University of Essex, UK
Cuthbertson, Keith, City University, UK
Ferson, Wayne, University of Southern California, USA
Franke, Guenter, University of Constance, Germany
Fuertes, Ana-Maria, City University, UK
Gallati, Reto, University of Chicago Booth, USA
Guerard, John, McKinley Capital Management, USA
Haliassos, Michael, Goethe University Frankfurt, Germany
Karakostas, Alexandros, ESSCA School of Management, France
Kerstens, Kristiaan, Universite Catholique de Lille, France
Kolm, Petter, New York University, USA
Konno, Hiroshi, Chuo University, Japan
La Torre, Davide, Skema Business School, France
Louhichi, Waël, ESSCA – School of Management, France
Malliaris, A. G. (Tassos), Loyola University Chicago, USA
Mansini, Renata, University of Brescia, Italy
Mavrotas, George, National Technical University of Athens, Greece
McDonald, Robert, Northwestern University, USA
Mitra, Gautam, Brunel University, UK
Nordén, Lars, Stockholm University, Sweden
Ogryczak, Włodzimierz, Warsaw University of Technology, Poland
Rouwenhorst, Geert, Yale University, USA
Rutkowski, Marek, University of Sydney , Australia
Söderlind, Paul, University of St Gallen, Switzerland
Satchell, Steve, University of Cambridge, UK
Schoenmakers, John, Weierstrass Institute, Germany
Schoutens, Wim, Katholieke Universiteit Leuven, Belgium
Schwartz, Robert, City University of New York, USA
Singal, Vijay, Virginia Tech, USA
Skourias, Nicolas, Iniohos Advisory Services, Switzerland
Sornette, Didier, ETH Zurich, Switzerland
Speranza, Grazia, University of Brescia, Italy
Thomakos, Dimitris, National and Kapodistrian University of Athens, Greece
Vaihekoski, Mika, University of Turku, Finland
Valkanov, Rossen, University of California, San Diego, USA
Zanotti, Giovanna, Bergamo University, Italy
Zhou, Guofu, Washington University, USA
A few essentials for publishing in this journal
Submitted articles should not have been previously published or be currently under consideration for publication elsewhere.
Conference papers may only be submitted if the paper has been completely re-written (more details available here) and the author has cleared any necessary permissions with the copyright owner if it has been previously copyrighted.
Briefs and research notes are not published in this journal.
All our articles go through a double-blind review process.
All authors must declare they have read and agreed to the content of the submitted article. A full statement of our Ethical Guidelines for Authors (PDF) is available.
There are no charges for publishing with Inderscience, unless you require your article to be Open Access (OA). You can find more information on OA here.



Submission process

All articles for this journal must be submitted using our online submissions system.
View Author guidelines.