International Journal of Nuclear Governance, Economy and Ecology
This journal also publishes Open Access articles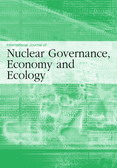 Editor in Chief

Prof. Alexander Kryanev

ISSN online

1742-4194

ISSN print

1742-4186
4 issues per year

IJNGEE addresses the evolution and governance of safe and secure nuclear resources, with emphasis on the implications that policy choices have on both the welfare of humans and the ecology of the planet. This perspective acknowledges the complexity of the nuclear sector as an interface between ecological and socio-economic processes operating in parallel over different space-time scales, as well as the reflexive characteristic of human systems.
Topics covered include
Economics/management of nuclear energy
National energy policies, strategy for policy making
Nuclear energy in economic development, environment policies
Economic, social, natural resources issues
Low level, high-level radioactive waste disposal
Nuclear energy/employment
Geopolitics of energy resources
Thermodynamic concepts in ecological-economics systems analyses
Ecological/environmental impacts of nuclear energy
Ecological economics applied to nuclear energy
Total quality/environmental management
Future demand/supply forecasting/planning
Globalisation, trade liberalisation, nuclear technology transfer
Safety, security
Public attitudes
More on this journal...
Objectives
The objectives of IJNGEE are to establish an effective channel of communication between policy makers, government agencies, public authorities, academic and research institutions, citizens, consumer bodies and professionals in industry, concerned with the complex role of nuclear energy in society. It also aims to promote and coordinate developments in the field of nuclear resources. The international dimension is emphasised in order to overcome cultural and national barriers and to meet the needs of accelerating technological and ecological change and changes in the global economy.
Readership
Policy makers and planners, decision makers, international agencies, university staff, academics, researchers, business leaders, managers, professionals, union leaders, practitioners and consultants. Students taking courses in economics, environmental issues and international development are also among the groups the journal intends to reach.
Contents
IJNGEE publishes original works, review papers, technical reports, state-of-the-art reviews advancing theoretical constructs (including concepts, models, algorithms, methods, etc.), commentaries on policies, meeting and conference reports, book reviews and notes, and other significant news relevant to the discipline. Contribution may be by submission or invitation.
Editor in Chief
Kryanev, Alexander, Moscow Engineering Physics Institute, Russian Federation
(ijngeeredactorgmail.com)
Editorial Board Members
Bojić, Milorad, University of Kragujevac, Serbia
Bulbik, Yanis I., Krasnoyarsk State University, Russian Federation
Gatev, Geo, Universite Technique de Sofia, Bulgaria
Haour, Georges, IMD, Switzerland
Haritonov, Vladimir, Moscow State Enginering Physics Institute, Russian Federation
Hirschberg, Stefan, Paul Scherrer Institute, Switzerland
Huang, Chongfu, Beijing Normal University, China
Khalil, Tarek, University of Miami, USA
Kurwitz, Richard, Texas A&M University, USA
Li, Tianrui, Southwest Jiaotong University, China
Liu, Jun, University of Ulster at Jordanstown, UK
Lu, Jie, University of Technology, Sydney, Australia
Maïsseu, André, WONUC, France
Meneses Ruiz, Elieza, CUBAENERGIA, Cuba
Merle-Lucotte, Elsa, LPSC/ENSPG, France
Monchaud, Serge, Technical University of Sofia, Bulgaria
Palamidessi, Hugo, Asociacion de Professionales de la Comision Nacional de Energia Atomica, Argentina
Petkanchin, Lazar Todorov, Universite Technique de Sofia, Bulgaria
Pokrovski, Vladimir, Moscow University of Economics and Statistics, Russian Federation
Riznic, Jovica R., Canadian Nuclear Safety Commission, Canada
Roberts, John W., International Atomic Energy Agency, Austria
Rogner, Hans Holger, IAEA, Austria
Rothwell, Geoffrey, Stanford University, USA
Satseradze, David, Georgian Technical University, Georgia
Semenov, Andrey, Moscow Engineering Physics Institute, Russian Federation
Shchukin, Nikolai, Moscow Engineering Physics Institute, Russian Federation
Udumyan, David, University of Miami, USA
Van Wyk, Rias, University of Minnesota, USA
Wang, Xingquan, Shanghai Academy of Social Sciences, China
Wichers, Harry, North-West University, South Africa
Zhang, Guangquan, University of Technology, Sydney, Australia
A few essentials for publishing in this journal
Submitted articles should not have been previously published or be currently under consideration for publication elsewhere.
Conference papers may only be submitted if the paper has been completely re-written (more details available here) and the author has cleared any necessary permissions with the copyright owner if it has been previously copyrighted.
Briefs and research notes are not published in this journal.
All our articles go through a double-blind review process.
All authors must declare they have read and agreed to the content of the submitted article. A full statement of our Ethical Guidelines for Authors (PDF) is available.
There are no charges for publishing with Inderscience, unless you require your article to be Open Access (OA). You can find more information on OA here.



Submission process

All articles for this journal must be submitted using our online submissions system.
View Author guidelines.