International Journal of Nuclear Energy Science and Technology
This journal also publishes Open Access articles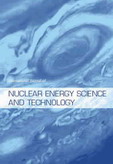 Editor in Chief

Dr. Arturo Delfín Loya

ISSN online

1741-637X

ISSN print

1741-6361
4 issues per year


CiteScore

0.8 (2022)

IJNEST addresses original research, ideas and developments in all areas of nuclear energy science and technology. Its scope embraces fundamental solid state physics, nuclear fuel reserves, fuel cycles and cost, materials, processing, system and component technology, design, optimisation, direct conversion of nuclear energy sources, environmental control, reactor physics, heat transfer, fluid dynamics, structural analysis, fuel management, future developments, nuclear fuel, safety, nuclear aerosol, neutron physics, computer technology, risk assessment, reactor thermal hydraulics, packaging and transportation.
Topics covered include
Reactor physics
Reactor research
Alternative reactor technologies
Radiation shielding
Fission reactor materials
Nuclear materials, neutron radiation effects in materials
Fuel cycle, materials aspects, physics/chemistry
Reprocessing
Alternative research and development programmes
Decommissioning, environmental considerations
Productivity, efficiency, quality
Operation, maintenance, improvement, plant life extension
More on this journal...
Objectives
The objectives of IJNEST are to establish an effective channel of communication between professionals, policy makers, government agencies, academic and research institutions concerned with nuclear science and technology. It also aims to provide authoritative, reliable information on current nuclear and next generation technologies, economics, strategies and resources to industry and governments for use in policy analyses and decision making, including the role of nuclear energy within the context of energy policies that contribute to sustainable development.
The international dimension is emphasised in order to overcome cultural and national barriers and to meet the needs of accelerating technological and ecological change and changes in the global economy.
IJNEST aims:
To promote the exchange of information in the nuclear science area
To identify needs in nuclear science
To promote international cooperation
To support long-term options for nuclear development and use in the context of increased competition in the electricity market
To help in securing the availability of technologies and resources necessary to respond to new requirements
To assess the conditions and constraints affecting the use of nuclear energy
To contribute to global energy and environmental objectives
To maintain reasonably up-to-date information on all the economic aspects of use of nuclear energy
Readership
Professionals, academics, researchers and policy makers.
Contents
IJNEST publishes high quality papers relevant to nuclear fission, fusion reactors and high power accelerator technologies, and closely related aspects of science, technology and engineering. Both original research and critical review papers covering experimental, theoretical, and computational aspects of either a fundamental or an applied nature are welcome. The breadth of the field is such that a wide range of processes and properties is of interest to the readership.
Honorary Editor
Maïsseu, André, WONUC, France
Editor in Chief
Delfín Loya, Arturo, Instituto Nacional de Investigaciones Nucleares, Mexico
(a_delfin_lhotmail.com)
Regional Editor Latin America
Barroso, Antonio Carlos De Oliveira, Instituto de Pesquisas Energéticas e Nucleares, Brazil
Honorary Advisory Board
Chidambaram, Rajagopala, Bhabha Atomic Research Centre (BARC), India
Scientific and Editorial Committee Chair
Szatmáry, Zoltán, Budapest University of Technology and Economics, Hungary
Editorial Board Members
Bang, Vo Dac, Association-VANDT, Vietnam
Bojić, Milorad, University of Kragujevac, Serbia
Cirimello, Roberto, Argentine Atomic Energy Commission, Argentina
Coccoz, Guillermina D.H., CAC – CNEA, Argentina
De Alemeida Carvalho, Everton, WANO, UK
Espinosa-Paredes, Gilberto, Universidad Autónoma Metropolitana-Iztapalapa, Mexico
Foos, Jacques, CNAM, France
Fujii, Yasuhiko, Tokyo Institute of Technology, Japan
Gagarinski, Andrei, Kurchatov Institute, Russian Federation
Ghitescu, Petre, "Politechnica" University of Bucharest, Romania
Gomeno, Maria J., University of Zaragoza, Spain
Greyvenstein, Gideon P., North-West University, South Africa
Kinoshita, Chiken, Kyushu University, Japan
Klein, Andrew C., Oregon State University, USA
Kondo, Shunsuke, University of Tokyo, Japan
Kruychkov, Eduard F., Moscow Engineering Physics Institute, Russian Federation
Landsberger, Sheldon, University of Texas at Austin, USA
Latek, Stanislaw, National Atomic Energy Agency, Poland
Leonidou, D. J., National Technical University of Athens, Greece
Mavko, Borut, University of Ljubljana, Slovenia
Merle-Lucotte, Elsa, LPSC/ENSPG, France
Minguez, Emilio, Universidad Politecnica de Madrid, Spain
Monchaud, Serge, Technical University of Sofia, Bulgaria
Nečas, Vladimír, Slovak University of Technology, Slovakia
Nghiep, Tran Dai, Vietnam Atomic Energy Commission, Vietnam
Pázsit, Imre, Chalmers University of Technology, Sweden
Pór, Gábor, Budapest University of Technology and Economics, Hungary
Palamidessi, Hugo, Asociacion de Professionales de la Comision Nacional de Energia Atomica, Argentina
Panella, Bruno, Politecnico di Torino, Italy
Ponomarev-Stepnoi, Nikolai N., Academy of Sciences, Russian Federation
Sandquist, Gary M., University of Utah, USA
Taboada, Horacio, CNEA, Argentina
Taleb, Safia, Université Djillali Liabès, Algeria
Torgerson, David, Atomic Energy of Canada Ltd. (AECL), Canada
Vanmol, Chris, CCMECL, Belgium
Vapirev, Emil, University of Sofia and Technical University of Sofia, Bulgaria
Vargas, Gustavo Alonso, National Institute for Nuclear Research, Mexico
Williams, R. A., University of Leeds , UK
Wisnubroto, Djarot S., National Nuclear Energy Agency - BATAN, Indonesia
Yoshida, H., The Nagoya University Museum, Japan
Yu, Suyuan, Tsinghua University, China
Zou'bi, Moneef R, IAS, Jordan
A few essentials for publishing in this journal
Submitted articles should not have been previously published or be currently under consideration for publication elsewhere.
Conference papers may only be submitted if the paper has been completely re-written (more details available here) and the author has cleared any necessary permissions with the copyright owner if it has been previously copyrighted.
Briefs and research notes are not published in this journal.
All our articles go through a double-blind review process.
All authors must declare they have read and agreed to the content of the submitted article. A full statement of our Ethical Guidelines for Authors (PDF) is available.
There are no charges for publishing with Inderscience, unless you require your article to be Open Access (OA). You can find more information on OA here.



Submission process

All articles for this journal must be submitted using our online submissions system.
View Author guidelines.
Journal news
No tap water radon risk for schoolchildren
9 August, 2023
A recent study conducted in schools in the Al-Najaf province of Iraq suggests that some drinking water in the region is contaminated with radon gas. The research, published in the International Journal of Nuclear Energy Science and Technology, considers the health implications for children aged 7 to 12 years old exposed to this radioactive element through their drinking water. Rukia Jabar Dosh, Ali K. Hasan, and Ali Abid Abojassim of the University of Kufa in Al-Najaf, Kufa, Iraq, evaluated radon concentrations in water samples gathered from 37 districts. The team used a portable RAD-7 H2O detector to determine concentrations of radon-222 in the drinking water. Their data revealed an average concentration of 0.12±0.08 becquerels per litre, with readings ranging from 0.1 to 0.4 Bq/L. To assess the putative risk to the children of primary school age, the researchers calculated the Annual Effective Dose (AED) of radon inhaled and ingested by the children. They found this to be from 0.1 to 0.4 nanoSieverts per annum, which closely tracked the recorded radon concentration figures [...]
More details...