International Journal of Metadata, Semantics and Ontologies
This journal also publishes Open Access articles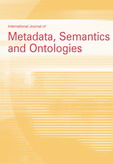 Editor in Chief

Associate Prof. Emmanouel Garoufallou

ISSN online

1744-263X

ISSN print

1744-2621
4 issues per year


CiteScore

1.2 (2022)

IJMSO aims at publishing research advances and discussions about metadata in a broad sense, and about their associated semantics and ontological structures, from a multi-disciplinary perspective, and with an emphasis on domain-specific ontologies and organisational, human interaction and social issues regarding metadata annotation, use and assessment. It also intends covering Semantic Web research, as a concrete metadata-intensive technological framework in which shared and standardised semantics are a critical issue.
Topics covered include
Metadata design and semantics
Quality of metadata
Evaluation and applications of metadata standards
Metadata annotation practices
Ontological and knowledge-based approaches to metadata
Ontologies and standard catalogues specific to business or professional domains
Semantic Web and ontologies in library science and digital libraries
Metadata-based information retrieval and browsing
Organisational and social aspects of Semantic Web and related technologies
More on this journal...
Objectives
The main objective of IJMSO is to provide an open forum in which several disciplines converge and provide their perspectives regarding the complex topic of metadata creation, use and assessment. Those disciplines include Digital Libraries, the Semantic Web, Library Science and Knowledge Management, among others.
Readership
IJMSO aims at being an open forum for researchers, practitioners, managers and policy makers in the field of metadata, informing current practices with recent innovations.
Contents
IJMSO publishes original research papers providing significant results, and also short communications about innovative ideas and news, announcements and reviews regarding the topics of the journal. Articles describing schemas or ontologies for concrete applications or domains are also welcomed, provided that a digital version of the final artefact is submitted to be made publicly available.
Editor in Chief
Garoufallou, Emmanouel, International Hellenic University (IHU), Greece
(garoufallougmail.com)
Honorary Editor
Sicilia, Miguel-Angel, University of Alcalá, Spain
Editors
Greenberg, Jane, Drexel University, USA
Papatheodorou, Christos, National and Kapodistrian University of Athens, Greece
Associate Editors
Akerkar, Rajendra, Western Norway Research Institute (Vestlandsforsking), Norway
Sartori, Fabio, University of Milano-Bicocca, Italy
Editorial Board Members
Aalberg, Trond, Oslo Metropolitan University, Norway
Alemu, Getaneh, Solent University, UK
Bargmeyer, Bruce, Lawrence Berkeley National Laboratory, USA
Beckett, Dave, University of Bristol, UK
Buche, Patrice, INRA (Institut National de la Recherche Agronomique), France
Budin, Gerhard, University of Vienna, Austria
Can, Ozgu, Ege University, Turkey
De Luca, Ernesto William, Georg Eckert-Institute, Germany
Dicheva, Darina, Winston-Salem State University, USA
Dutta, Biswanath, Indian Statistical Institute, India
Gasevic, Dragan, Monash University, Australia
Gensel, Jérome, Université Pierre Mendès-France, France
Hori, Masahiro, Kansai University, Japan
Hyvonen, Eero, Aalto University, Finland
Kashyap, Vipul, Partners Healthcare System, Inc., USA
Kiryakov, Atanas, Sirma AI EAD Ltd, Bulgaria
Lacroix, Zoe, Arizona State University, USA
Ma, Zongmin, Nanjing University of Aeronautics and Astronautics, China
Moen, William E., University of North Texas, USA
Rajabi, Enayat, Cape Breton University, Canada
Rajashekar, T.B., Indian Institute of Science, India
Siatri, Rania, Agios Nikolaos General Hospital, Greece
Sowa, John F., VivoMind, USA
Sutton, Stuart A., University of Washington, USA
Taniar, David, Monash University, Australia
Weibel, Stuart, OCLC Office of Research, USA
Editorial Assistant
Chatzopoulou, Chrysanthi, Alexander TEI of Thessaloniki, Greece
A few essentials for publishing in this journal
Submitted articles should not have been previously published or be currently under consideration for publication elsewhere.
Conference papers may only be submitted if the paper has been completely re-written (more details available here) and the author has cleared any necessary permissions with the copyright owner if it has been previously copyrighted.
Briefs and research notes are not published in this journal.
All our articles go through a double-blind review process.
All authors must declare they have read and agreed to the content of the submitted article. A full statement of our Ethical Guidelines for Authors (PDF) is available.
There are no charges for publishing with Inderscience, unless you require your article to be Open Access (OA). You can find more information on OA here.



Submission process

All articles for this journal must be submitted using our online submissions system.
View Author guidelines.