International Journal of Migration and Residential Mobility
This journal also publishes Open Access articles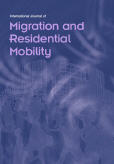 Editor in Chief

Dr. M.A. Dorgham

ISSN online

2051-6819

ISSN print

2051-6800
4 issues per year

IJMRM proposes and fosters discussion on the fields of internal and international migration and residential mobility, with emphasis on the implications that policy choices have on both the process and law of migration and residential mobility. IJMRM also focuses on the physiological, mental and behavioural responses of the people concerned. IJMRM offers a platform for publishing research which covers theoretical, methodological, policy and empirical studies spanning a broad range of disciplines and perspectives related to migration and residential mobility.
Topics covered include
Micro, meso or macro migration
Construction, health, environmental and/or transport issues
Economic issues
Social issues
Political, historical, medical and/or demographic issues
Planning issues relating to residential mobility
Internal and international migration
Links between migration and residential mobility
Residential mobility and job changes
Law of migration and residential mobility
Housing changes and housing upgrades
More on this journal...
Objectives
The objectives of IJMRM are to establish an effective channel of communication between policy makers, government agencies, academic and research institutions and persons concerned with the complex role of migration and residential mobility in modern society. It also aims to promote and coordinate developments in the field of resource allocation in the process of migration and residential mobility, bridging the divide between the two. Originality and representativeness are emphasised in order to meet the needs of accelerating social, scientific and technological change and changes in the global economy from the breakthrough point of migration and residential mobility.
Readership
IJMRM readership consists of academic institutions, professors, researchers, graduate students, political institutions, professionals, business executives, and executives of local and international organisations.
Contents
IJMRM publishes original papers, review papers, technical reports, case studies, research reports and book reviews. Special Issues devoted to important topics in IJMRM will occasionally be published.
IJMRM is indexed in:
IJMRM is listed in:

This journal is yet to be included in any lists or directories.

Editor in Chief
Dorgham, M.A., International Centre for Technology and Management, UK
(supportinderscience.com)
Editorial Board Members
Antonopoulos, Georgios A., Teesside University, UK
Aydede, Yigit, Saint Mary's University, Canada
Blunch, Niels-Hugo, Washington and Lee University, USA
Bodvarsson, Orn, California State University, Sacramento, USA
Brennan, Tim, University of Maryland, Baltimore County (UMBC), USA
Davutyan, Nurhan, Kadir Has University, Turkey
El-Shagi, Makram, Henan University, China
Fang, Cai, Chinese Academy of Social Sciences, China
Giacaman, Rita, Birzeit University, Pakistan
Han, Bingxue, Xuchang University, China
Huy, Huynh Truong, Can Tho University, Vietnam
Kazantsev, Nikolay, National Research University, Russian Federation
Khawaja, Marwan, American University of Beirut , Lebanon
Kusuma, Yadlapalli Sriparvati, All India Institute of Medical Sciences, India
Laganà, Antonio Simone, University of Messina, Italy
Meng, Xin, Australian National University, Australia
Mortensen, Dale, Northwestern University, USA
Rajović, Goran, College of Textile Design, Technology and Management, Serbia
Rosenzweig, Mark R., Yale University, USA
Schiff, Maurice, Institute for the Study of Labor (IZA), Germany
Schneider, Henrique, Swiss Federation of Small and Medium Enterprises, Switzerland
Shi, Qinghua, Shanghai Jiao Tong University, China
Yan, Zhijie, Peking University, China
Yang, Dennis Tao, University of Virginia, USA
Yep, Winnie, Oxford University , UK
Zhang, Xiaobo, International Food Policy Research Institute, USA
Zhu, Yimin, Florida International University , USA
A few essentials for publishing in this journal
Submitted articles should not have been previously published or be currently under consideration for publication elsewhere.
Conference papers may only be submitted if the paper has been completely re-written (more details available here) and the author has cleared any necessary permissions with the copyright owner if it has been previously copyrighted.
Briefs and research notes are not published in this journal.
All our articles go through a double-blind review process.
All authors must declare they have read and agreed to the content of the submitted article. A full statement of our Ethical Guidelines for Authors (PDF) is available.
There are no charges for publishing with Inderscience, unless you require your article to be Open Access (OA). You can find more information on OA here.



Submission process

All articles for this journal must be submitted using our online submissions system.
View Author guidelines.