International Journal of Microstructure and Materials Properties
This journal also publishes Open Access articles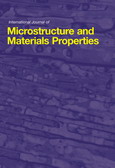 Editor in Chief

Dr. M.A. Dorgham

ISSN online

1741-8429

ISSN print

1741-8410
6 issues per year


CiteScore

1.3 (2022)

IJMMP publishes contributions on mechanical, electrical, magnetic and optical properties of metal, ceramic and polymeric materials in terms of the crystal structure and microstructure. Papers treat all aspects of materials, i.e., their selection, characterisation, transformation, modification, testing, and evaluation in the decision-making phase of product design/manufacture. Contributions in the fields of product, design and improvement of material properties in various production processes are welcome, along with scientific papers on new technologies, processes and materials, and on the modelling of processes.
Topics covered include
Materials'properties improvement, special properties, advanced techniques
Mechanical/physical/nondestructive testing, characterisation
Integrity after mechanical machining/heat treating/surface modification
Creep/fatigue testing, failure analysis, fractures
Surface characterisation, chemical analysis, microanalysis
Precipitation/dispersion/strain hardening, dislocation interactions
Deformation-induced distortion, structure formation in deformed metals/alloys
Plastic/cyclic strain, quenching/distortion of steels, static/fatigue strength
Analytical representation of creep curves
Quantitative microscopy, particle size distribution, metal/alloy properties
Chemical/heat treatment of metals/alloys, solute strengthening
Polymers/metals/ceramics interface, mould/metal interface, casting/forging quality
Laser/electron beam surface engineering/modification
Solid/liquid interface morphologies vs solidification rate
Microstructure formation modelling/evaluation, metals/alloys simulation
More on this journal...
Objectives
The objectives of the IJMMP are to establish an effective channel of communication between academic and research institutions and persons concerned with industrial research supported by practical application. It also aims at promoting and coordinating developments in the field of materials processing technology and materials testing according to microstructure and materials properties at macro and micro levels. The international dimension is emphasised in order to meet the latest needs of accelerating theoretical knowledge and practical verification of new technologies and products.
Readership
IJMMP is intended to help professionals, academics, researchers and policy makers, working in the field of material technology and materials testing, physical modelling or simulation of various processes in the materials, engineering education, to disseminate information and to learn from each other|s work.
Contents
IJMMP publishes original papers, technical reports, case studies, conference reports, book reviews, notes, commentaries, and news. Special issues devoted to important topics from the field of Microstructure and Materials Properties will occasionally be published.
Honorary Editor
Grum, Janez, University of Ljubljana, Slovenia
Editor in Chief
Dorgham, M.A., International Centre for Technology and Management, UK
(supportinderscience.com)
Editorial Board Members
Babul, Tomasz, Instytut Mechaniki Precyzyjnej, Poland
Gür, Cemil Hakan, Middle East Technical University, Turkey
Hamed, Mohamed S., McMaster University, Canada
Kulu, Priit, Tallinn University of Technology, Estonia
Luo, Xinmin, Jiangsu University, China
Pellizzari, Massimo, University of Trento, Italy
Pleshivtseva, Yulia, Samara State Technical University, Russian Federation
Roósz, András, Institute of Materials Science, Hungary
Rudnev, Valery, INDUCTOHEAT, USA
Savin, Adriana, Iasi, Romania
Sun, Wenwen, Monash University, Australia
Tisza, Miklós, University of Miskolc, Hungary
A few essentials for publishing in this journal
Submitted articles should not have been previously published or be currently under consideration for publication elsewhere.
Conference papers may only be submitted if the paper has been completely re-written (more details available here) and the author has cleared any necessary permissions with the copyright owner if it has been previously copyrighted.
Briefs and research notes are not published in this journal.
All our articles go through a double-blind review process.
All authors must declare they have read and agreed to the content of the submitted article. A full statement of our Ethical Guidelines for Authors (PDF) is available.
There are no charges for publishing with Inderscience, unless you require your article to be Open Access (OA). You can find more information on OA here.



Submission process

All articles for this journal must be submitted using our online submissions system.
View Author guidelines.