International Journal of Mass Customisation
This journal also publishes Open Access articles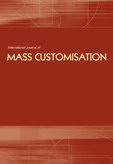 Editor in Chief

Dr. M.A. Dorgham

ISSN online

1742-4216

ISSN print

1742-4208
4 issues per year

IJMassC is a double-blind refereed journal which provides authoritative sources of reference and an international forum in the field of Mass Customisation and related topics. The focus deliberately embraces both industrial practices and academic research activities.
Topics covered include
Production management
Product, process, system, or facility configuration
Product architecture/platforms
Process or assembly planning
Cost/benefit analysis
Inventory management
Logistics and supply chain management
Decision support systems
Location and capacity decisions
Agile/flexible/reconfigurable processes/systems
Design for global products/services
Enterprise modelling, e-business/commerce
Mass customisation and quality management
Case studies on mass customisation implementation
More on this journal...
Objectives
The IJMassC is aimed at providing an international forum for developing, promoting, disseminating and coordinating progress in mass customisation theories and practices among the relevant international professional communities.
Readership
The IJMassC is targeted at academics, industrial practitioners, researchers, enterprise decision makers and indeed all professionals who are working in the field of mass customisation
Contents
The IJMassC publishes original research and application papers, review papers, research and technical short notes, case studies, empirical field studies, conference reports, management reports, book reviews, commentaries, and news. Contributions may be by submission or invitation, and suggestions for special issues devoted to important topics in Mass Customisation are welcome.
Honorary Editors
Pine II, B. Joseph, Strategic Horizons LLP, USA
Tseng, Mitchell M., Hong Kong University of Science and Technology, Hong Kong SAR, China
Editor in Chief
Dorgham, M.A., International Centre for Technology and Management, UK
(supportinderscience.com)
Associate Editors
Friedrich, Gerhard, Universität Klagenfurt, Austria
Simpson, Timothy W., Pennsylvania State University, USA
Editorial Board Members
Cheng, Kai, Brunel University London, UK
Forza, Cipriano, Università di Modena e Reggio Emilia, Italy
Fujita, Kikuo, Osaka University, Japan
Hansen, Mark W., Lego System A/S, Denmark
Huang, George Q., The University of Hong Kong, Hong Kong SAR, China
McCarthy, Ian, Simon Fraser University, Canada
Reich, Yoram, Tel Aviv University, Israel
Rungtusanatham, M. Johnny, University of Minnesota - Twin Cities, USA
Salvador, Fabrizio, Instituto de Empresa, Spain
Zipkin, Paul H., Duke University, USA
A few essentials for publishing in this journal
Submitted articles should not have been previously published or be currently under consideration for publication elsewhere.
Conference papers may only be submitted if the paper has been completely re-written (more details available here) and the author has cleared any necessary permissions with the copyright owner if it has been previously copyrighted.
Briefs and research notes are not published in this journal.
All our articles go through a double-blind review process.
All authors must declare they have read and agreed to the content of the submitted article. A full statement of our Ethical Guidelines for Authors (PDF) is available.
There are no charges for publishing with Inderscience, unless you require your article to be Open Access (OA). You can find more information on OA here.



Submission process

All articles for this journal must be submitted using our online submissions system.
View Author guidelines.