International Journal of Lifecycle Performance Engineering
This journal also publishes Open Access articles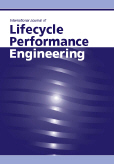 Editor in Chief

Dr. Jun Li

ISSN online

2043-8656

ISSN print

2043-8648
4 issues per year

IJLCPE is founded on the basis that everyone in the design, construction and management of civil structures should consider that each decision made and each action taken is constrained by limited resources. It is vitally important that they take into account that structures have a finite lifetime and are involved in an aging process whereby slow degradation and sudden environmental threats play a role and risk evolves to higher values, implying additional costs. Structural performance thus becomes a "lifecycle performance".
Topics covered include
Damage evolution and risk analysis
Time dependent structural performance and lifecycle behaviour
Environmental threats (earthquakes, floods, strong winds), residual safety analysis
Fatigue
Corrosion
Degradation and aging of structural materials
Robustness and vulnerability to local explosions and fires
Infrastructural and urban system resilience
Lifecycle oriented design criteria
Maintenance planning
Lifecycle and retrofit
Safety assessment by structural health monitoring
Case studies
More on this journal...
Objectives
The objectives of IJLCPE are to establish an effective channel of communication between scientific researchers, professional engineers, construction companies, managers and administrations, aiming to promote the philosophy of lifecycle performance oriented design and construction and to contribute to tracing a pathway towards more suitable maintenance and exploitation procedures and to establish rational and consistent bases to support management and related decision making.
Readership
IJLCPE provides a vehicle to help professionals, academics, researchers and policy makers, working in the field of civil construction management and exploitation, engineering and technical education, to disseminate information and to learn from each other's work
Contents
IJLCPE publishes original papers, review papers and technical reports. Special Issues devoted to important topics in scientific and technological advances, very important case studies and conference reports will occasionally be published.
Editor in Chief
Li, Jun, Curtin University, Australia
(ijlcpegmail.com)
Advisory Editor
Hao, Hong, Curtin University, Australia
Regional Editor Asia Pacific
Xia, Yong, Hong Kong Polytechnic University, China
Regional Editor Europe
Ceravolo, Rosario, Politecnico di Torino, Italy
Regional Editor North America
Cai, C.S., Louisiana State University, USA
Regional Editor South America
Ambrosini, Daniel, Universidad Nacional de Cuyo, Argentina
Advisory Board
Aktan, Ahmet Emin, Drexel University, USA
Betti, Raimondo, Columbia University, USA
Brownjohn, James M.W., University of Sheffield, UK
Chan, Tommy, Queensland University of Technology, Australia
Chen, Jianbing, Tongji University, China
Dyke, Shirley J., Purdue University, USA
Koh, Chan Ghee, National University of Singapore, Singapore
Lau, David T., University of Carleton, Canada
Li, Hong-Nan, Shenyang Jianzhu University, China
Li, Hui, Harbin Institute of Technology, China
Melchers, Robert E, University of Newcastle, Australia
Ren, Wei-Xin, Hefei University of Technology, China
Song, Gangbing, University of Houston, USA
Xu, Yong-Lin, Hong Kong Polytechnic University, China
Yi, Ting-Hua, Dalian University of Technology, China
Zhu, Hong-Ping, Huazhong University of Science and Technology, China
Editorial Board Members
An, Yonghui, Dalian University of Technology, China
Bakhary, Norhisham, Universiti Teknologi Malaysia, Malaysia
Bi, Kaiming, Curtin University, Australia
Chatzi, Eleni, Swiss Federal Institute of Technology, Switzerland
Chen, Hua-Peng, The University of Greenwich, UK
Dong, You, The Hong Kong Polytechnic University, Hong Kong SAR, China
Hester, David, Queen's University Belfast, UK
Kong, Qingzhao, Tongji University, China
Lam, Heung Fai, Hong Kong City University, China
Li, Jian, University of Kansas, USA
Manohar, C.S., Indian Institute of Science, India
Matta, Emiliano, Politecnico di Torino, Italy
Nagayama, Tomonori, The University of Tokyo, Japan
Ng, Ching-Tai, University of Adelaide, Australia
Nguyen, Andy, University of Southern Queensland, Australia
Omenzetter, Piotr, University of Aberdeen, UK
Sun, Hao, Northeastern University, USA
Surace, Cecilia, Politecnico di Torino, Italy
Tan, Ping, Guangzhou University, China
Wang, Ying, Harbin Institute of Technology, China
Weng, Shun, Huazhong University of Technology and Science, China
Ye, Xiaowei, Zhejiang University, China
Zanotti Fragonara, Luca, Cranfield University, UK
Zhan, Jian, Southeast University, China
Zhang, Chunwei, Qingdao University of Technology, China
Zhu, Xinqun, University of Technology Sydney, Australia
A few essentials for publishing in this journal
Submitted articles should not have been previously published or be currently under consideration for publication elsewhere.
Conference papers may only be submitted if the paper has been completely re-written (more details available here) and the author has cleared any necessary permissions with the copyright owner if it has been previously copyrighted.
Briefs and research notes are not published in this journal.
All our articles go through a double-blind review process.
All authors must declare they have read and agreed to the content of the submitted article. A full statement of our Ethical Guidelines for Authors (PDF) is available.
There are no charges for publishing with Inderscience, unless you require your article to be Open Access (OA). You can find more information on OA here.



Submission process

All articles for this journal must be submitted using our online submissions system.
View Author guidelines.
Journal news
Dr. Jun Li appointed as new Editor in Chief of International Journal of Lifecycle Performance Engineering
7 June, 2023
Dr. Jun Li from Curtin University in Australia has been appointed to take over editorship of the International Journal of Lifecycle Performance Engineering. The departing Editor in Chief, Prof. Hong Hao, will remain with the journal in the capacity of Advisory Editor.