International Journal of Information Technology, Communications and Convergence
This journal also publishes Open Access articles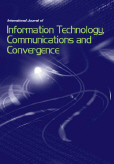 Editor in Chief

Prof. Matteo Gaeta

ISSN online

2042-3225

ISSN print

2042-3217
4 issues per year

IJITCC is dedicated to accelerating the convergence processes of IT, communications and media, based on a human-centered vision of ICT. IJITCC provides a forum for researchers and practitioners working in this area. It welcomes novel theoretical and practical interdisciplinary contributions reflecting approaches wherein individuals and ecosystems become points of convergence of data, technologies and applications for the improvement of perception, understanding and dissemination of knowledge, and for the well-being of digital life, without obstacles, every place and at any time.
Topics covered include
Cyber-physical-social systems in the era of convergence
Human-centered information systems and decision support systems
Situation awareness and decision making in human-machine systems
Advanced services, systems and models for knowledge management in future organisations
Intelligent systems and converging technologies in education and work
Social media analytics for smart cities and modern societies
Artificial and computational intelligence for human well-being and environmental sustainability
Digital and media convergence: policies, business models, technologies and solutions
Next-generation internet, blockchains and services
Big data, Internet of Things, mobile and cloud: converging approaches for smart service systems
Security, privacy and trust: new trends in convergence
Intelligent communications, networks and mobile applications
More on this journal...
Objectives
IJITCC publishes state-of-the-art international research in all areas of information technology, communications and convergence (ITCC). It aims to bring together the researchers from academia and industry as well as practitioners to share ideas, problems and solutions relating to the multifaceted aspects of ITCC, and to disseminate the most innovative research and development of all aspects of ITCC, including their models, services, and novel applications associated with their utilisation.
Readership
In accordance with this journal's characteristics and coverage, each paper will be of interest to many clients inside and outside the IT department, but it will be of immediate and compelling value to the following roles:
Research Groups: specialists in the institution or the university who study and develop new technology
End User Organisations: emerging technology development groups, strategic technology planners, strategic business planners, CTOs, CIOs, lead architects and other senior IT staff
Vendor and Service Provider Organisations: strategic product planners and marketers in product or service provider companies, including consulting and sourcing organisations
Investors: long-term investors
IJITCC readers can understand future dynamic technologies and business changes and develop new products and services in order for their organisations to flourish.
Contents
IJITCC serves as a medium to report, via original papers, survey papers, technical reports, extended/improved conference papers, experience, case studies, and trend-setting ideas on advances in ITCC as well as potential future directions and issues. Furthermore, Special Issues devoted to important topics in future generation information technology, communications and convergence will occasionally be published.
Editor in Chief
Gaeta, Matteo, University of Salerno, Italy
(ijitcc.editorgmail.com)
Managing Editors
D'Aniello, Giuseppe, University of Salerno, Italy
Lee, Jong-Hyouk, Sejong University, South Korea
Associate Editors
Chen, Chun-Hao, Tamkang University, Taiwan, Province of China
Hossain, M. Shamim, King Saud University, Saudi Arabia
Imran, Muhammad, King Saud University, Saudi Arabia
Lee, Changhoon, Seoul National University of Science and Technology, South Korea
Liang, Xuefeng, Kyoto University, Japan
Advisory Board
Arabnia, Hamid R., University of Georgia, USA
Atiquzzaman, Mohammed, University of Oklahoma, USA
Chao, Han-Chieh, National Dong Hwa University, Taiwan, Province of China
Gavish, Bezalel, Southern Methodist University, USA
Hong, Tzung-Pei, National University of Kaohsiung, Taiwan, Province of China
Reformat, Marek, University of Alberta, Canada
Viedma, Enrique Herrera, University of Granada, Spain
Editorial Board Members
Chakraborty, Goutam, Iwate Prefectural University, Japan
Chang, Hangbae, Chung-Ang University, South Korea
Kumar, Gulshan, Lovely Professional University, India
Lin, Jerry Chun-Wei, Western Norway University of Applied Sciences, Norway
Morente-Molinera, Juan Antonio, University of Granada, Spain
Ni, Jun, Shanghai Sanda University, China
Novak, Vilem, University of Ostrava, Czech Republic
Ureña, Raquel, De Montfort University, UK
Vitabile, Salvatore, University of Palermo, Italy
Vo, Bay, Ho Chi Minh City University of Technology, Vietnam
Yazidi, Anis, Oslo Metropolitan University, Norway
Zhang, Yanqing, Georgia State University, USA
A few essentials for publishing in this journal
Submitted articles should not have been previously published or be currently under consideration for publication elsewhere.
Conference papers may only be submitted if the paper has been completely re-written (more details available here) and the author has cleared any necessary permissions with the copyright owner if it has been previously copyrighted.
Briefs and research notes are not published in this journal.
All our articles go through a double-blind review process.
All authors must declare they have read and agreed to the content of the submitted article. A full statement of our Ethical Guidelines for Authors (PDF) is available.
There are no charges for publishing with Inderscience, unless you require your article to be Open Access (OA). You can find more information on OA here.



Submission process

All articles for this journal must be submitted using our online submissions system.
View Author guidelines.