International Journal of Innovation and Regional Development
This journal also publishes Open Access articles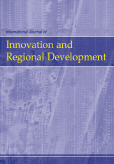 Editor

Prof. Panayiotis H. Ketikidis

ISSN online

1753-0679

ISSN print

1753-0660
4 issues per year

With acceleration of technological development and adoption and greater market competition, innovation is a prerequisite for enterprise survival. Innovation activity encompasses both manufacturing and service sectors. Innovation takes place in the local, regional and international contexts, often under the auspices of an entrepreneurial spirit and within small firms. IJIRD addresses innovation and regional development, sharing findings that promote innovation, thus enhancing economic, technological and regional development through new economic activities that stimulate wealth, employment and growth generation and increase competitiveness.
Topics covered include
Regional systems of innovation, competitiveness and development
Regional innovation strategies, innovative cities and regions
Knowledge transfer and infusion, technology transfer
Green ICT and supply chains
Collaborative and intelligent systems of innovation, virtual innovation environments
Innovative supply chains, network collaboration and joint ventures
Business intelligence management
Patenting, research and development in SMEs
E-technology adoption and semantic web services
Knowledge economy/integration, innovative companies and clusters
Biotechnology diffusion
Uncertainty and risk in innovation
Entrepreneurship and SME competitiveness
Outsourcing and off-shoring
Social business and innovation
More on this journal...
Objectives
The objective of IJIRD is to establish an effective channel of communication between policy makers, government agencies, academic and research institutions and persons concerned with latest research, scientific development and practice on innovation and regional development. Studies on new performance indices, benchmarking innovation activities, knowledge transfer and infusion, innovativeness of SMEs, bio-technology adoption, e-technology diffusion, new product development, supply network collaboration, joint ventures, and also problems such as fragmentation and integration of industrial clusters, will form part of the journal. IJIRD also welcomes study related to these areas that focus on regional development and innovation management. Comprehensive and critical reviews of the literature, experimentations, surveys, interviews, case studies, simulation modelling, and other similar methodologically-derived papers in the related areas will be suitable for publication.
Readership
IJIRD provides a domain to assist professionals, academics, researchers, policy makers and practitioners, working in the field of innovation, regional development, economic, technological development, and knowledge transfer and infusion, to disseminate information and to learn from each other's work, thus promoting developments in the field. Advancement of innovation is not a matter of technology or technology transfer per se but a combination of factors that places people at the centre of all interaction; thus special emphasis will be put on difficulties when designing and implementing innovative strategies as well as on regional training needs.
Contents
IJIRD publishes original papers, review papers, technical reports, case studies, conference reports, management reports, book reviews, notes, commentaries, and news. Special Issues devoted to important topics in innovation, regional development, economic and technological development as well as knowledge transfer and knowledge infusion, will be occasionally published.
Editor
Ketikidis, Panayiotis H., University of Sheffield International Faculty, CITY College, Greece
(ketikidisyork.citycollege.eu)
Associate Editors
Carayannis, Elias G., George Washington University, USA
Koh, Siau Ching Lenny, University of Sheffield, UK
Oerlemans, Leon, University of Pretoria and Tilburg University, Netherlands
Editorial Board Members
Anttiroiko, Ari-Veikko, University of Tampere, Finland
Clifton, Nicholas, Cardiff Metropolitan University, UK
Danson, Mike, Heriot-Watt University, UK
Fulford, Heather, Robert Gordon University, UK
Gunasekaran, Angappa, Penn State Harrisburg, USA
Huggins, Robert, University of Cardiff, UK
Kayakutlu, Gülgün, Istanbul Technical University, Turkey
Komninos, Nicos, Aristotle University of Thessaloniki, Greece
Landabaso, Mikel, European Commission, Belgium
Lopes, Ilídio Tomás, ISCTE University Institute of Lisbon, Portugal
Manthou, Vicky, University of Macedonia, Greece
Melkas, Helinä, Lappeenranta University of Technology, Finland
Möslein, Kathrin, Universität Erlangen-Nürnberg, Germany
Pallot, Marc, The University of Nottingham, UK
Park, Sang Chul, Korea Polytechnic University, South Korea
Peck, Frank, University of Cumbria, UK
Polenakovik, Radmil, Ss. Cyril and Methodius University, North Macedonia
Ranga, Marina, Stony Brook University, USA
Reid, Alasdair, Technopolis Group, Belgium, Belgium
Rodríguez-Pose, Andrés, London School of Economics, UK
Schaffers, Hans, Aalto University, Finland
Van der Sijde, Peter, VU University of Amsterdam, Netherlands
Williams, Colin, University of Sheffield, UK
Zaharis, Nikos, South East European Research Centre (SEERC), Greece
Zigiaris, Sotirios, Prince Mohammed Bin Fahd University, Saudi Arabia
A few essentials for publishing in this journal
Submitted articles should not have been previously published or be currently under consideration for publication elsewhere.
Conference papers may only be submitted if the paper has been completely re-written (more details available here) and the author has cleared any necessary permissions with the copyright owner if it has been previously copyrighted.
Briefs and research notes are not published in this journal.
All our articles go through a double-blind review process.
All authors must declare they have read and agreed to the content of the submitted article. A full statement of our Ethical Guidelines for Authors (PDF) is available.
There are no charges for publishing with Inderscience, unless you require your article to be Open Access (OA). You can find more information on OA here.



Submission process

All articles for this journal must be submitted using our online submissions system.
View Author guidelines.