International Journal of Intelligent Internet of Things Computing
This journal also publishes Open Access articles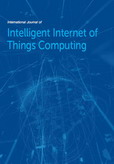 Editor in Chief

Prof. Honghao Gao

ISSN online

2631-7079

ISSN print

2631-7060
4 issues per year

Internet of Things computing still faces many challenges due to key factors such as constant mobility, limited capability, restricted power and uncertain security. Such factors pose considerable problems for both service provision and consumption. IJIITC therefore aims to promote advances in IoT services and new AI algorithms and techniques in the intelligent computing field, with emphasis on foundational theory, systems and practical real-life applications.
Topics covered include
Cognition, modelling, description and verification for IoT computing
Discovery, recommendation and selection for IoT computing
Formal verification, testing and inspection for IoT computing
Composition and cooperation methods for IoT computing
Optimisation and scheduling for IoT computing
Advanced security technology for IoT computing
Big data and data management for IoT computing
Searching IoT services
Service provisioning and resource management for IoT computing
QoS modelling and measurement for IoT computing
Process mining and analysis for IoT computing
Security and privacy protection for IoT computing
System architecture for IoT computing
IoT-based intelligent services
Applications of intelligent IoT computing
More on this journal...
Objectives
The services of IoT are defined as software artefacts that are autonomous, self-described, reusable and highly portable. They're the basic units for building rapid, low-cost, secure and reliable applications. Along with this, a large number of new-style IoT services have emerged with complexity, diversity and crossover features. However, some key research work in this area is still underdeveloped. This raises new opportunities and challenges for service computing within the IoT environment. In this context, how to utilise research on artificial intelligence and big data to prompt research into new theory, methods and applications of service computing has become a hot research topic. The aims of IJIITC are therefore to present state-of-the-art research on intelligent IoT computing, and to provide a forum for experts to disseminate their recent advances and views on future perspectives in the field.
Readership
IJIITC provides a vehicle to help professionals, academics, researchers and policy makers working in the fields of technology management, engineering and business education to disseminate information and to learn from each other's work.
Contents
In recent years, the rapid development and application of artificial intelligence has significantly changed our lifestyles, studies and work. Thus, IJIITC publishes original papers, review papers, technical reports, case studies and book reviews pertaining to intelligent IoT computing. Special Issues devoted to important topics in IoT and artificial intelligence will occasionally be published.
Editor in Chief
Gao, Honghao, Shanghai University, China
(ijiitcgmail.com)
Associate Editors
Cui, Lizhen, Shandong University, China
Kim, Jung-Yoon, Gachon University, South Korea
Xu, Yueshen, Xidian University, China
Yang, Xiaoxian, Shanghai Polytechnic University, China
Yin, Yuyu, Hangzhou Dianzi University, China
Regional Editor America
Hu, Gongzhu, Central Michigan University, USA
Editorial Board Members
Bi, Zhongqin, Shanghai University of Electric Power, China
Bian, Minjie, Shanghai University, China
Chung, Lawrence, University of Texas Dallas, USA
Comerio, Marco, University of Milano-Bicocca, Italy
Di, Peng, The University of New South Wales, Australia
Lagerstrom, Robert, KTH - Royal Institute of Technology, Sweden
Li, Kuang, Central South University, China
Li, Xiaoming, Xinjiang University, China
Li, Ying, Zhejiang University, China
Liu, Hui, Beijing Institute of Technology, China
Liu, Xuan, Yangzhou University, China
Longo, Antonella, Unversity of Salento, Italy
Lv, Zhihui, Fudan University, China
Miao, Huaikou, Shanghai University, China
Nakanishi, Tsuneo, Fukuoka University, Japan
Qian, Zhongsheng, Jiangxi University of Finance and Economics, China
Reiff-Marganiec, Stephan, University of Leicester, UK
Schewe, Klaus-Dieter, Massey University, New Zealand
Tadano, Kumiko, NEC Corporation, Japan
Tekli, Joe, Lebanese American University (LAU), Lebanon
Wu, Qing, Hangzhou Dianzi University, China
Xia, Yunni, Chongqing University, China
Xu, Fangqin, Shanghai Jian Qiao University, China
Xu, Lai, Bournemouth University, UK
Yu, Huiqun, East China University of Science and Technology, China
Zhang, Jingyu, University of Sydney, Australia
Zhao, Jian, Institute for Infocomm Research, Singapore
Zhou, Nianjun, IBM Thomas J Watson Research Center, USA
A few essentials for publishing in this journal
Submitted articles should not have been previously published or be currently under consideration for publication elsewhere.
Conference papers may only be submitted if the paper has been completely re-written (more details available here) and the author has cleared any necessary permissions with the copyright owner if it has been previously copyrighted.
Briefs and research notes are not published in this journal.
All our articles go through a double-blind review process.
All authors must declare they have read and agreed to the content of the submitted article. A full statement of our Ethical Guidelines for Authors (PDF) is available.
There are no charges for publishing with Inderscience, unless you require your article to be Open Access (OA). You can find more information on OA here.



Submission process

All articles for this journal must be submitted using our online submissions system.
View Author guidelines.