International Journal of Humanitarian Technology
This journal also publishes Open Access articles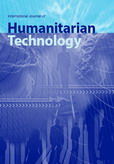 Editor in Chief

Prof. Sarhan Musa

ISSN online

2056-6557

ISSN print

2056-6549
4 issues per year

The world faces many environmental, developmental, social and health challenges. These include ageing societies, the digital divide, poverty, climate change, energy efficiency and security. There is an ever-increasing need to find solutions to such complex problems. Technology today is evolving at an extraordinary pace, changing the way we live and work. IJHT addresses research into the responsible use of advanced technologies which offer concrete ways to improve the life and society of people worldwide.
Topics covered include
Smart grid/big data analytics
Cloud computing/dependable and secure computing/internet computing/mobile computing
Internet of things/green technologies
Cryptography and network security/cyber-physical systems/industrial cybersecurity/security of SCADA
Ubiquitous computing and communication/broadband technology
Aeronautical telecommunications networks/SDN
Wireless sensor networks/meshed mobile communication networks/5G/LTE
Smart connection factories/manufacturing/industrial electronics
Robotics and automation/engineering standards/frugal innovation
Medical technology/intelligent transportation technology
Nanotechnologies
Photonics technology/optics/laser
Imaging and spectroscopy/computational electromagnetic
Machine learning/modelling and simulation/computational biology
Applied PDE, difference equations, stochastic process, queuing, Dijkstra algorithm applied to technologies
More on this journal...
Objectives
The objective of IJHT is to establish an effective channel of communication between policy makers, government agencies, academic and research institutions and persons concerned with the application of information and communications technologies to address humanitarian challenges by providing solutions to create a better quality of life for people around the world.
Readership
Professionals, academics, researchers, policy makers and others in the field.
Contents
IJHT publishes original papers, review papers, technical reports and case studies pertaining to all aspects of humanitarian applications of technology. The journal also features special issues on various topics on humanitarian technology.
Editor in Chief
Musa, Sarhan, Prairie View A&M University, USA
(ijht.editorgmail.com)
Associate Editors
Kalutarage, Harsha Kumara, Queen's University Belfast, UK
Wang, Jie, University of Massachusetts Lowell, USA
Advisory Board
Akujuobi, Cajetan M., Prairie View A&M University, USA
Bartay, Greg, Pearland Independent School District, USA
Musa, Osama M., Ashland Inc., USA
Thornton, George, Hewlett Packard Enterprise, USA
Turgeon, Jean, Avaya, Canada
Editorial Board Members
Adi, Wael, Technische Universitaet Braunschweig, Germany
Baruah, Pallav Kumar, Sri Sathya Sai Institute of Higher Learning, India
Birajdar, Gunvant Achutrao, Tata Institute of Social Sciences, India
Calafate, Carlos, Technical University of Valencia, Spain
Chen, Joy Iong-Zong, Da-Yeh University, Taiwan, Province of China
Choudhury, Pankaj Kumar, Universiti Kebangsaan Malaysia, Malaysia
Chung, Ping-Tsai, Long Island University, USA
Fleury, Anthony, Mines Douai, France
Ganchev, Ivan, University of Limerick and University of Plovdiv "Paisii Hilendarski", Ireland
Garcia-Clemente, Felix Jesus, Universidad de Murcia, Spain
Gasior, Dariusz, Wroclaw University of Technology, Poland
Jin, Jingwen, Caterpillar Inc., USA
Joshi, Sudhanshu, Doon University, India
Kopparapu, Sunil Kumar, TCS Innovation Labs – Mumbai, India
Lee, Kevin, Murdoch University, Australia
Meedeniya, Dulani, University of Moratuwa, Sri Lanka
Moorning, Kimberlee, City University of New York, USA
Narasimhan, Padmanesan, University of New South Wales, Australia
Olatunji, Sunday Olusanya, University Of Dammam, Saudi Arabia
Papakostas, George, Eastern Macedonia and Thrace Institute of Technology, Greece
Rajchakit, Grienggrai, Maejo University, Thailand
Rajkumar, M. Valan, Gnanamani College of Technology, India
Rizvi, Syed, Penn State University, USA
Sabri, My Abdelouahed, Sidi Mohamed Ben Abdellah University, Morocco
Saha, Sriparna, Indian Institute of Technology Patna, India
Shayib, Mohammed A., Lone Star College Cy-Fair, USA
Sherly, Elizabeth, IIITM-K, India
Usta, Fuat, Düzce University, Turkey
A few essentials for publishing in this journal
Submitted articles should not have been previously published or be currently under consideration for publication elsewhere.
Conference papers may only be submitted if the paper has been completely re-written (more details available here) and the author has cleared any necessary permissions with the copyright owner if it has been previously copyrighted.
Briefs and research notes are not published in this journal.
All our articles go through a double-blind review process.
All authors must declare they have read and agreed to the content of the submitted article. A full statement of our Ethical Guidelines for Authors (PDF) is available.
There are no charges for publishing with Inderscience, unless you require your article to be Open Access (OA). You can find more information on OA here.



Submission process

All articles for this journal must be submitted using our online submissions system.
View Author guidelines.