International Journal of Human Rights and Constitutional Studies
This journal also publishes Open Access articles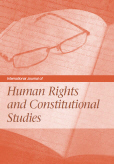 Editor in Chief

Dr. Christina M. Akrivopoulou

ISSN online

2050-1048

ISSN print

2050-103X
4 issues per year


Impact factor (Clarivate Analytics) 2023

0 (5 Year Impact Factor 0.1)
JCI 0.06
IJHRCS initiates and fosters academic dialogue concerning the modern subjects of constitutional law and human rights protection from a global perspective. It provides novel and original material in the fields of current economic and political crises, globalised democratic governance, human rights public policies, the theory and philosophy of rights, comparative constitutional law and the methodology of law.
Topics covered include
International constitutional law
International human rights protection
Comparative constitutional law
Constitutional theory and policy
Theory of rights
Philosophy of rights
Globalisation and governance
Constitutional rights, constitutional freedoms
Methodology of law
Constitutional politics
EU constitutionalisation
Migration and multiculturalism
Democratic deficit theory
Political parties and elections
Digital participation, e-democracy, e-governance
More on this journal...
Objectives
In a multicultural and globalised era, IJHRCS aims to provide for the international academic audience a forum for a fruitful, ongoing and updated dialogue on the contours of modern constitutionalism by bringing together theory and praxis. Thus one the main objectives of the journal is to establish the communication between academics and policy makers, researchers and legal practitioners as well as politicians.
Readership
IJHRCS provides a vehicle to help academics, researchers, policy makers, legal practitioners, law students, politicians and the judiciary working in the fields of human rights theory and protection and constitutional studies to disseminate information, innovative argumentation and updated academic knowledge.
Contents
IJHRCS publishes original papers, conference reports, jurisprudence, book reviews, notes and commentaries. Special issues devoted to important topics of human rights and constitutional studies will occasionally be published.
Editor in Chief
Akrivopoulou, Christina M., Democritus University of Thrace, Greece
(ijhrconsgmail.com)
Assistant Editor
Fournier, Knut, City University of Hong Kong, Hong Kong SAR, China
Regional Editor Asia
Sinha, Manoj Kumar, WB National University of Juridical Sciences, India
Regional Editor Eastern Europe
Drzewicka, Bożena, Ateneum-University in Gdansk, Poland
Regional Editor Latin America
Korstanje, Maximiliano E., University of Palermo, Argentina
Regional Editors North America
Oklopcic, Zoran, Carleton University, Canada
Skoll, Geoffrey R., Buffalo State College, USA
Advisory Board
Ruggeri, Antonio, Università degli Studi di Messina, Italy
Symeonides, Symeon C., Willamette University, USA
Editorial Board Members
Andrade, Norberto Nuno Gomes de, European University Institute, Italy
Bielenia-Grajewska, Magdalena, University of Gdansk, Poland
Bilchitz, David, University of Johannesburg, South Africa
Boersema, David, Pacific University, USA
Brottes, Jérémy, University of Luxembourg, Luxembourg
Chow, Pok Yin Stephenson, City University of Hong Kong, Hong Kong SAR, China
Contartese, Cristina, University of Bologna, Italy
Dimitropoulos, Georgios, European Public Law Organization, Greece
Escudé, Carlos, Argentine National Council of Scientific Research (CONICET) and "Marshall T. Meyer" Latin American Rabbinical Seminary, Argentina
Gaballo, Viviana, University of Macerata, Italy
Hai-Jew, Shalin, Kansas State University, USA
Johnstone, Rachael Lorna, University of Akureyri, Iceland
Köse, Melike Akkaraca, Istanbul Kültür University, Turkey
Karayianni, Christiana, Frederick University Cyprus, Cyprus
Koutnatzis, Stylianos-Ioannis G., Democritus University of Thrace, Greece
Kumar, C. Raj, O.P. Jindal Global University , India
Meix, Pablo, Universidad de Castilla-La Mancha, Spain
Nehmelman, Remco, Utrecht University, Netherlands
Papadopoulou, Lina, Aristotle University of Thessaloniki, Greece
Quinlan, Tara Lai, King's College London, UK
Rezzouk-Hammachi, Vincent, Université du Mans , France
Romanin Jacur, Francesca, Universitá degli Studi di Milano, Italy
Roper, Steven D., Eastern Illinois University, USA
Sgueo, Gianluca, University of Viterbo "La Tuscia", Italy
Su, Shumin, Beijing International Studies University , China
Temel, Bülent, Southern New Hampshire University and Atilim University, Turkey
Torres, Ivan Pincheira, University of Santiago de Chile, Chile
Weilert, A. Katarina, Forschungsstätte der Evangelischen Studiengemeinschaft e.V., Germany
Yasuaki, Onuma, University of Tokyo, Japan
Zafiropoulos, Kostas, University of Macedonia, Greece
A few essentials for publishing in this journal
Submitted articles should not have been previously published or be currently under consideration for publication elsewhere.
Conference papers may only be submitted if the paper has been completely re-written (more details available here) and the author has cleared any necessary permissions with the copyright owner if it has been previously copyrighted.
Briefs and research notes are not published in this journal.
All our articles go through a double-blind review process.
All authors must declare they have read and agreed to the content of the submitted article. A full statement of our Ethical Guidelines for Authors (PDF) is available.
There are no charges for publishing with Inderscience, unless you require your article to be Open Access (OA). You can find more information on OA here.



Submission process

All articles for this journal must be submitted using our online submissions system.
View Author guidelines.