International Journal of Electronic Trade
This journal also publishes Open Access articles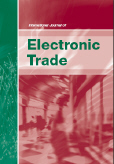 Editor in Chief

Prof. Ciro Troise

ISSN online

1742-7533

ISSN print

1742-7525
4 issues per year

IJETrade fosters multidisciplinary discussion and research on electronic commerce and trade for businesses, consumers, governments and society, in local and global contexts. Given the extraordinary interest in services for the support of fast-growing world trade and for the design, implementation and management of e-commerce/e-trade services, IJETrade concentrates on the proposition of sound theoretical models, methodologies and practices, aiming to provide consultation and promotion of the discipline in an era where the traditional agenda of electronic commerce has been refocused.
Topics covered include
B2C and B2B electronic commerce
Consumer behaviour
Firms' strategies and performance
Entrepreneurship and start-ups
Innovation and knowledge management
Digital economy/transformation, social media/networking and commerce
E-government, public policy and digital divide issues
Contexts, marketplaces, globalisation, supply chain management, logistics
Business models, (e-)business model innovation, strategic adoption frameworks
Internet services, internet-based companies, communities/collective intelligence
Economic and financial performance
Marketing, customer service/support/relationship management
Sustainability and sustainable development
Tools/emerging technologies, new-generation applications/grid technologies
Challenges/roadmaps for the future
More topics...
Electronic Trade/Electronic Commerce: Contexts

Citizens
Consumers
Business
Government
Community
Global
Electronic Trade/Electronic Commerce: Business Issues

Globalisation
Sustainable development
Business models
Marketplaces
Supply chain management
Logistics
Marketing
Strategic adoption frameworks
Communities/collective intelligence
Outsourcing and process modelling
Business process reengineering
Customer relationship management
Training and education
Security and control
Business strategy alignment
Social/business networking
Knowledge management
Learning
Financial performance
Marketing and customer service/support
IT government
Aesthetics
Emotional intelligence
Electronic Trade/Electronic Commerce: The Technologies

Front/back office
Portals
Push/pull technologies
Web 2.0
Semantic web
Adaptive and personalised technologies
Metadata and content management
Free and open source software
Intelligent agents
Mobile/ubiquitous/pervasive technologies
Security
Payment systems
Grid technologies
IT strategy
Content/knowledge management systems
Emerging technologies
Electronic Trade/Electronic Commerce: Practices and Applications in Domains

E-commerce/e-trade practices in different countries/markets/segments/products/services
Surveys of e-commerce adoption
Benchmarking/best practices/case studies at regional/national/global levels
Domain applications
Tools/emerging technologies and new generation applications
Challenges for the future; specification of government policies for the promotion of electronic trade/electronic commerce
Roadmaps for the future
More on this journal...
Objectives
IJETrade delivers research articles, position papers, surveys and case studies aiming:
To provide a holistic and multidisciplinary discussion on how traditional and emerging technologies support new unforeseen means for the provision of e-commerce and e-trade solutions
To promote the international collaboration and exchange of ideas and know-how on e-commerce and e-trade practices, applications, methodologies and services
To analyse the linkages of e-trade and e-commerce with strategy and to craft managerial models for the alignment of business strategy and e-commerce
To provide a balanced discussion of social, business, consumer and government themes
To define new frontiers for the provision of e-commerce
Readership
IJETrade aims to establish value-adding knowledge transfer and personal development channels in three distinctive areas: academia, industry and government, which summarise the three pillars in which a new scientific publication can play a significant role.
Contents
IJETrade publishes original research papers providing significant results, short communications about innovative ideas, and news, announcements and reviews regarding the topics of the journal.
Browse issues
IJETRADE is indexed in:
IJETRADE is listed in:

This journal is yet to be included in any lists or directories.

Editor in Chief
Troise, Ciro, University of Turin, Italy
(ciro.troiseunito.it)
Associate Editors
Ammirato, Salvatore, University of Calabria, Italy
Battisti, Enrico, University of Turin, Italy
Camilleri, Mark Anthony, University of Malta, Malta
Gheith, Mohamed Hani, Mansoura University, Egypt
Schjoedt, Leon, University of Texas Rio Grande Valley, USA
Tani, Mario, University of Naples Federico II, Italy
Editorial Board Members
Abdallah, Yasser Omar, Cranfield University, UK
Ahmad, Muhammad Ishfaq, University of Lahore, Pakistan
Alam, Gazi Mahabubul, University Putra Malaysia, Malaysia
Aramo-Immonen, Heli, Turku University of Applied Science, Finland
Baima, Gabriele, University of Turin, Italy
Ballerini, Jacopo, University of Turin, Italy
Bargoni, Augusto, University of Turin, Italy
Beinhauer, Rupert, FH JOANNEUM, Austria
Bobek, Vito, University of Applied Sciences FH Joanneum, Austria
Caputo, Andrea, University of Trento, Italy
Cimino, Antonio, University of Salento, Italy
Coniglio, Ilda Maria, University of Calabria, Italy
Corvello, Vincenzo, University of Messina, Italy
Dana, Leo Paul, Dalhousie University, Canada
Dinsmore, John, Wright State University, USA
Elnadi, Moustafa, Mansoura University, Egypt
Emami, Amir, Kharazmi University, Iran
Felicetti, Alberto Michele, University of Calabria, Italy
Ghobadian, Abby, Henley Management College, UK
Han, Tian, University of Nottingham, UK
Helander, Nina, Tampere University, Finland
Jafari-Sadeghi, Vahid, Aston University, UK
Julian, Craig C., Academy of World Business, Australia
Justinek, Gorazd, New University, Slovenia
Mohammed, Abdulalem, Shaqra University, Saudi Arabia
Monge, Filippo, University of Turin, Italy
O'Regan, Nicholas, Aston University, UK
Perotti, Francesco Antonio, University of Turin, Italy
Rahaman, Md. Saidur, Metropolitan University, Bangladesh
Rahman, Md. Mizanur, BRAC University, Bangladesh
Rehman, Ramiz Ur, Sohar University, Oman
Rehman, Shafique Ur, Shenzhen University, China
Rizzo, Cristian, University of Turin, Italy
Sadraei, Rosie, Coventry University, UK
Salamzadeh, Aidin, University of Tehran, Iran
Sestino, Andrea, University of Rome Tre, Italy - LUISS Guido Carli University, Italy
Singh, Sandeep, Punjabi University, Patiala, India
Strazzullo, Serena, University of Naples Federico II, Italy
Sukumar, Arun, UWE Bristol, UK
Talavera Fabra, Irene, Universidad Europea de Madrid, Spain
Testa, Stefania, University of Genova, Italy
Thomas, Asha, Wroclaw University of Science and Technology, Poland
Yablonsky, Sergey, University of Jaén, Spain
A few essentials for publishing in this journal
Submitted articles should not have been previously published or be currently under consideration for publication elsewhere.
Conference papers may only be submitted if the paper has been completely re-written (more details available here) and the author has cleared any necessary permissions with the copyright owner if it has been previously copyrighted.
Briefs and research notes are not published in this journal.
All our articles go through a double-blind review process.
All authors must declare they have read and agreed to the content of the submitted article. A full statement of our Ethical Guidelines for Authors (PDF) is available.
There are no charges for publishing with Inderscience, unless you require your article to be Open Access (OA). You can find more information on OA here.



Submission process

All articles for this journal must be submitted using our online submissions system.
View Author guidelines.