International Journal of Engineering Systems Modelling and Simulation
This journal also publishes Open Access articles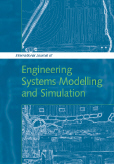 Editor in Chief

Prof. Xiaogang Yang

ISSN online

1755-9766

ISSN print

1755-9758
4 issues per year


Impact factor (Clarivate Analytics) 2023

1.1 (5 Year Impact Factor 0.6)
JCI 0.3

CiteScore

1.4 (2022)

Most of the research and experiments in the field of engineering have devoted significant efforts to modelling and simulation of various complicated phenomena and processes occurring in engineering systems. IJESMS provides an international forum and refereed authoritative source of information on the development and advances in modelling and simulation, contributing to the understanding of different complex engineering systems. IJESMS is designed to be a multi-disciplinary, fully refereed, international journal.
Topics covered include
Analysis and computational methods; heat transfer; experimental investigations; aerodynamics; combustion; chemical reaction and mixing; multiphase flow modelling
Computational fluid dynamics (CFD) approach to different engineering systems
Dynamic modelling theories, techniques, and application examples of engineering systems
Experimental study and/or measurement technology of engineering systems
Manufacturing processes; process modelling
Performance modelling of automobiles (consumer vehicles, commercial vehicles, and racing vehicles)
Structure vibrations; acoustics
Various engineering system control and simulation
Optimisation of engineering systems
Signal processing and identification
Other relevant topics
More on this journal...
Objectives
IJESMS aims to promote the advancement of fundamental understanding to processes encountered in engineering systems and to provide an international forum to report latest developments in modelling and simulation. It interprets the term, "engineering systems", in a broad sense provided that modelling and simulation plays a significant role in the associated studies. It particularly welcomes emerging methodologies and novel applications from different modelling problems in all engineering branches.
Readership
IJESMS provides a forum for professionals, academics and researchers working in the field of science, technology and engineering to disseminate information and research results and findings. Readers are those working in and related to the field of engineering systems in academia including professors, researchers and graduate students, and technologists including engineers, specialists, and technology managers from various industries.
Contents
IJESMS publishes original and peer reviewed technical papers which advance understanding of both the fundamentals of engineering science and its application leading to the solution of problems in engineering systems. It is particularly concerned with the demonstration of engineering science modelling and solution to specific industrial problems. Surveys of newly maturing topics in the field, major developments in modelling and simulation, review papers and book reviews will also published. Breakthroughs can be communicated via short communication, commentaries, and letters to the editor. Contribution may be made by submission or invitation, and special issues devoted to important topics in engineering systems will also be published.
Editor in Chief
Yang, Xiaogang, University of Nottingham Ningbo China, China
(Xiaogang.Yangnottingham.edu.cn)
Associate Editors
Baïri, Abderrahmane, Université Paris X, France
Brizzi, Laurent-Emmanuel, Université de Poitiers, France
Chanetz, Bruno, ONERA, France
Chernikov, Alexander S., Bauman Moscow State Technical University, Russian Federation
McKenzie, Hastings, Birmingham City University, UK
Rielly, Chris, Loughborough University, UK
Uchiyama, Tomomi, Nagoya University, Japan
Wang, Lian-Ping, University of Delaware, USA
Editorial Board Members
Anuchin, Alecksey, National Research University Moscow Power Engineering Institute, Russian Federation
Bauer, Pascal, Ecole Nationale Supérieure de Mécanique et d'Aérotechnique, France
Blackburn, Stuart, University of Birmingham, UK
Bouzerdoum, Abdesselam, University of Wollongong, Australia
Chen, Jinnan, Beijing Institute of Technology, China
Cheng, Zhen-Min, East China University of Science and Technology, China
De María, Mario García, Universidad Politécnica de Madrid, Spain
El Ganaoui, M., Université Henri Poincaré Nancy 1, France
Guo, Liejin, Xi'an Jiaotong University, China
Gupta, Govind Sharan, Indian Institute of Science, India
Lahoubi, Mohamed, ICAM Ecole d'ingénieurs, France
Laraqi, Najib, Université Paris X, France
Li, Dianzhong, Chinese Academy of Sciences, China
Mao, Ken, University of Warwick, UK
Pham, D. T., University of Birmingham, UK
Sazhin, Sergei S, University of Brighton, UK
Takada, Naoki, National Institute of Advanced Industrial Science and Technology (AIST), Japan
Tsujimoto, Koichi, Mie University, Japan
Uchyama, Tomomi, Nagoya University, Japan
Vagapov, Yuriy, Glyndŵr University, UK
Wang, Qiuwang, Xi'an Jiaotong University, China
Wang, Simon, Loughborough University, UK
Wen, Alan, The University of Nottingham Ningbo China, China
Yu, Aibing, Monash University Suzhou campus, China
Zeidan, Dia, German Jordanian University, Jordan
Zhang, Hongwei, Sheffield Hallam University, UK
Zoubir, Abdelhak M., Technische Universität Darmstadt, Germany
A few essentials for publishing in this journal
Submitted articles should not have been previously published or be currently under consideration for publication elsewhere.
Conference papers may only be submitted if the paper has been completely re-written (more details available here) and the author has cleared any necessary permissions with the copyright owner if it has been previously copyrighted.
Briefs and research notes are not published in this journal.
All our articles go through a double-blind review process.
All authors must declare they have read and agreed to the content of the submitted article. A full statement of our Ethical Guidelines for Authors (PDF) is available.
There are no charges for publishing with Inderscience, unless you require your article to be Open Access (OA). You can find more information on OA here.



Submission process

All articles for this journal must be submitted using our online submissions system.
View Author guidelines.