International Journal of Environmental Engineering
This journal also publishes Open Access articles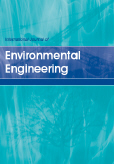 Editor in Chief

Prof. Yung-Tse Hung

ISSN online

1756-8471

ISSN print

1756-8463
4 issues per year

IJEE is an interdisciplinary and refereed journal, a think tank that fosters environmental protection and innovative solutions to ensure healthy, safe and efficient industrial operations. It promotes feasible system design, development and management, bringing together sustainable technologies, people and sound processes. It provides cross-learning between various scientific, technological, business and economics disciplines such as agriculture, fisheries, transportation, oil and gas, mining, metallurgy, and areas of conflict, taking into account environmental, health and safety, and other issues of public concern.
Topics covered include
Nature and environment
Human activities and intelligence, artificial intelligence, knowledge-based systems
Air, water and land pollution
Toxic and radioactive pollution
Water supply and resources
Agriculture and fisheries
Transportation
Oil and gas, mining and metallurgy
Industrial processing
Resources management and processing
Areas of conflict
Environmental technologies, including information technologies
Health and safety, risk assessment and management
Marketing and economics
Engineering innovations, development and technical solutions
More on this journal...
Objectives
The aim of IJEE is to provide an international forum for academics, industry leaders, and policy makers to investigate and exchange novel ideas and disseminate knowledge and information covering the broad range of natural systems and industrial activities and fields including, but not limited to, environmental science and engineering, resources management and engineering, processing, earth sciences, economics, engineering, information technologies, management, medicine, and the arts. In addition, it aims to establish an effective channel of communication between policy makers, government agencies, academic and research institutions and persons concerned with the complex set and behaviour of natural systems and operations. It also aims to promote and coordinate developments in the fields of environmental systems protection, natural science, health and safety, production, and processing. The international dimension is emphasised in order to overcome cultural and national barriers and to meet the needs of accelerating ecological and technological advances in all industries and the global society and economy. The ultimate objective is to ensure healthy human activities, natural industrial operations, and society progress and evolution.
Readership
IJEE provides a vehicle to help professionals, academics, researchers and policy makers, working in the field of environmental engineering dealing with various human activities and industrial operations such as agriculture, fisheries, transportation, oil and gas, mining, metallurgy, processing, and conflicts, to disseminate information and to learn from each other's work.
Contents
IJEE publishes original papers, review papers, technical reports, case studies, conference reports, management reports, book reviews, notes, commentaries, and news. Special Issues devoted to important topics in Environmental Engineering will occasionally be published.
Editor in Chief
Hung, Yung-Tse, Cleveland State University, USA
(yungtsehunggmail.com)
Managing Editors
Al-Jubouri, Sama M., University of Baghdad, Iraq
Al-Khatib, Issam A., Birzeit University, Palestine
Aziz, Hamidi Abdul, Universiti Sains Malaysia, Malaysia
Gupta, Sudhir Kumar, Indian Institute of Technology, Bombay, India
Salman, Hana, Tishreen University, Syrian Arab Republic
Zorluer, Ismail, Afyon Kocatepe University, Turkey
Editorial Board Members
Abu-Reesh, Ibrahim M., Qatar University, Qatar
Al-Mutairi, Nayef Z., Kuwait University, Kuwait
Coury, José Renato, Universidade Federal de São Carlos, Brazil
Elkhatib, Elsayed Ahmed, Alexandria University, Egypt
Fehr, Manfred, Federal University, Brazil
Ghazy, S.E., Mansoura University, Egypt
Ivascu, Larisa, Politehnica University of Timisoara, Romania
Kabdasli, Isik, Istanbul Technical University, Turkey
Kuo, Chin Y., Cleveland State University, USA
Latiff, Hj. Ab. Aziz bin Abdul, Universiti Tun Hussein Onn Malaysia (UTHM), Malaysia
Liu, Clark C. K., University of Hawaii at Manoa, USA
Singh, R. K, Konkan Agriculture University, India
Yeh, Ruth Yu-Li, Ming Hsin University of Science and Technology, Taiwan, Province of China
Yuan, Pao-Chiang, Jackson State University, USA
Editorial Assistants
Abufoul, Ahmed A.M., Islamic University of Gaza (IUG), Palestine
Adesanmi, Bukola, Cleveland State University, USA
Ajnavi, Somesh, Hindustan College of Science and Technology, India
Akinwande, Oluwatobiloba, Cleveland State University, USA
Alahmad, Mohammed Suleiman, Cleveland State University, USA
Alipour, Alireza, Isfahan University of Technology, Isfahan, Iran
Alwared, Abeer, University of Baghdad, Iraq
Amahmid, Omar, Department of Life and Earth Sciences, Morocco
Amiri, Mohammad Javad, Fasa University, Iran
Ammeri, Rim Werheni, Institut des Régions Arides mednine, Tunisia
Amuda, Omotayo Sarafadeen, Ladoke Akintola University of Technology, Nigeria
Basu, Debolina, Motilal Nehru National Institute of Technology Allahabad, India
Bhat, Sartaj Ahmad, Gifu University, Japan
Butler, Erick, Cleveland State University, USA
Caldona, Eugene, Mississippi State University, USA
de la Cueva, Sergio Cisneros, Autonomous University of Chihuahua (UACH), Mexico
Debelie, Habtamu Degefa, Hawassa University, Ethiopia
Dufek, Zdenek, Brno University of Technology, Czech Republic
Eguagie, Alexander, Cleveland State University, USA
Eltarahony, Marwa M., Genetic Engineering and Biotechnology Research Institute (GEBRI), Egypt
Eyvaz, Murat, Gebze Technical University, Turkey
Fikri, Elanda, Diponegoro University, Indonesia
Goula, Maria A., Technological Educational Institute of Western Macedonia, Greece
Gül, Ülküye Dudu, Bilecik Seyh Edebali University, Turkey
Gupta, Richa, Rajiv Gandhi Technical University, India
Gupta, Saurabh, Mata Gujri College (An Autonomous College), India
Hamid, Amer Al Abdel, Yarmouk University, Jordan
Hossain, Fahim, Imam Abdulrahman Bin Faisal University, Dammam, Saudi Arabia
Ismail, Zainab Z., Baghdad University, Iraq
Jin, Haibo, Beijing Institute of Petrol-Chemical Technology, China
Kajitvichyanukul, Puangrat, Naresuan University, Thailand
Khalil, Tarek, Alexandria University, Egypt
Kormi, Tarek, Ecole Polytechnique de Tunisie, Tunisia
Madiraju, Saisantosh Vamshi Harsha, University of Toledo, USA
Mahjoub, Borhane, Higher Institute of Agronomic Sciences of Chott-Mariem, Tunisia
Majidzadeh, Hamed, Belle W.Baruch Institute, USA
Mwasha, Abrahams, The University of the West Indies, Trinidad and Tobago
Nartey, Vincent, University of Ghana, Ghana
Nayak, Ashish Kumar, Prasad V. Potluri Siddhartha Institute of Technology, India
Nkonge, Ananias N., Moi University, Kenya
Oginni, Felix Adeniran, Covenant University, Nigeria
Ong, Siew-Teng, Universiti Tunku Abdul Rahman, Malaysia
Owabor, Chiedu, University of Benin, Nigeria
Pamula, Abhiram, Cleveland State University, USA
Priya, A. K., KPR Institute of Engineering and Technology, India
Rahman, Md Jahidur, Georgia Southern University, USA
Rathnayake, Indunil, Uva Wellassa University, Sri Lanka
Rawat, Komal, Govind Ballabh Pant University of Agriculture and Technology, Pantnagar, India
Salimbahrami, Behnoosh, Payam Noor University, Iran
Sudarshan, S., ICAR-Central Institute of Fisheries Education, Versova, Mumbai, India
Tiwari, Archana, Rajiv Gandhi Technical University, India
Uddin, Md Nizam, Georgia Southern University, USA
Zhang, Weilan, State University of New York at Albany, USA
Zhang, Yali, Shandong University of Technology, China
Zouabi-Aloui, Besma, University of Tunis el Manar, Tunisia
A few essentials for publishing in this journal
Submitted articles should not have been previously published or be currently under consideration for publication elsewhere.
Conference papers may only be submitted if the paper has been completely re-written (more details available here) and the author has cleared any necessary permissions with the copyright owner if it has been previously copyrighted.
Briefs and research notes are not published in this journal.
All our articles go through a double-blind review process.
All authors must declare they have read and agreed to the content of the submitted article. A full statement of our Ethical Guidelines for Authors (PDF) is available.
There are no charges for publishing with Inderscience, unless you require your article to be Open Access (OA). You can find more information on OA here.



Submission process

All articles for this journal must be submitted using our online submissions system.
View Author guidelines.
Journal news
Digging into the benefits of landfill mining
2 August, 2023
Research in the International Journal of Environmental Engineering reveals details of the first successful, large-scale landfill mining project in Andalusia, Spain. Landfill mining is an emerging approach for the remediation of old waste sites. It allows for the re-use of valuable materials, such as plastics and metals that may have been dumped before recycling facilities were widely available. The process might also allow an entire brownfield site to be remediated sufficiently for development or even rewilding. David Caro-Moreno, Francisco J. Rodríguez-Gallardo, and Francisco A. Jiménez-Cantizano of the Environmental and Water Agency, part of the Regional Government of Andalusia, together with Germán Coca-López of the Council of Sustainability, Environment and Blue Economy of Andalusia, have assessed a pilot project carried out in the town of Dehesas Viejas, Granada [...]
More details...