International Journal of Experimental and Computational Biomechanics
This journal also publishes Open Access articles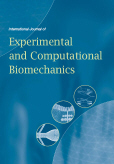 Editor in Chief

Dr. M.A. Dorgham

ISSN online

1755-8743

ISSN print

1755-8735
4 issues per year

IJECB is a fully refereed international journal that encourages the sharing of knowledge and discoveries among researchers in biomechanics. It includes experimental, computational and theoretical works in biomechanics aimed at improving the knowledge base in biomechanics with the eventual hope that this knowledge will help improve the health, and thus livelihood, of humans requiring medical treatment.
Topics covered include
Prosthetics
Artificial organs
Biomechanical systems
Instrumentation
Biomaterials
Cell mechanics
Tissue engineering
Mass and heat transfer
Biofluids
Bones
Blood vessels
Bioprocesses
Design of biosystems
More on this journal...
Objectives
The main objective of IJECB is to provide an effective forum for researchers from around the world to publish their new and innovative work in biomechanics. It also emphasises the importance of different approaches (experiments/clinical work, modelling and theory) to solve the complex modern issues faced by biomechanicians.
Readership
The readership of IJECB varies from biomechanics researchers to professionals, academics and scholars. The journal should be of interest essentially to anyone involved in biomechanics.
Contents
IJECB publishes original research papers and review articles as well as research notes. Research papers are full-length manuscripts. Review articles provide a fairly comprehensive review of state-of-the-art or up-to-date coverage of a certain topic of interest. Research notes are short communications or technical briefs. In addition, Special Issues will be published from time to time. Such issues typically represent conference or symposium proceedings, or contributions gathered by invited Guest Editors from experts in their particular specialism.
Honorary Editor
Khraishi, Tariq A., University of New Mexico, USA
Editor in Chief
Dorgham, M.A., International Centre for Technology and Management, UK
(supportinderscience.com)
Associate Editors
Dubey, Devendra K., Indian Institute of Technology-Delhi, India
Rahbar, Nima, Worcester Polytechnic Institute , USA
Ren, Xuejun (James), Liverpool John Moores University, UK
Sutradhar, Alok, Ohio State University, USA
Zavattieri, Pablo, Purdue University, USA
Editorial Board Members
Avanzini, Andrea, Università degli Studi di Brescia, Italy
Baek, Seungik, Michigan State University, USA
David, Tim, University of Canterbury, New Zealand
DeCoster, Thomas, University of New Mexico, USA
Doblaré, Manuel, University of Zaragoza, Spain
Gan, Rong Z., University of Oklahoma, USA
Goswami, Tarun, Wright State University, USA
Lagrée, Pierre-Yves, Université Pierre et Marie Curie, France
Liao, Donghua, Aalborg Hospital, Aarhus University Hospital Mech-Sense, Denmark
Lovald, Scott, Satyrne Biotechnologies Corp., USA
Lu, Tung-Wu, National Taiwan University , Taiwan, Province of China
Steele, Brooke N., University of North Carolina at Chapel Hill and NC State University, USA
Thelen, Darryl G., University of Wisconsin-Madison, USA
Tong, Jie, University of Portsmouth, UK
Van Dommelen, Johannes A.W., Eindhoven University of Technology, Netherlands
Verdonck, Pascal, Ghent University Hospital, Belgium
Vora, Anand M., Northwestern University, USA
Wan, Kai-tak, Northeastern University, USA
Yahia, L'Hocine, École Polytechnique Montréal, USA
Zhang, Li-Qun, Rehabilitation Institute of Chicago, USA
A few essentials for publishing in this journal
Submitted articles should not have been previously published or be currently under consideration for publication elsewhere.
Conference papers may only be submitted if the paper has been completely re-written (more details available here) and the author has cleared any necessary permissions with the copyright owner if it has been previously copyrighted.
Briefs and research notes are not published in this journal.
All our articles go through a double-blind review process.
All authors must declare they have read and agreed to the content of the submitted article. A full statement of our Ethical Guidelines for Authors (PDF) is available.
There are no charges for publishing with Inderscience, unless you require your article to be Open Access (OA). You can find more information on OA here.



Submission process

All articles for this journal must be submitted using our online submissions system.
View Author guidelines.