International Journal of Design Engineering
This journal also publishes Open Access articles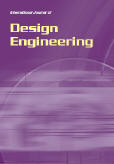 Editor in Chief

Prof. Daizhong Su

ISSN online

1751-5882

ISSN print

1751-5874
2 issues per year

Design is an important aspect in almost all engineering fields. IJDE proposes and fosters discussion on up to date research findings and achievements in design engineering and related areas, and identifies new technology requirements, needs and priorities in those areas. It offers the reader a wealth of valuable material on theories and practices which underpin successful research and development in design engineering.
Topics covered include
Product, engineering and industrial design
Design in engineering subject areas
CAD, CAM, CAE
Design for sustainability and renewable energy
Web/internet technologies and wireless computing in design engineering
Design management
Integrated design and manufacturing, concurrent engineering
Mechanical transmission and machine elements
Tribology and lubrication in design engineering
Mechanics and mechatronics, heat transfer and fluids
Design optimisation and finite/boundary element methods in design engineering
Agile manufacturing
Rapid prototyping
Experimental and theoretical analyses in design engineering
Advanced computing in design engineering
More on this journal...
Objectives
The objectives of
IJDE
are to establish an effective channel of communication between academic and research institutions, industries and enterprises, professional organisations, policy makers, government agencies and persons concerned with the complex issues in design engineering and related subject areas. It also aims to promote and coordinate developments in those areas. The international dimension is emphasised in order to overcome cultural and national barriers and to meet the needs of accelerating technological and ecological change and changes in the global economy.
Readership
IJDE provides a vehicle to help professionals, academics, researchers, engineers and policy makers, working in the field of design engineering and related subject areas, to disseminate information and to learn from each other's work
Contents
IJDE publishes original papers, review papers, technical reports, conference reports, case studies, book reviews, and news. Special Issues devoted to important topics in design engineering and related areas will occasionally be published.
Editor in Chief
Su, Daizhong, The Nottingham Trent University, UK
(daizhong.suntu.ac.uk)
Associate Editors
Konukseven, E. Ilhan, Middle East Technical University, Turkey
Qin, Sheng-feng, Northumbria University, UK
Rao, R. Venkata, Sardar Vallabhbhai National Institute of Technology (SVNIT), India
Schaefer, Frank, HAW Hamburg University of Applied Sciences, Germany
Editorial Board Members
Abdalla, Hassan, University of East London, UK
Adeli, Hojjat, Ohio State University, USA
Balic, Joze, University of Maribor, Slovenia
Bayo, Adriano Mones, Grupo de Empresas Temper, Spain
Casamayor, Jose L., University of Sheffield, UK
Eskelinen, Harri, Lappeenranta University of Technology, Finland
Hemmje, Matthias L., FernUniversität Hagen, Germany
Hou, Jiachen, University of Bradford, UK
Loon, Han van, Leistungs Consult GmbH, Switzerland
Millet, Dominique, SUPMECA - Toulon, France
Peng, Wenjie, Nottingham Trent University, UK
Rais-Rohani, Masoud, Mississippi State University, USA
Ren, Zhongming, Shanghai University of Engineering Science, China
Roy, Robin, The Open University, UK
Sapidis, Nickolas S., University of Western Macedonia, Greece
Shaw, Dein, National Tsing Hua University, Taiwan, Province of China
Snidle, R W, Cardiff University, UK
Solomonides, Ian, Macquarie University, Australia
Sun, Shouqian, Zhejiang University, China
Withalm, Josef, Siemens AG Austria, Austria
Wong, Kuan Yew, Universiti Teknologi Malaysia, Malaysia
Wu, You, University of Warwick, UK
Zhao, Yaping, Northeastern University, China
Zheng, Yongjun, University of Hertfordshire, UK
A few essentials for publishing in this journal
Submitted articles should not have been previously published or be currently under consideration for publication elsewhere.
Conference papers may only be submitted if the paper has been completely re-written (more details available here) and the author has cleared any necessary permissions with the copyright owner if it has been previously copyrighted.
Briefs and research notes are not published in this journal.
All our articles go through a double-blind review process.
All authors must declare they have read and agreed to the content of the submitted article. A full statement of our Ethical Guidelines for Authors (PDF) is available.
There are no charges for publishing with Inderscience, unless you require your article to be Open Access (OA). You can find more information on OA here.



Submission process

All articles for this journal must be submitted using our online submissions system.
View Author guidelines.
Journal news
Pumping up biodiesel with biogas
11 July, 2023
A review in the International Journal of Design Engineering, looks at the potential for biodiesel with biogas as a sustainable fuel to limit our reliance on fossil fuels and reduce pollution. Sustainable energy solutions are high on the environmental agenda. Vehicles powered by electricity from sustainable sources such as wind and solar would seem to be the optimum solution. However, infrastructure to support such a paradigm shift in transport is not widespread, especially in the developing world. Until it is there is perhaps a need for alternatives for fossil fuels that can work with current internal combustion engines. Sanjay R. Mali of the Gujarat Technological University in India, and colleagues have carried out a comprehensive review of alternative fuels for internal combustion engines. Their study sheds light on the performance and environmental implications of biodiesel and biogas [...]
More details...