International Journal of Creative Computing
This journal also publishes Open Access articles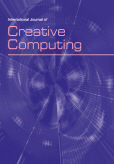 Editor in Chief

Prof. Sam Goundar

ISSN online

2043-8354

ISSN print

2043-8346
4 issues per year

Creative computing refers to a meta-technology to coalesce knowledge in computing and other disciplines. IJCrC highlights creativity in the technological domain to utilise fully knowledge in the human domain while not excluding creativity in the latter. People use computers as aids to creativity and creative-computing topics may reshape the world as we know it. Applications are seen in arts, entertainment/games, mobile applications, multimedia, product/web design and other interactive systems. IJCrC aims to shape a significant body of creative computing research.
Topics covered include
Creative computing philosophy
Creative computing theory
Creative computing principles
Creative computing modelling
Creative computing development methods
Creative computing support environment
Creative computing applications
Creative computing evaluation
More on this journal...
Objectives
The objectives of IJCrC are to promote the research, development and practice of creative computing. The international dimension is emphasised in order to overcome cultural and national barriers and to meet the needs of accelerating technological change and changes in the global economy. IJCrC can help to shape a significant body of research in the field of creative computing, the results of which can be shared across institutions, governments, researchers and students, and also industry.
Readership
IJCrC provides a vehicle to help professionals, academics, researchers, graduate students and managers working in the field of creative computing to disseminate information and to learn from each other's work.
Contents
IJCrC publishes original and review papers, technical reports and case studies. Contributions may be by submission or invitation, and proposals for Special Issues devoted to important topics in creative computing are welcome.
Editor in Chief
Goundar, Sam, RMIT University, Vietnam
(sam.goundargmail.com)
Editorial Board Members
Azrour, Mouarde, Moulay Ismail University of Meknes, Morocco
Barile, Nello, Università IULM, Italy
Chan, W.K., City University of Hong Kong, Hong Kong SAR, China
Chu, William, Tunghai University, Taiwan, Province of China
Dewani, Nisha Dhanraj, Maharaja Agrasen Institute of Management Studies, India
Edmonds, Ernest, De Montfort University, UK and University of Technology, Sydney, Australia
Gold, Nicolas, University College London, UK
Harman, Mark, University College London, UK
Hendler, Jim, Rensselaer Polytechnic Institute , USA
Jia, Jinyuan, Tongji University, China
Jones, Sara, City University London, UK
Lindstaedt, Stefanie, Know-Center GmbH, Austria
Liu, Lin, Tsinghua University, China
Lung, Chung-Horng, Carleton University, Canada
Ma, Jianhua, Hosei University, Japan
Madhavi, K. Reddy, Mohan Babu University, India
Mahajan, Shubham, Ajeenkya D.Y. Patil University, India
Maiden, Neil, City University London, UK
Mei, Hong, Peking University, China
Ming, Hua, Oakland University, USA
Ngo, Tuan-Phong, RMIT University, Vietnam
Oliveros, Pauline, Deep Listening, USA
Pang, Yanwei, Tianjin University, China
Peng, Yonghong, Bradford University, UK
Sahu, Aditya Kumar, Amrita Vishwa Vidyapeetham, India
Shrestha Khwakhali, Ushik, RMIT University, Vietnam
Thirumalai, Padmapriya, Melange Publications, India
Tsai, Wei-Tek, Arizona State University, USA
Zhao, Jianjun, Shanghai Jiaotong University, China
Zhu, Hong, Oxford Brookes University, UK
A few essentials for publishing in this journal
Submitted articles should not have been previously published or be currently under consideration for publication elsewhere.
Conference papers may only be submitted if the paper has been completely re-written (more details available here) and the author has cleared any necessary permissions with the copyright owner if it has been previously copyrighted.
Briefs and research notes are not published in this journal.
All our articles go through a double-blind review process.
All authors must declare they have read and agreed to the content of the submitted article. A full statement of our Ethical Guidelines for Authors (PDF) is available.
There are no charges for publishing with Inderscience, unless you require your article to be Open Access (OA). You can find more information on OA here.



Submission process

All articles for this journal must be submitted using our online submissions system.
View Author guidelines.