International Journal of Biomedical Nanoscience and Nanotechnology
This journal also publishes Open Access articles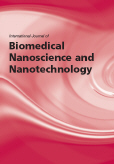 Editor in Chief

Dr. Xudong Huang

ISSN online

1756-0802

ISSN print

1756-0799
4 issues per year

IJBNN proposes and fosters discussion on scientific and technological investigations of nanomaterials in biology and medicine, with emphasis on their biomedical implications and impacts upon the biosphere. This perspective acknowledges the complexity of biomedical nanoscience and nanotechnology as an interface between the biomedical arena and the nanosystem.
Topics covered include
Synthesis and fabrication of nanomaterials for biomedical applications
Manufacture of nanodevices for biomedical applications
Nanobiology
Nanotoxicology
Nanobiochemistry
Nanomedicine
Nanoscale drug delivery vehicles, therapeutic and diagnostic agents
Policy and regulations related to biomedical nanoscience and nanotechnology
More on this journal...
Objectives
The objectives of IJBNN are to establish an effective channel of communication between policy makers, government agencies, academic and research institutions and persons concerned with the complex role of biomedical nanoscience and nanotechnology in society. In particular, the journal will provide a source of high quality peer-reviewed research into the contemporary discipline of nanoscience and a platform for effective communication of the latest findings in biomedical nanotechnology.
Readership
IJBNN provides a vehicle to help professionals, academics, researchers and policy makers, working in the field of biomedical nanoscience and nanotechnology, to disseminate information and to learn from each other's work. The journal targets readers in the fields of fundamental and applied nanosciences and the biomedical applications of nanotechnology.
Contents
IJBNN publishes original papers, review papers, technical reports, case studies, conference reports, management reports, book reviews, notes, commentaries, and news. Special Issues devoted to important topics in biomedical nanoscience and nanotechnology will occasionally be published.
Editor in Chief
Huang, Xudong, Harvard Medical School, USA
(huang.xudongmgh.harvard.edu)
Consulting Editors
Bai, Chunli, Chinese Academy of Sciences, China
Bajcsy, Ruzena, University of Pennsylvania, USA
Bulte, Jeff W. M., Johns Hopkins University, USA
Butterfield, D. Allan, University of Kentucky, USA
Gambhir, Sanjiv S., Stanford University, USA
Jakobsson, Eric, University of Illinois at Urbana-Champaign, USA
Li, King C., The Methodist Hospital, USA
Lieber, Charles M., Harvard University, USA
Yacaman, Miguel José, University Of Texas at San Antonio, USA
Youdim, Moussa B.H., Technion-Rappaport Family Faculty of Medicine, Israel
Associate Editor
White, Anthony R., University of Melbourne, Australia
Associate Editor (Europe)
Clift, Martin J. D., Swansea University, UK
Associate Editor (Gulf Region and Africa)
Bououdina, Mohamed, University of Bahrain, Bahrain
Associate Editor (North Asia)
Kim, Beom Soo, Chungbuk National University, South Korea
Associate Editor (South Asia)
Shah, Mohammad Ashraf, National Institute of Technology, India
Editorial Board Members
Atwood, Craig S., University of Wisconsin-Madison, USA
Coskuner-Weber, Orkid, University of Texas at San Antonio , USA
Cuajungco, Math P., California State University Fullerton, USA
Dedeoglu, Alpaslan, Boston University Medical School, USA
Fukuyama, Hidenao, Kyoto University, Japan
Hatabu, Hiroto, Harvard Medical School and Brigham and Women's Hospital, USA
Jabbari, Esmaiel, University of South Carolina, USA
Jenkins, Bruce G., Harvard Medical School and Massachusetts General Hospital, USA
Kesari, Santosh, University of California, San Diego , USA
Kotera, Hidetoshi, Kyoto University, Japan
Martins, Ralph, Edith Cowan University, Australia
Moir, Robert D., Harvard Medical School and Massachusetts General Hospital, USA
Nadadur, Srikanth, National Institute of Environmental Health Sciences, USA
Rogers, Jack T., Harvard Medical School and Massachusetts General Hospital, USA
Yang, Peidong, University of California at Berkeley, USA
Ying, Jackie Yi-Ru, Institute of Bioengineering and Nanotechnology, Singapore
A few essentials for publishing in this journal
Submitted articles should not have been previously published or be currently under consideration for publication elsewhere.
Conference papers may only be submitted if the paper has been completely re-written (more details available here) and the author has cleared any necessary permissions with the copyright owner if it has been previously copyrighted.
Briefs and research notes are not published in this journal.
All our articles go through a double-blind review process.
All authors must declare they have read and agreed to the content of the submitted article. A full statement of our Ethical Guidelines for Authors (PDF) is available.
There are no charges for publishing with Inderscience, unless you require your article to be Open Access (OA). You can find more information on OA here.



Submission process

All articles for this journal must be submitted using our online submissions system.
View Author guidelines.