International Journal of Biometrics
This journal also publishes Open Access articles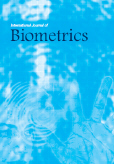 Editor in Chief

Prof. Dr. Khalid Saeed

ISSN online

1755-831X

ISSN print

1755-8301
6 issues per year


Impact factor (Clarivate Analytics) 2023

0.7 (5 Year Impact Factor 0.8)
JCI 0.12

CiteScore

1.5 (2022)

Biometrics and human biometric characteristics form the basis of research in biological measuring techniques for the purpose of people identification and recognition. IJBM addresses the fundamental and emerging areas in computer science that deal with biological measurements. It covers both the theoretical and practical aspects of human identification and verification.
Topics covered include
Age and gender recognition
Anthropology/physical anthropology
Audio-visual
DNA, genetic inheritance
Ear, face and iris recognition, retina
Emotion detection
Facial thermograms
Fingerprints and palm prints
Gait recognition
Hand geometry, hand veins
Kansei engineering
Keystroke dynamics and mouse gestures
Odour and taste
Signature
Voice
More on this journal...
Objectives
The key objective of IJBM is to provide the academic community with an international forum in the field of human authentication and people identity verification from both physiological and behavioural points of view. It aims to publish new insights into current and emerging innovations in computer systems and technology for biometrics development and its applications.
Readership
IJBM provides a vehicle to help professionals, academics, researchers and policy makers, working in the field biometrics to disseminate information and to learn from each other's work.
Contents
IJBM publishes original papers, review papers, technical reports, case studies, conference reports, management reports, book reviews, notes, commentaries, and news. Special Issues devoted to important topics in biometrics will occasionally be published, particularly as post-conference issues. Such issues will contain extended versions of selected papers presented at international conferences on biometrics.
Editor in Chief
Saeed, Khalid, Bialystok University of Technology, Poland
(k.saeedpb.edu.pl)
Consulting Editor
Tadeusiewicz, Ryszard, AGH University of Science and Technology, Poland
Associate Editors
Gavrilova, Marina L., University of Calgary, Canada
Nishiuchi, Nobuyuki, Tokyo Metropolitan University, Japan
Porwik, Piotr, University of Silesia, Poland
Raja, S.P., Vellore Institute of Technology, India
Sinha, G.R., International Institute of Information Technology Bangalore, India
Xiao, Qinghan, Defence Research and Development Canada – Ottawa, Canada
Editorial Board Members
Abdulla, Waleed H., University of Auckland, New Zealand
Abraham, Ajith, Machine Intelligence Research Labs (MIR Labs), USA
Bakshi, Sambit, National Institute of Technology, Rourkela, India
Bartkowiak, Anna, University of Wroclaw, Poland
Chaki, Nabendu, University of Calcutta, India
Choraś, Ryszard S., University of Technology and Life Sciences, Poland
De Silva, Liyanage C., University of Brunei Darussalam, Brunei Darussalam
Fei, Lunke, Guangdong University of Technology, China
Feng, David Dagan, University of Sydney, Australia
Granger, Eric, École de technologie supérieure, Canada
Kasprzak, Włodzimierz, Warsaw University of Technology, Poland
Khurram Khan, Muhammad, King Saud University, Saudi Arabia
Kurzynski, Marek, Wroclaw University of Technology, Poland
Liu, Chengjun, New Jersey Institute of Technology, USA
Maxion, Roy A., Carnegie Mellon University, USA
Pacut, Andrzej, Warsaw University of Technology , Poland
Pan, Jeng-Shyang, National Kaohsiung University of Applied Sciences, Taiwan, Province of China
Proença, Hugo, University of Beira Interior, Portugal
Razzak, Imran, King Saud bin Abdulaziz University for Health Sciences, Saudi Arabia
Rutkowski, Leszek, Czestochowa University of Technology, Poland
Snášel, Václav, FEI VSB-TU Ostrava, Czech Republic
Upadhyay, Nitin, Goa Institute of Management, India
Wierzchoń, Sławomir, Polish Academy of Sciences, Poland
Xu, Yong, Harbin Institute of Technology, China
Yamaguchi, Toru, Tokyo Metropolitan University, Japan
Yanushkevich, Svetlana, University of Calgary, Canada
Yau, Wei-Yun, Institute for Information Research, Singapore
Zhang, Lei, The Hong Kong Polytechnic University , Hong Kong SAR, China
Zhou, Huiyu, Queen's University of Belfast, UK
Zhuang, Hanqi, Florida Atlantic University, USA
A few essentials for publishing in this journal
Submitted articles should not have been previously published or be currently under consideration for publication elsewhere.
Conference papers may only be submitted if the paper has been completely re-written (more details available here) and the author has cleared any necessary permissions with the copyright owner if it has been previously copyrighted.
Briefs and research notes are not published in this journal.
All our articles go through a double-blind review process.
All authors must declare they have read and agreed to the content of the submitted article. A full statement of our Ethical Guidelines for Authors (PDF) is available.
There are no charges for publishing with Inderscience, unless you require your article to be Open Access (OA). You can find more information on OA here.



Submission process

All articles for this journal must be submitted using our online submissions system.
View Author guidelines.