International Journal of Auditing Technology
This journal also publishes Open Access articles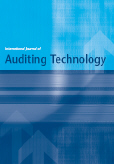 Editor in Chief

Prof. Joshua Onome Imoniana

ISSN online

1757-8760

ISSN print

1757-8752
4 issues per year

IJAudiT provides a unique international forum focusing exclusively on the rapidly evolving area of auditing technology. The journal welcomes well-written and academically rigorous manuscripts, including theoretical and empirical papers examining a wide range of technology-based processes, analyses and applications relevant to the auditing profession.
Topics covered include
Auditing software, computer assisted audit techniques (CAAT)
Information systems, ERP, capacity planning, database auditing
Internal control evaluation, internal audits, control self-assessment
Sarbanes-Oxley compliance, fraud detection, forensic accounting
Statistical sampling, audit analytics, substantive test
Security risk assessment, information security policy
Audit planning, materiality, risk evaluation, engagement management
Cloud computing, online/e-commerce/web application auditing
Quantitative models, analytical procedures
Auditing agents, intelligent agents, neural networks
Service level agreements, business continuity, contingency recovery plans
IT governance/claims/PCI compliance/continuous/data auditing
IT/IS audit curriculum
COSO, COBIT, ISO 270001, ITIL
Careers in auditing
More on this journal...
Objectives
The primary objective of IJAudiT is to foster research and disseminate information on emerging tools, techniques and issues applicable to a variety of audit engagements, with special emphasis on evolving technologies utilised in audits of information systems and internal controls mandated by Sarbanes-Oxley and related corporate governance regulations, which increasingly rely on novel analytical approaches and innovative audit procedures for their effectiveness.
Readership
IJAudiT is published to help auditors, academic researchers, consultants and policy makers learn about emerging applications and issues in the area of auditing technology, and to disseminate this information to individuals having varied interests in the journal's subject matter.
Contents
IJAudiT publishes original papers, review papers, technical reports, case studies, conference reports, management reports, book reviews, notes, commentaries, and news of emerging auditing technologies and related issues. Special Issues devoted to important topics in auditing technology will occasionally be published. All submissions are subject to a double-blind review and must meet the Editorial Board's standards for academic rigour, effective communication and professional relevance.
Editor in Chief
Imoniana, Joshua Onome, University of São Paulo, Brazil
(josh.imonianayahoo.com)
Editorial Board Members
Ambe, Cosmas M., University of Limpopo, South Africa
Bakre, Owolabi, Queen Mary, University of London, UK
Beldi, Adel, IESEG School of Management, France
Bianchi, Massimo, Università di Bologna , Italy
Boateng, Richard, Southern University, USA
Carter, David, University of Canberra, Australia
Carvalho, L. Nelson, Universidade de São Paulo, Brazil
Gal, Graham, University of Massachusetts, USA
Gallego-Álvarez, Isabel, University of Salamanca, Spain
García-Sánchez, Isabel-María, Facultad de Economía y Empresa , Spain
Izedonmi, Famous, University of Benin , Nigeria
Kaklauskas, Arturas, Vilnius Gediminas Technical University , Lithuania
Kighir, Emmanuel Apedzan, Federal University, Dustin-Ma, Nigeria
Leita Da Silva, Paulino, University of Porto, Portugal
Liu, Carol M.H., Louisiana State University, USA
Macuácua, Ângelo, Eduardo Mondlane University, Mozambique
Mbarika, Victor Wacham A., Southern University, USA
Mthimkhulu, Terry, Zululand University, South Africa
Namuduri, Kameswara Rao, University of North Texas, USA
Nobanee, Haitham, Abu Dhabi University, United Arab Emirates
Okunoye, Adekunle, Xavier University, USA
Omotor, Douglason Godwin, Delta State University, Nigeria
Perez, Gilberto, Universidade Presbiteriana Mackenzie, Brazil
Phillips, Mark, Duke University , USA
Riccio, Edson Luiz, University of Sao Paulo, Brazil
Rossignoli, Cecilia, Università di Verona, Italy
Rubino, Michele, Università LUM Jean Monnet, Italy
Salazar, José Nicolas Albuja, Escuela Politécnica del Ejército – ESPE , Ecuador
Santos, Neusa Maria Bastos Fernandes d, Pontifical Catholic University of Sao Paulo – PUCSP, Brazil
Seeburn, Krishna, University of Technology , Mauritius
Souza, Cesar Alexandre, Universidade de São Paulo, Brazil
Srinivasan, Padmini, Indian Institute of Management, India
Stare, Janez, University of Ljubljana, Slovenia
Sy, Aida, Farmingdale State College, USA
Yee, Angelina, University of Nottingham, Malaysia Campus, Malaysia
A few essentials for publishing in this journal
Submitted articles should not have been previously published or be currently under consideration for publication elsewhere.
Conference papers may only be submitted if the paper has been completely re-written (more details available here) and the author has cleared any necessary permissions with the copyright owner if it has been previously copyrighted.
Briefs and research notes are not published in this journal.
All our articles go through a double-blind review process.
All authors must declare they have read and agreed to the content of the submitted article. A full statement of our Ethical Guidelines for Authors (PDF) is available.
There are no charges for publishing with Inderscience, unless you require your article to be Open Access (OA). You can find more information on OA here.



Submission process

All articles for this journal must be submitted using our online submissions system.
View Author guidelines.