International Journal of Additive and Subtractive Materials Manufacturing
This journal also publishes Open Access articles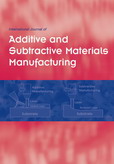 Editor in Chief

Dr. M.A. Dorgham

ISSN online

2057-4983

ISSN print

2057-4975
4 issues per year

IJASMM fosters works on the fundamentals of science/engineering of additive and subtractive manufacturing processes/techniques and aspects such as heat transfer, mass transfer, fluid flow, microstructure and phase evolution and development of physical/mechanical/chemical/functional properties. Experimental and computational approaches at levels from nano- , micro- , meso-scale manufacturing for a range of processing techniques (photonic/mechanical/chemical/hybrid) and materials (metals/ceramics/organic/polymers/composites/biomaterials) are of interest. The principles and applications of designing/fabrication of parts for real-world problems/applications are also considered.
Topics covered include
Conventional/traditional, hybrid, novel, and advanced additive and subtractive manufacturing processes/techniques at multiple scales (nano, micro and meso)
Design and modelling/simulation of manufacturing processes/techniques
Design and modelling/simulation of physical processes at multiple scales
Novel/advanced, multiple/hybrid, composite and monolithic materials (metallic, ceramic, polymer and biomaterials)
Characterisation/performance of materials for microstructures, physical (mechanical, electrical, and chemical) and [multi]functional (biological, optical, surface) properties
Applications of additive and subtractive manufacturing processes/techniques
Process optimisation, quality, control, automation, artificial intelligence
Solution methodologies in integrated design/manufacturing
Instrumentation and measurement
Thermodynamics, heat and mass transfer, fluid dynamics
Precision engineering, inspection, measurement, metrology and computer-integrated manufacturing systems
More on this journal...
Objectives
IJASMM, dedicated to the very new additive manufacturing (AM) and age-old subtractive manufacturing (SM), is a complimentary platform for discussion/communication on the evolution of the next generation manufacturing. The overall objective and mission of IJASMM is to provide a unified platform for dissemination of basic and applied knowledge about both additive and subtractive manufacturing. The specific mission of the journal is to give scientists, researchers, teachers, students and practitioners the tools and information they need to build successful careers and also to be an impetus to advancements in next-generation manufacturing. The general objective of the journal is to become a leading source of basic and applied knowledge in the field of advanced manufacturing by providing high-quality scientific, engineering and technological information.
Readership
IJASMM provides a platform for scientists/researchers, engineers, academicians, students and practitioners to share their ideas, work and vision related to manufacturing in a very open and cordial environment. The journal also provides a venue to educate and widen the knowledge base of those already working in the field and introduces to the field those contemplating stepping into it.
Contents
IJASMM publishes original papers, short/rapid communications, technical reports, case studies and review papers. Special issues devoted to important topics are also occasionally published. Articles in the journal 1) are related to basic and applied science as well as being highly technologically and engineering oriented, 2) provide a platform for in-depth publications, short and rapid communications on new developments, review articles focusing on specific timely important subfields, and theme-based timely and scientifically/technologically important topics, and 3) maintain the interdisciplinary nature of the content of the journal for wider audience/participants (authors and readers).
IJASMM is indexed in:
IJASMM is listed in:

This journal is yet to be included in any lists or directories.

Editor in Chief
Dorgham, M.A., International Centre for Technology and Management, UK
(supportinderscience.com)
Associate Editor
Joshi, Shrikrishna Nandkishor, Indian Institute of Technology Guwahati, India
Editorial Board Members
Banerjee, Rajarshi, University of North Texas, USA
Bártolo, Paulo Jorge, University of Manchester, UK
Blue, Craig A., Oak Ridge National Laboratory, USA
Chou, Kevin, University of Louisville, USA
Collins, Peter, Iowa State University, USA
Cormier, Denis, Rochester Institute of Technology, USA
Dahotre, Narendra B., University of North Texas, USA
Dhokia, Vimal, University of Bath, UK
Fuh, Jerry Y.-H., National University of Singapore, Singapore
Gibbons, Gregory J., University of Warwick, UK
Gibson, Ian, University of Twente, Netherlands
Joshi, Suhas S., Indian Institute of Technology Indore, India
Kim, Dongsik, POSTECH, South Korea
Klemp, Eric, University of Paderborn, Germany
Kovacevic, Radovan, Southern Methodist University, USA
Lawrence, Jonathan, University of Chester, UK
Mativenga, Paul, The University of Manchester, UK
Mishra, Rajiv S., University of North Texas, USA
Padmanabham, G., International Advanced Research Centre for Powder Metallurgy and New Materials (ARCI), India
Park, Hyung Wook, Ulsan National University of Science and Technology (UNIST), South Korea
Qian, Ma, Royal Melbourne Institute of Technology and University of Queensland, Australia
Ramesh Babu, N., Indian Institute of Technology Madras, India
Salminen, Antti, University of Turku, Finland
Soo, Sein Leung, University of Birmingham, UK
Sundararajan, G., Indian Institute of Technology Madras, India
Toyserkani, Ehsan, University of Waterloo, Canada
Wu, Xinhua, Monash University, Australia
Yan, Jiwang, Keio University, Japan
A few essentials for publishing in this journal
Submitted articles should not have been previously published or be currently under consideration for publication elsewhere.
Conference papers may only be submitted if the paper has been completely re-written (more details available here) and the author has cleared any necessary permissions with the copyright owner if it has been previously copyrighted.
Briefs and research notes are not published in this journal.
All our articles go through a double-blind review process.
All authors must declare they have read and agreed to the content of the submitted article. A full statement of our Ethical Guidelines for Authors (PDF) is available.
There are no charges for publishing with Inderscience, unless you require your article to be Open Access (OA). You can find more information on OA here.



Submission process

All articles for this journal must be submitted using our online submissions system.
View Author guidelines.