Atoms for Peace: an International Journal
This journal also publishes Open Access articles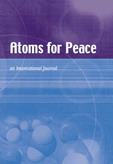 Editor in Chief

Dr. Abdessamad Didi

ISSN online

1741-6418

ISSN print

1741-640X
4 issues per year

AfP stems from the realisation that the world is faced with unprecedented challenges in providing clean and sustainable water, electricity, energy, and soon hydrogen, to support economic and demographic growth that will strain available resources. AfP utilises this as an opportunity to highlight the peaceful uses of atomic energy in recent years and the potential role of atoms in the coming years, particularly in scientific research applied to the medical, industrial, agricultural and other sectors.
Topics covered include
Legal/political issues related to international movements of nuclear fuel and radioactive waste
Nuclear energy policy
Modelisation and simulation
Nuclear applications and techniques
Nuclear physics and reactor engineering
Nuclear safety and security
Nuclear medicine, medical physics, dosimetry and radiation therapy
Nuclear policy and governance
Applications of atoms in agriculture, industry and research
Radiological protection and environmental impact assessment
Advanced nuclear reactor designs and technologies
Materials sciences, atoms and applications
Nuclear technology and global ethics
More topics...
Geopolitics and ethics
Philosophies of governance, theories of governance and governance structures
Strategies for effective stakeholder governance
Ethics of governmental and nuclear business actions
Impact of nuclear business on global economic (uneven-even) development
Social and societal implications, power and domination
Government-business relationship and public accountability
Challenge of ownership and responsibility
Nuclear industrial strategies, ecological prosperity and sustainability
Media power, transparency, business and government conflict
Technological innovation
Globalisation of nuclear research and development
Technology partnerships
Research networks
Systems of innovation
Economy
International nuclear trade and competitiveness
Direct investment in nuclear technology
International nuclear technology transfer
Nuclear intellectual property protection
Sustainability
Nuclear technology and environment
International equity
International security
Nuclear technological change and security
Nuclear technology transfers in a security environment
Regulation of nuclear technology
Global governance of nuclear technology
International nuclear rule-making
International nuclear cooperation
International nuclear technology policy
Applications of atoms
Medical
Industrial
Research
Applications in water, soil and air
More on this journal...
Objectives
The objectives of AFP are to establish an effective channel of communication between policy makers, government agencies, academic and research institutions and persons concerned with the complex role of nuclear energy in society. It serves as an international forum for exchange of ideas and views on the global implications of nuclear technology for economic growth, sustainable development and international security. It also aims to promote and coordinate developments in the field of energy and water resources. The international dimension is emphasised in order to overcome cultural and national barriers and to meet the needs of international security
Atoms for Peace will:
Bring about the emergence of a new voice in the political discourse over the peaceful use of nuclear energy
Create an ongoing dialogue between decision makers and the practitioner-stakeholders in nuclear energy, including representatives from industry and the armed forces, as well as various other international constituencies
Differentiate between those military uses of nuclear power necessary for national defence and international security and those which could be detrimental to global stability
Provide a substantive, politically viable and technically feasible draft framework around which future debate can take place
Raise the nuclear issue to a position of prominence within the agendas of world leaders
Facilitate the process of reaching a new global agreement on nuclear security.
Readership
Professionals, academics, researchers, policy makers and managers
Contents
The journal will publish high quality papers from a wide variety of disciplinary orientations on the general subject of peaceful uses of nuclear energy. The journal style and dialogue will be inclusive and attempt to involve all those who are interested in issues of atoms for peace (government agencies, both national and international, industry, academics, non governmental organisations).
The journal publishes original papers, theoretical (literature review based), empirical (work surveys and case studies) critically reflective work (thought-leadership commentaries) describing and developing pertinent insights into the broad subject matter, conference reports, relevant reports and news, book reviews and briefs.
Commentaries on papers and reports published in the Journal are encouraged. Authors will have the opportunity to respond to the commentary on their work before the entire treatment is published.
Special issues devoted to important topics in Atoms for Peace, and related topics, will be published occasionally.
AFP is indexed in:
AFP is listed in:

This journal is yet to be included in any lists or directories.

Honorary Editor
Maïsseu, André, WONUC, France
Editor in Chief
Didi, Abdessamad, Centre National de l'Energie, des Sciences et des Techniques Nucléaires, Morocco
(ijpec.didigmail.com)
Honorary Editorial Advisor
Marah, Hamid, National Energy Center of Nuclear Science and Technology, Morocco
Associate Editors
Ajlouni, Abdul-Wali, Umm Al-Qura University, Saudi Arabia
Alnairi, Marzoqa, Umm Al-Qura University, Saudi Arabia
Honorary Advisory Board
Benmansour, Moncef, National Energy Center of Nuclear Science and Technology, Morocco
Blix, Hans, IAEA Former President, Sweden
Chidambaram, Rajagopala, Bhabha Atomic Research Centre (BARC), India
De Gennes, Pierre-Gilles, Institut Curie – Recherche, France
Tajmouati, Jouad, Sidi Mohamed Ben Abdelah University, Morocco
Advisory Board
Abdeslam, Rrioua, Mohamed Premier University, Morocco
Al Azzawe, Ahmad Jassim Muhammad, National University of Chilecito, Argentina
Alghamdi, Hamdan, University of Glasgow, UK
Alotaibi, Mohammed, Nuclear Technologies Institute, Saudi Arabia
Amsil, Hamid, National Energy Center of Nuclear Science and Technology, Morocco
Banisalman, Mosab, Virtual Lab Inc., South Korea
Bencheikh, Mohamed, Hassan II University, Morocco
Bounouira, Hamid, National Energy Center of Nuclear Science and Technology, Morocco
Chakir, El Mahjoub, Ibn Tofail University, Morocco
Hassan, Mohamed, Alexandria University, Egypt
Hegazi, Hesham, The German University in Cairo, Egypt
Jaï, Otman, Sidi Mohamed Ben Abdelah University, Morocco
Lemziouka, Hamane, Université Hassan II de Casablanca, Morocco
Maghnouj, Abdelmajid, Sidi Mohamed Ben Abdelah University, Morocco
Zhivkov, Petar, Bulgarian Academy of Sciences, Bulgaria
Editorial Board Members
Asgarkhani, Abu Mohammad, University of Tehran, Iran
Brown, II, Omer F., Harmon, Wilmot & Brown, L.L.P., USA
Clerc, Michel, Association Droit à l'Energie, France
Dadouch, Ahmed, Sidi Mohamed Ben Abdelah University, Morocco
Dekhissi, Hassane, Mohamed 1st University, Morocco
Fomitchev, Igor, CG-STEINR, Russian Federation
Hinteregger, Monika, University of Graz, Austria
Hosseini, M.A., University of Turin, Italy
Machelon, Jean-Pierre, Université "René Descartes" Paris V, France
Mahmoudi, Said, Stockholm University, Sweden
Malekie, Shahryar, Nuclear Science and Technology Research Institute, Iran
Mohan, M. P. Ram, Indian Institute of Management Ahmedabad, India
Pellaud, Bruno, Chalet San Diego, Switzerland
Puig, Diva E., Instituto Militar de Estudios Superiores, Uruguay
Quentin, Michel, University of Liege, Belgium
Rogalski, Michel, Ecole des hautes études en sciences sociales (EHESS), France
Semov, Atanas, Sofia University 'St. Kliment Ohridski', Bulgaria
Singh, B.B., Hooseinally Visram & Co., India
Soltanieh, A. A., Ministry of Foreign Affairs, Iran
Steinhausler, Fritz, Universität Salzburg, Austria
Tu, Nguyen Trieu, Hanoi National University, Vietnam
A few essentials for publishing in this journal
Submitted articles should not have been previously published or be currently under consideration for publication elsewhere.
Conference papers may only be submitted if the paper has been completely re-written (more details available here) and the author has cleared any necessary permissions with the copyright owner if it has been previously copyrighted.
Briefs and research notes are not published in this journal.
All our articles go through a double-blind review process.
All authors must declare they have read and agreed to the content of the submitted article. A full statement of our Ethical Guidelines for Authors (PDF) is available.
There are no charges for publishing with Inderscience, unless you require your article to be Open Access (OA). You can find more information on OA here.



Submission process

All articles for this journal must be submitted using our online submissions system.
View Author guidelines.
Journal news
Editor in Chief invites submissions for newly relaunched journal, Atoms for Peace
21 September, 2023
Dr. Abdessamad Didi, the newly appointed Editor of Atoms for Peace: an International Journal (AfP), is delighted to announce an open call for research papers dedicated to advancing the field of nuclear science, with a particular focus on the peaceful applications of atomic energy. The journal invites authors to contribute articles that highlight innovative research and cutting-edge developments in nuclear science and its role in fostering global peace and sustainable development. Dr. Didi encourages researchers, academics and professionals from diverse backgrounds to submit their work to AfP, thereby facilitating the dissemination of valuable insights within this pivotal domain.
Scope of the journal
We welcome submissions related to, but not limited to, the following areas:
Nuclear reactor technologies: exploration of pioneering reactor designs, safety enhancements and operational efficiency innovations in nuclear reactors
Radiation medicine: advancements in radiation therapy, diagnostic radiology, and nuclear medicine aimed at enhancing healthcare outcomes
Nuclear security and non-proliferation: strategies and technologies designed to ensure the peaceful utilisation of nuclear materials and the prevention of their misuse
Nuclear energy policy: studies examining energy policy, regulatory frameworks and sustainable nuclear energy solutions
Environmental impact assessment: evaluations of the environmental impact of nuclear facilities and waste management
Nuclear education and public outreach: initiatives aimed at fostering public awareness and comprehension of nuclear science
AfP operates as a fully refereed international journal, committed to the publication of original articles that explore the theory and practical application of nuclear science. Our primary emphasis is on innovative approaches with substantial implications for advancing global peace and sustainable development. We invite researchers, scholars and experts in the field to contribute to AfP and contribute to the responsible utilisation of atomic energy for the betterment of society and the world.
Objectives
The primary mission of AfP is to establish a global platform for the dissemination of pioneering research findings, ideas and concepts at the intersection of nuclear science, technology and the pursuit of international peace. AfP places a distinct emphasis on fostering knowledge exchange and innovation in the field of nuclear science, with a focus on its role in promoting global peace and sustainable development.
Our specific objectives include:
Advancing nuclear science: to facilitate the exchange of groundbreaking research in the domain of nuclear science, including but not limited to reactor technologies, radiation medicine, nuclear security and environmental impact assessment
Promoting peaceful nuclear applications: to promote the responsible use of atomic energy for peaceful purposes, such as healthcare, energy generation and environmental management, while preventing its misuse
Knowledge sharing: to serve as a conduit for the sharing of knowledge ideas, and expertise among scholars, researchers and practitioners in the field of nuclear science
Public awareness and education: to contribute to public awareness and understanding of nuclear science, its benefits and its potential contributions to global peace and development
Interdisciplinary collaboration: to encourage interdisciplinary collaboration by bringing together experts from various fields, including nuclear science, policy and environmental studies
Ethical and sustainable practices: to promote ethical and sustainable practices in the application of nuclear science, ensuring the protection of human health and the environment
Readership
AfP's readership comprises nuclear scientists, healthcare professionals, policymakers, educators and the general public. This diverse audience seeks cutting-edge research and insights into nuclear science's peaceful applications, healthcare and sustainable energy. Professionals in nuclear medicine, environmental experts and decision-makers benefit from the journal's content. Educators and students use it as a valuable resource for teaching and learning. AfP also caters to global peace advocates and those curious about the responsible use of atomic energy.
Contents
AfP's content spans nuclear science advancements, healthcare applications and sustainable energy topics. It includes research on nuclear reactor technologies, radiation medicine, policy and environmental impact. Readers will find articles on medical innovations, ethical practices and global peace initiatives tied to nuclear science. AfP fosters interdisciplinary knowledge exchange and responsible atomic energy utilisation.
Submission process
All articles for this journal must be submitted using the online submissions system available via the Submitting Articles tab at
www.inderscience.com/afp
. Please follow all instructions and author guidelines.
Dr. Abdessamad Didi appointed as new Editor in Chief of Atoms for Peace
5 July, 2023
Dr. Abdessamad Didi from the Centre National de l'Energie, des Sciences et des Techniques Nucléaires in Morocco has been appointed to take over editorship of the Atoms for Peace.