Journal of Supply Chain Relocation
This journal also publishes Open Access articles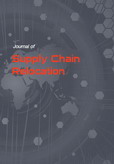 Editor in Chief

Associate Prof. Martina Calzavara

ISSN online

2514-3212

ISSN print

2514-3204
4 issues per year

Relocation is high on the agenda for many companies, involving complex decision processes and proper risk management. To make appropriate decisions, a holistic supply chain view is needed. JSCR provides an international forum for critical evaluation/dissemination of research and development in the field of supply chain relocation. It is the only scientific journal providing a holistic, global perspective on supply chain relocation regardless of industry and sector. JSCR places strong emphasis on applied research with implications for theory and practice.
Topics covered include
Supply chain management in a strategic context
Global supply chain design
Supply chain network (e.g., manufacturing, distribution, transportation)
Manufacturing footprint design
Manufacturing and supply chain strategy
Relocation strategies (e.g., offshoring, reshoring, outsourcing, insourcing, nearshoring)
Relocation processes (e.g., feasibility, realisation, drivers, enablers, barriers, outcomes)
Relocation decisions (e.g., criteria, evaluation, investment/cost/risk assessment)
Vertical integration
Make or buy decisions
Experience and best practices of relocation decisions
New technology in relocation decisions (e.g. Industry 4.0, additive manufacturing)
Sustainability issues in relocation decisions
Supplier selection, evaluation, and relations
More on this journal...
Objectives
The objective of JSCR is to provide a forum for interaction between academics and practitioners in the field of supply chain relocation. It seeks to further develop supply chain relocation theory, to disseminate advanced novel knowledge for improving practice and to improve both the theoretical and practical aspects of supply chain relocation.
Readership
JSCR aims to foster and lead the international debate on supply chain relocation. It ensures that high-quality research is collected and disseminated widely to both academics and practitioners, and provides a global forum for debate. It covers all subjects related to supply chain relocation regardless of industry or sector. The key audiences include academics, researchers, senior executives, managers, policy makers, and consultants.
Contents
JSCR publish original and high-quality research within the field of supply chain relocation. The research has a significant impact on location/relocation theory and practice. It includes original research papers, review papers, conceptual papers, industrial notes, research notes, conference reports, and book reviews. Special issues devoted to important topics in supply chain relocation will also be published.
Editor in Chief
Calzavara, Martina, University of Padua, Italy
(martina.calzavaraunipd.it)
Associate Editors
Hilletofth, Per, Jönköping University, Sweden
Pastuszak, Zbigniew, Maria Curie-Sklodowska University, Poland
Xu, Xun, California State University, Dominguez Hills, USA
Editorial Board Members
Azevedo, Jovane Medina, Santa Catarina State University, Brazil
Braga, Vitor, Polytechnic of Porto, Portugal
Bruch, Jessica, Mälardalen University, Sweden
Chong, Alain Yee-Loong, University of Nottingham, Ningbo Campus, China
Dermol, Valerij, International School for Social and Business Studies, Slovenia
Hazen, Benjamin T., Air Force Institute of Technology, USA
Hedenstierna, Philip, Norwegian University of Science and Technology, Norway
Ichoua, Soumia, Embry-Riddle Aeronautical University, USA
Kinkel, Steffen, Karlsruhe University of Applied Sciences, Germany
Kotzab, Herbert, University of North Florida, USA
Lee, Tzong-Ru (Jiun-Shen), National Chung Hsing University, Taiwan, Province of China
Lin, Binshan, Louisiana State University in Shreveport, USA
Ng, Amos, University of Skövde, Sweden
Pal, Rudrajeet, University of Borås, Sweden
Pimenta, Márcio Lopes, Federal University of Uberlândia, Brazil
Rösio, Carin, Jönköping University, Sweden
Rhoades, Dawna L., Embry-Riddle Aeronautical University, USA
Svensson, Göran, Kristiana University College, Norway
Tan, Kim Hua, Nottingham University, UK
Tse, Mike, University of York, UK
Woxenius, Johan, University of Gothenburg, Sweden
A few essentials for publishing in this journal
Submitted articles should not have been previously published or be currently under consideration for publication elsewhere.
Conference papers may only be submitted if the paper has been completely re-written (more details available here) and the author has cleared any necessary permissions with the copyright owner if it has been previously copyrighted.
Briefs and research notes are not published in this journal.
All our articles go through a double-blind review process.
All authors must declare they have read and agreed to the content of the submitted article. A full statement of our Ethical Guidelines for Authors (PDF) is available.
There are no charges for publishing with Inderscience, unless you require your article to be Open Access (OA). You can find more information on OA here.



Submission process

All articles for this journal must be submitted using our online submissions system.
View Author guidelines.
Journal news
Associate Prof. Martina Calzavara appointed as new Editor in Chief of Journal of Supply Chain Relocation
4 July, 2023
Associate Prof. Martina Calzavara from the University of Padua in Italy has been appointed to take over editorship of the Journal of Supply Chain Relocation.