International Journal of Student Project Reporting
This journal also publishes Open Access articles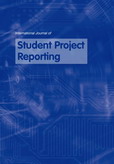 Editor in Chief

Dr. Petru A. Simionescu

ISSN online

2634-1956

ISSN print

2634-1948
4 issues per year

IJSPR is the first journal dedicated to publishing peer-reviewed reports on the research and design process, validation and implementation of student-conducted projects in the fields of computing science, engineering, architecture and related areas. The journal also publishes short communications, letters to the Editor and reviews of textbooks in the same areas. A Best Paper Award, sponsored by Maplesoft, is awarded annually.
Topics covered include
Capstone projects
Honors projects
Student club projects
Student competitions
Industry sponsorship
Engineering design and analysis
Architectural design
Computer-aided design
Computer programming
Prototyping and implementation
Testing and validation
Teamwork
Team leadership
More on this journal...
Objectives
The objective of IJSPR is to provide a forum in which students can present the results of their work, and to act as a source of useful ideas for student teams engaging in new projects, including contributions concerning possible mistakes, which will be detailed in the Lessons Learned section of each paper. While teams reporting on their senior design or club projects are expected to be the main contributors to this journal, submissions based on individual student project reports will also be considered, provided that the sequence problem statement, conceptual and detailed design, prototyping, testing and implementation details are provided.
Readership
IJSPR readership includes undergraduate and graduate students, their educators, academic administrators, student project sponsors, organisers of student competitions, and so on.
Contents
IJSPR primarily publishes technical reports of student-conducted projects in all branches of engineering, computing science and computer-generated architecture. Special issues are also published with selections of reports from student competitions.
IJSPR is indexed in:
IJSPR is listed in:

This journal is yet to be included in any lists or directories.

Editor in Chief
Simionescu, Petru A., Texas A&M University - Corpus Christi, USA
(pa.simionescutamucc.edu)
Editorial Board Members
Abita, Matteo, University of L'Aquila, Italy
Altenhof, William, University of Windsor, Canada
Bagić Babac, Marina, University of Zagreb, Croatia
Bausch, Nils, University of Portsmouth, UK
Borsos, Ágnes, University of Pécs, Hungary
Cardozo, Nicolás, University of Los Andes, Colombia
Castejón, Cristina, University Carlos III de Madrid, Spain
Ciulla, Carlo, Epoka University, Albania
Constans, Eric W., Rose Hulman Institute of Technology, USA
Dong, Janet Jiaxiang, University of Cincinnati, USA
Eslamian, Morteza, Maxar Technologies, USA
Frei, Regina, University of Southampton, UK
Garani, Georgia, University of Thessaly, Greece
Iqbal, Jamshed, University of Hull, UK
Jelaska, Damir, University of Split, Croatia
Karayaka, Bora, Western Carolina University, USA
Matsumoto, Stephanos, Olin College of Engineering, USA
Pȃrvu, Petrisor Valentin, Politehnica University Bucharest, Romania
Ponnapalli, V.A. Sankar, ICFAI Foundation for Higher Education (IFHE), India
Robson, Nina, California State University Fullerton, USA
Rodriguez, Regina, C12 Environmental Services LLC, USA
Sun, Wei, Gansu Agricultural University, China
Tutunea-Fatan, O. Remus, Western University, Canada
A few essentials for publishing in this journal
Submitted articles should not have been previously published or be currently under consideration for publication elsewhere.
Conference papers may only be submitted if the paper has been completely re-written (more details available here) and the author has cleared any necessary permissions with the copyright owner if it has been previously copyrighted.
Briefs and research notes are not published in this journal.
All our articles go through a double-blind review process.
All authors must declare they have read and agreed to the content of the submitted article. A full statement of our Ethical Guidelines for Authors (PDF) is available.
There are no charges for publishing with Inderscience, unless you require your article to be Open Access (OA). You can find more information on OA here.



Submission process

All articles for this journal must be submitted using our online submissions system.
View Author guidelines.
You must include these 3 sections in your paper:
* "Contributions" - to indicate the contribution each author made to the project and to the manuscript's preparation.
* "Lessons Learned" - in which erroneous decisions and mistakes made are detailed, so others can avoid them in future.
* "Acknowledgements" - (to be added only after the peer-review has been completed) where the contributions of the adviser, project-idea originator, sponsor or beneficiary, as well as other students who assisted but contributed less to the project, are acknowledged.
Journal news
Dealing with space debris
26 October, 2023
As yet another space rocket is launched and more technology is placed into orbit, the problem of space junk grows and grows, not to mention the pollution from all the fuel burned en route. A review in the International Journal of Student Project Reporting has looked at possible solutions to the problem of the abundance of space junk. Jennifer Stein, David Castillo, Elise Bedell, Erriana Thomas, and Nicolas Valiente of the University of Florida in Gainesville, Florida, USA, have looked at whether there are cost-effective, environmentally benign, and efficient methods that might be used to minimise the harm from debris in space, which can damage other craft in orbit, potentially harm astronauts, and represent a risk when it falls to earth [...]
More details...