International Journal of Semantic and Infrastructure Services
This journal also publishes Open Access articles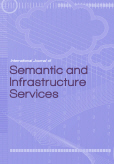 Editor in Chief

Dr. M.A. Dorgham

ISSN online

2051-5081

ISSN print

2051-5073
4 issues per year

IJSIS proposes and fosters discussion on the evolution of semantic approaches in enhancing computing infrastructure to manage big data sets which are being gathered by researchers on a daily basis. This perspective acknowledges the complexity of the future computing environment as an interface between data semantics and infrastructure services over different data-infrastructure scales as well as the reflexive characteristics of computing systems.
Topics covered include
Big data and its management
Data integration and interoperability
Semantic web technologies and formalisms for data
Language processing techniques/principles for building/maintaining ontologies
Scientific workflows and data cloud
Semantic image analysis
Ontologies and semantic web tools
Ontology representation and exchange languages
Ontology-assisted extraction and information retrieval from text collections
Web 2.0 and Web 3.0 applications
Novel architectural models for high performance and cloud computing
New parallel/concurrent programming models for high performance applications
Data security, privacy and jurisdiction of applications in the cloud
Interoperability between different utility computing platforms
Semantics in platforms and software as a service
More on this journal...
Objectives
The goal of IJSIS is to propose novel semantic approaches and technologies and demonstrate how these help in improving big data management. It aims to establish an effective channel of communication between policy makers, government agencies, academic research institutions and persons concerned with the complex role of data infrastructure in society. It also intends to promote and coordinate developments in the field of semantic web and how these improve data and information infrastructure. The international dimension is emphasised in order to address the diversity of data and information that spreads across national barriers and to meet the needs of accelerating technological changes in a global economy.
Readership
IJSIS provides a vehicle to help professionals, academics, researchers and policy makers, working in the field of data management, semantic web and computing infrastructure, to disseminate information and to learn from each other's work. The intended audiences are data mining researchers/practitioners; specialists in academia and industry; experts who rely on computer tools for data integration, data management, data analysis; mathematicians/statisticians who are interested in model development and simulation for data; computer scientists; and post-graduate students with interests in developing and/or applying novel algorithms/methods in large-scale data management in any domain.
Contents
IJSIS publishes original papers, review papers, case studies, conference reports and book reviews. Special Issues devoted to important topics in semantics and infrastructure technology management will occasionally be published.
Editor in Chief
Dorgham, M.A., International Centre for Technology and Management, UK
(supportinderscience.com)
Editorial Board Members
Aigbavboa, Clinton, University of Johannesburg, South Africa
Akyüz, Göknur Arzu, University of Turkish Aeronautical Association, Turkey
Arablouei, Amir, Michigan State University, USA
Hong, Wei-Chiang, Jiangsu Normal University, China
Hsu, Robert, Chung Hua University, Taiwan, Province of China
Jain, Vishal, Bharati Vidyapeeth's Institute of Computer Applications and Management (BVICAM), India
Li, Wei, University of Sydney, Australia
Martirano, Luigi, University of Rome, Italy
Mohapatra, Sanjay, Xavier Institute of Management, India
N. V., Sobhana, Rajiv Gandhi Institute of Technology, India
Ojo, Joseph Olorunfemi, Tennessee Technological University, USA
Sabz, Arash, Texas A&M University, USA
Siano, Pierluigi, University of Salerno, Italy
Singh, Harwinder, Guru Nanak Dev Engineering College, India
Wang, Fang, Brunel University London, UK
Yuvaraja, T., Channabasaveshwara Institute of Technology, India
A few essentials for publishing in this journal
Submitted articles should not have been previously published or be currently under consideration for publication elsewhere.
Conference papers may only be submitted if the paper has been completely re-written (more details available here) and the author has cleared any necessary permissions with the copyright owner if it has been previously copyrighted.
Briefs and research notes are not published in this journal.
All our articles go through a double-blind review process.
All authors must declare they have read and agreed to the content of the submitted article. A full statement of our Ethical Guidelines for Authors (PDF) is available.
There are no charges for publishing with Inderscience, unless you require your article to be Open Access (OA). You can find more information on OA here.



Submission process

All articles for this journal must be submitted using our online submissions system.
View Author guidelines.