International Journal of Service and Computing Oriented Manufacturing
This journal also publishes Open Access articles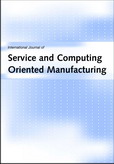 Editor in Chief

Dr. Fei Tao

ISSN online

2045-1768

ISSN print

2045-175X
4 issues per year

Theory and technology advances in the fields of information systems and technology, internet, computer science, operational research, management science, IT services and advanced computing technologies will help manufacturing enterprises to make the changes required to realise the goal of TQCSEFK (fastest Time-to-market, highest Quality, lowest Cost, best Service, cleanest Environment, greatest Flexibility, and highest levels of Knowledge). IJSCOM aims to establish a bridge between manufacturing and these fields so as to disseminate knowledge amongst those involved in these areas.
Topics covered include
Service-oriented and computing/simulation-based manufacturing systems
Event/business-driven manufacturing systems
Biological/agent/ontology/module-based manufacturing systems
Digital self-organising/distributed manufacturing
Remanufacturing, reconfigurable/intelligent/flexible manufacturing systems
Complex/dynamic characteristics, network virtualisation/monitoring/control
Advanced computing/artificial intelligence and intranet/internet technologies
Information system application/integration
Supporting environment, tools; safety, security, reliability, trust
Simulation/modelling, optimisation, implementation/management tools
Workflow, project supply chain management, collaboration
Enterprise production/business models, resource/service management
Marketing, business models, strategies
Law, ethics, standards, energy issues, environmental management
Future manufacturing system/models
More topics...
Service and Computing-oriented Manufacturing (SCoM) systems, including architecture, theory, method, modelling, application, and case studies of:

Service-oriented manufacturing systems
Computing-based manufacturing systems
Simulation-based manufacturing systems
Event-driven business-driven manufacturing systems
Cyber manufacturing systems
Biological-based manufacturing systems
Digital manufacturing
Multi-agent-based manufacturing systems
Self-organising manufacturing systems
Distributed manufacturing systems
Ontology-based manufacturing systems
Module-based manufacturing systems
Remanufacturing and reconfigurable manufacturing systems
Intelligent and flexible manufacturing systems

Application of advanced computing technologies in manufacturing, including:

Manufacturing grid, applications of grid computing in manufacturing
Cloud manufacturing, applications of cloud computing in manufacturing
Application of quantum computing in manufacturing
Application of intelligent optimisation algorithms (e.g. QMAEA, PSO, GAs, ANNs, ACO, immune algorithms) in manufacturing
Application of distributed computing, parallel computing, cluster computing, high performance technology (HPC), ubiquitous/pervasive computing, intelligent computing, P2P, etc. in manufacturing

Resource and service management in SCoM, including:

Manufacturing resources and services
Management systems
Modelling, digital description and annotation
Creation, visualisation, realisation, deployment and delivery
Business components
Discovery/search and match
Composition
Value chain collaboration
Optimisation
Relationships
Monitoring and failure management
QoS (quality of service) management, including QoS modelling, description, evaluation, extraction, comparison, aggression, etc.
Trust and reliability management
Planning, scheduling and control
Cost and price management

Characteristics of SCoM, including:

Application of complex theory in SCoM systems
Complex characteristics involved in SCoM
Dynamic characteristics of SCoM systems
Scale-free characteristics of manufacturing networks
Virtualisation of SCoM networks
Monitoring and control of SCoM networks

Supporting environment and tools for SCoM, including:

Internet/web supports, e.g. internet/web standards, criteria, protocols, middleware, data warehouses, web portals and interfaces, language, ontology, etc.
Digital equipment, processes, machining methods
Information systems, e.g. CAD/CAPP/CAM/ERP/SCM/CRM/PDM/MES/PLM, etc.
Safety, security, reliability and trust in SCoM

Simulation and modelling in SCoM
Supply chain management for SCoM
Enterprise production and business models for SCoM
Optimisation problems in SCoM, e.g. job scheduling, planning, partner selection, etc.
Workflow, project management and collaboration in SCoM
Implementation and management tools for SCoM
Application of advanced intranet/internet technology in manufacturing, e.g. cyber physical systems (CPS), wireless sensor networks (WSN), internet of things (IoT)
Application and information system integration in manufacturing systems
Future manufacturing system and models
Marketing, business models, strategies for SCoM
Law, ethics, standards, energy issues, environmental management for SCoM
Application of artificial intelligence in SCoM
More on this journal...
Objectives
IJSCOM aims:
To establish channels of communication and disseminate knowledge between academics, researchers, educators, policy makers, executives and practitioners working in the interdisciplinary fields of manufacturing information, internet, control systems, operational research and management
To further the theory and technology in these fields to be used in manufacturing, and to accelerate the development of manufacturing
To enable IT services and advanced computing to perform manufacturing services more efficiently and effectively
Readership
IJSCOM is a global forum to help policy makers, executives, academics, educators, researchers and practitioners working in the interdisciplinary fields of manufacturing, information, operational research, simulation, industrial informatics and management science to discuss important ideas and concepts, to disseminate information and to learn from each other's work.
Contents
IJSCOM primarily publishes original, empirical and review papers; case studies; conference and technology reports; and new book reviews. In addition to the regular issues of the journal, IJSCOM publishes Special Issues devoted to important topics in the areas listed above.
Editor in Chief
Tao, Fei, Beihang University (Beijing University of Aeronautics & Astronautics), China
(ftaobuaa.edu.cn)
Editorial Board Members
Borangiu, Theodor, University Politehnica of Bucharest , Romania
Borgonovo, Emanuele, Bocconi University, Italy
Brahnam, Sheryl, Missouri State University, USA
Bruzzone, Agostino G., University of Genoa, Italy
Chaki, Nabendu, University of Calcutta, India
Lehmann, Axel, Universitaet der Bundeswehr Muenchen, Germany
Li, Weiping, Peking University, China
Marinello, Francesco, University of Padova, Italy
Nee, Andrew Yeh-Ching, National University of Singapore, Singapore
Pham, D. T., University of Birmingham, UK
Pickl, Stefan, Universität der Bundeswehr München, Germany
Sarker, Bhaba R., Louisiana State University, USA
Senthilkumar, Sukumar, Vellore Institute of Technology, India
Setchi, Rossitza, Cardiff University, UK
Venkatesh, V. C., University of Nevada-Las Vegas, USA
Wang, Lihui, KTH Royal Institute of Technology, Sweden
Wang, Q, Peking University, China
Xie, F., Portland State University, USA
Zhang, L., Beihang University, China
Zhou, Z. D., Wuhan University of Technology, China
Zhu, Fuxi, Wuhan University, China
A few essentials for publishing in this journal
Submitted articles should not have been previously published or be currently under consideration for publication elsewhere.
Conference papers may only be submitted if the paper has been completely re-written (more details available here) and the author has cleared any necessary permissions with the copyright owner if it has been previously copyrighted.
Briefs and research notes are not published in this journal.
All our articles go through a double-blind review process.
All authors must declare they have read and agreed to the content of the submitted article. A full statement of our Ethical Guidelines for Authors (PDF) is available.
There are no charges for publishing with Inderscience, unless you require your article to be Open Access (OA). You can find more information on OA here.



Submission process

All articles for this journal must be submitted using our online submissions system.
View Author guidelines.