International Journal of Sustainable Agricultural Management and Informatics
This journal also publishes Open Access articles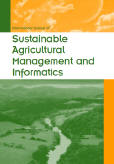 Editor in Chief

Prof. Jason Papathanasiou

ISSN online

2054-5827

ISSN print

2054-5819
4 issues per year


Impact factor (Clarivate Analytics) 2023

1.2
JCI 0.22

CiteScore

1.9 (2022)

IJSAMI establishes an international state-of-the-art knowledge platform bringing together agricultural management functions and informatics modules to establish effective communication channels. These channels are important for sustainable and effective decision making in agriculture, food and the environment which in turn contribute to productivity, competitiveness and sustainable development. IJSAMI highlights new strategies, tools, techniques and technologies essential for developing sustainable agricultural management and information and communications technologies
Topics covered include
Management of agricultural resources
Planning and development
Sustainability and efficiency
Impact assessment
Modelling and simulation
Information/database systems
Decision support systems
Supply chain management, logistics and traceability
E-business, e-commerce, e-government, e-society, e-learning, e-services
ICT adoption, green ICT technologies
ICT in climate change/global warming, cultivation/pastoral areas/rural development
Innovative technologies in agritourism and ecotourism
New technologies in ecosystems management, forestry and natural resources
GIS and applications
Precision farming systems
More on this journal...
Objectives
IJSAMI aims to cultivate the generic idea of sustainable management and ICT. Its objectives are to:
Raise the awareness of the importance of sustainable management and ICT research in agriculture, food and the environment
Focus on excellence in developing sustainable management and ICT methodologies, models and techniques to deal with major decision making problems in agriculture, food and the environment
Provide insights into the latest sustainable management and ICT developments, and
Offer a networking forum for academic researchers and industry practitioners
Readership
IJSAMI shapes its readership from the research needs of a wide-ranging but tightly focused set of groups that are actively involved in advancing the field of management and ICT in agriculture, food and the environment. These groups include academic researchers active within the areas of information technology, operations research and management science. Industry practitioners and professionals are also expected to benefit from the journal content.
Contents
IJSAMI publishes peer reviewed applied and theoretical research papers. Special Issues devoted to important topics in sustainable agricultural management and informatics and related topics will be published occasionally.
Editor in Chief
Papathanasiou, Jason, University of Macedonia, Greece
(ijsami.editorgmail.com)
Executive Editor
Bournaris, Thomas, Aristotle University of Thessaloniki, Greece
Associate Editors
Andreopoulou, Zacharoula, Aristotle University of Thessaloniki, Greece
Berbel, Julio, University of Cordoba, Spain
Pardalos, Panos M., University of Florida, USA
Schiefer, Gerhard, University of Bonn, Germany
Viaggi, Davide, University of Bologna, Italy
Vlachopoulou, Maro, University of Macedonia, Greece
Editorial Board Members
Andres, Frederic, National Institute of Informatics, Japan
Angulo-Meza, Lidia, Universidade Federal Fluminense (UFF), Brazil
Aretoulis, George, Aristotle University of Thessaloniki, Greece
Arin, Levent, Namik Kemal University, Turkey
Armstrong, Leisa, Edith Cowan University, Australia
Azevedo, Susana Garrido, University of Beira Interior, Portugal
Behrendt, Karl, Charles Sturt University, Australia
Bryant, Christopher R., Université de Montréal, Canada
Choe, Young Chan, Seoul National University, South Korea
David, Amos, Lorraine University, France
Fomichov, Vladimir A., National Research University, Russian Federation
Fotidis, Ioannis, Ionian University, Greece
Guth, Marta, Poznań University of Economics and Business, Poland
Islam, Fakhrul, Bangbandhu Sheikh Mujibur Rahman Agricultural University, Bangladesh
Klonaris, Stathis, Agricultural University of Athens, Greece
Ladanyi, Marta, Szent István University, Hungary
Li, Shujun, Chinese Academy of Agricultural Mechanization Sciences, China
Liu, Shaofeng, University of Plymouth, UK
Madi, Maria Alejandra Caporale, State University of Campinas (UNICAMP) and World Economics Association (WEA), Brazil
Majewski, Edward, Warsaw University of Life Sciences, Poland
Mardani, Abbas, University of South Florida, USA
Masner, Jan, University of Life Sciences Prague, Czech Republic
Matopoulos, Aristides, Aston University, UK
Mesa-Jurado, Maria A., El Colegio de la Frontera Sur, Mexico
Norton, Tomás, KU Leuven, Belgium
Panagopoulos, Thomas, University of Algarve, Portugal
Petrescu-Mag, Ruxandra M., Babes-Bolyai University of Cluj-Napoca, Romania
Polman, Nico, Wageningen UR, Netherlands
Qannari, El Mostafa, ONIRIS - Nantes Atlantic National College of Veterinary Medicine, Food Science and Engineering, France
Raggi, Meri, University of Bologna, Italy
Rey Vicario, Dolores, Cranfield University, UK
Sáez, María-José Verdecho, Universitat Politècnica de València, Spain
Slamet, Alim Setiawan, Bogor Agricultural University, Indonesia
Sridhara, Shankarappa, University of Agricultural and Horticultural Sciences, India
Stanković, Jelena, University of Niš, Serbia
Sun, Zhenjun, China Agricultural University, China
Tarnanidis, Theodore, International Hellenic University, Greece
Tsiaras, Stefanos, International Hellenic University, Greece
Vacik, Harald, University of Natural Resources and Life Sciences (BOKU), Austria
Valenzuela, Lionel, Universidad Técnica Federico Santa María, Chile
Vlontzos, George, University of Thessaly, Greece
Vougioukas, Stavros G., University of California, Davis, USA
A few essentials for publishing in this journal
Submitted articles should not have been previously published or be currently under consideration for publication elsewhere.
Conference papers may only be submitted if the paper has been completely re-written (more details available here) and the author has cleared any necessary permissions with the copyright owner if it has been previously copyrighted.
Briefs and research notes are not published in this journal.
All our articles go through a double-blind review process.
All authors must declare they have read and agreed to the content of the submitted article. A full statement of our Ethical Guidelines for Authors (PDF) is available.
There are no charges for publishing with Inderscience, unless you require your article to be Open Access (OA). You can find more information on OA here.



Submission process

All articles for this journal must be submitted using our online submissions system.
View Author guidelines.