International Journal of Radio Frequency Identification Technology and Applications
This journal also publishes Open Access articles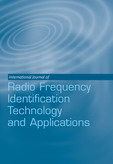 Editor in Chief

Dr. M.A. Dorgham

ISSN online

1745-3224

ISSN print

1745-3216
4 issues per year


IJRFITA provides the primary forum to report and address the fundamental engineering and physical issues of RFID tag operation and tag/reader communication. The tag technologies will include backscatter, chip-less RFID and other alternatives to the classical chip and antenna combinations. The perspective is one of the hardware physical and mathematical foundations as opposed to enterprise software communicating with readers and the commercial product numbering systems.
Topics covered include
Remote powering issues with passive RFID tags
Optimisation of communication protocols for minimising power consumption
Antenna design and analysis for specific types of RFID tags
Low cost tag manufacturing techniques
Test procedures for standardised performance evaluation
The advantages of both single and multiple frequency protocols including ultra wide band for identification and sensing
Early identification of potential areas for standardisation
More on this journal...
Objectives
The primary objective of IJRFITA is to establish a sound scientific basis for the wireless communication and powering of low cost identification and sensing elements that are attached to or embedded in products and items. The reported basic knowledge will provide a sound platform for the advancement of RFID technology to provide the predictability necessary to meet research and industry needs for this technology that connects to the fundamental things of this world. Another objective is to provide the forum for developing the testing procedures for the multiple application scenarios as RFID deployment reaches maturity.
Readership
IJRIFTA provides the focal point for academics, researchers and decision makers in the areas of RFID tag/reader research and development as well as a source of sound technical information for all potential users, manufacturers and value added suppliers of RFID equipment. Through a sound academic approach, IJRFITA will be read by researchers and potential manufacturers in industry and academia to provide new and robust technology.
Contents
IJRFITA publishes original research papers, survey papers, testing procedures and analytical verification of various electromagnetic models of performance. On some occasions, papers relating to the enterprise RFID deployment will be published when there is a strong connection to the physical tag and reader physical understanding.
Editor in Chief
Dorgham, M.A., International Centre for Technology and Management, UK
(supportinderscience.com)
Associate Editors
Billo, Richard E., Oregon State University, USA
Buckner, Mark A., Oak Ridge National Laboratory, USA
Engels, Daniel W., University of Texas at Arlington, USA
Ogirala, Ajay, University of Pittsburgh, USA
Sun, Yuan, Checkpoint Systems Inc., USA
Regional Editor Far East
Look, Law Choi, Nanyang Technological University, Singapore
Regional Editor Korea
Choi, Inchul, Advanced Digital Chips Inc., South Korea
Regional Editor North and South America
Porter, J. David, Oregon State University, USA
Editorial Board Members
Abercrombie, Robert K., Oak Ridge National Laboratory, USA
Burghard, Brion, Pacific Northwest National Laboratory, USA
Halliday, Steve, High Tech Aid, USA
Liu, Xiaoyu, Qualcomm Technologies Inc., USA
Peng, Han, General Electric Global Research Center, USA
Sai, Vyasa, Intel Corporation, USA
Seidman, Seth J., Food and Drug Administration, USA
Sejdić, Ervin, University of Pittsburgh, USA
Ukkonen, Leena, Tampere University of Technology, Finland
Zhu, Rongbo, South-Central University for Nationalities, China
A few essentials for publishing in this journal
Submitted articles should not have been previously published or be currently under consideration for publication elsewhere.
Conference papers may only be submitted if the paper has been completely re-written (more details available here) and the author has cleared any necessary permissions with the copyright owner if it has been previously copyrighted.
Briefs and research notes are not published in this journal.
All our articles go through a double-blind review process.
All authors must declare they have read and agreed to the content of the submitted article. A full statement of our Ethical Guidelines for Authors (PDF) is available.
There are no charges for publishing with Inderscience, unless you require your article to be Open Access (OA). You can find more information on OA here.



Submission process

All articles for this journal must be submitted using our online submissions system.
View Author guidelines.