International Journal of Public Law and Policy
This journal also publishes Open Access articles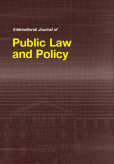 Editor in Chief

Prof. Giuseppe Mastruzzo

ISSN online

2044-7671

ISSN print

2044-7663
4 issues per year


CiteScore

0.7 (2022)

IJPLAP covers issues of public law and policy of international relevance. It includes thought-provoking contributions on how public international law obligations inform national approaches in a wide range of sectors, as well as on how the state's experiences contribute to shaping and advancing the international agenda. IJPLAP features articles, editorials, notes, commentaries, analyses of jurisprudence and legislation and book reviews written by leading scholars and practitioners working in law and related fields, such as economics, philosophy and political science.
Topics covered include
Traditional issues of public international law (including treaty law, institutional law and dispute settlement)
Human rights
Foreign and security policy, migration
Trade and investment
Taxation
Financial regulation
Competition
Intellectual property
Environment, energy and food security
Digitalisation and data protection
More on this journal...
Objectives
IJPLAP's main objective is to be the leading forum for information and critical discussion from a variety of international perspectives in the constantly evolving area of law and government. The world is changing fast and governments are facing many public policy challenges, legal issues of public interest and public policy relating to the many political, economic and social issues, in an open and uncensored intellectual discussion.
A major factor is the transition to the online world. This is reshaping public law and needs to scrutinised from a broad range of perspectives and disciplines as outlined below. IJPLAP aims to publish critical works of the highest quality exploring leading issues in depth. It seeks to promotes awareness, knowledge and discussion on matters of public law and examines global trends that carry public policy implications. It is committed to facilitating critical and creative thinking and to exploring new directions and perspectives.
Readership
IJPLAP readership includes academics, practitioners, judges, legislators and policy-makers around the world. It is essential reading for academics and practitioners who need to stay abreast of recent developments in public law and cutting edge public policy issues.
Contents
IJPLAP encourages the submission of original papers, case studies, commentaries, review articles and scholarly articles exploring leading issues from lawyers and social scientists worldwide.
Editor in Chief
Mastruzzo, Giuseppe, International University College of Turin, Italy
(gmastruzzoiuctorino.it)
Regional Editor Africa
Belay, Habtamu Simachew, Wollo University, Ethiopia
Regional Editor Middle East
Malkawi, Bashar H., H.H. Dubai Ruler's Court, United Arab Emirates
Editorial Board Members
Acuña, Roger Merino, Universidad del Pacifico, Peru
Arévalo, Daniel Peñailillo, University of Concepción, Chile
Ariano, Emanuele, Bocconi University, Italy
Boccheni, Giusto Amedeo, McGill University, Canada
Bojani?, Petar, University of Belgrade, Serbia
Brescia, Valerio, University of Turin, Italy
De Schutter, Olivier, University of Louvain, Belgium
del Barrio Arleo, María Cecilia, European Banking Institute, Germany
Farah, Paolo, West Virginia University, USA
Frankenberg, Günter, Goethe-Universität Frankfurt, Germany
Halevi, Joseph, International University College of Turin, Italy
Hallo de Wolf, Antenor, University of Groningen, Netherlands
Morison, John, Queen's University Belfast, UK
Poček, Jasna, University of Lundt, Sweden
Sarkar, Arpita, Jindal Global Law School, India
Shikaki, Ibrahim, Trinity College - Hartford, Connecticut, USA
Simo, Regis, University of the Witwatersrand, Johannesburg, South Africa
Stege, Ulrich, International University College of Turin, Italy
Teubner, Gunther, Accademia Nazionale dei Lincei, Italy
Toporowski, Jan, SOAS University of London, UK
Zanatta, Rafael, University of São Paulo, Brazil
A few essentials for publishing in this journal
Submitted articles should not have been previously published or be currently under consideration for publication elsewhere.
Conference papers may only be submitted if the paper has been completely re-written (more details available here) and the author has cleared any necessary permissions with the copyright owner if it has been previously copyrighted.
Briefs and research notes are not published in this journal.
All our articles go through a double-blind review process.
All authors must declare they have read and agreed to the content of the submitted article. A full statement of our Ethical Guidelines for Authors (PDF) is available.
There are no charges for publishing with Inderscience, unless you require your article to be Open Access (OA). You can find more information on OA here.



Submission process

All articles for this journal must be submitted using our online submissions system.
View Author guidelines.
Journal news
Music as diplomatic food for thought
30 November, 2022
Music has been at the heart of humanity for millennia. It allows us to express and share emotions in ways that are often difficult or impossible with spoken language. While musical tastes can vary from culture to culture there is the potential for ameliorating relationship problems through music, perhaps even at the level of international diplomacy. That is the suggestion posited in the International Journal of Public Law and Policy. Mayank Mishra of the Jawaharlal Nehru University (JNU) in New Delhi, India, has looked at how music might act as a diplomatic conduit through which relations between India and Pakistan might be improved. In this paper, Mishra traces the evolution of music and its role in bilateral politics, as well as the day-to-day lives of the people of both countries. Where political language and discussion are fraught with the problems of misinformation and the misconstrual of what is said between two parties, music offers a shared diplomacy through its long cultural legacy in this part of the world [...]
More details...