International Journal of Nuclear Law
This journal also publishes Open Access articles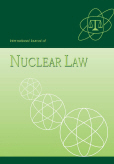 Editor in Chief

Associate Prof. Jakub Handrlica

ISSN online

1741-6396

ISSN print

1741-6388
4 issues per year

The matrix of laws and regulation which were established at the beginning of the nuclear industry does not lend itself to uniform categorisation. Nuclear law is in a continuous state of flux in order to adjust to technological developments and to manage the issues associated with their use. Considered as a reference work for both professionals and academics in the field of nuclear law, IJNucL provides up-to-date information on all major developments falling within the domain of nuclear law.
Topics covered include
Origins, uniqueness of nuclear law
Legislative process
Regulatory bodies, licensing, inspection, enforcement
Radiation protection, emergency preparedness/responses
Nuclear safety/regulation/prevention; management of nuclear accidents
Convention on Nuclear Safety and the Concept of Nuclear Safety Culture
Convention on Early Notification and the Convention on Assistance
Trade/transport of nuclear materials/equipment
Specificity of nuclear trade rules
Constraints imposed on international nuclear trade by nuclear export control regimes
Competition/deregulation: competition law in the nuclear field
Reliability of contractual relations in international nuclear trade
Legal status of repositories for long-lived radioactive waste
Nuclear liability/cover
International law issues raised by global terrorism
More on this journal...
Objectives
The goals of IJNucL are to provide a forum for thoughtful analysis focusing on issues of concern to nuclear law and regulations, to arrange for and promote studies and the knowledge of legal problems related to the peaceful use of nuclear energy under the special aspects of the protection of man and his environment, to help promote the exchange of information and to contribute the development of legislation governing the peaceful uses of nuclear energy. IJNucL will draw together, analyse and propagate on a world-wide basis, information on nuclear legislation, jurisprudence, international agreements, other relevant developments in the field of nuclear law.
Readership
Managers, legal practitioners, judges and academics, researchers, scholars, law firms, university law libraries, policy-makers, government agencies and departments, institutions.
Contents
IJNucL will publish high quality theoretical and practical issues, critical analysis of current issues from a wide variety of topics refereed and written to the highest standards, providing innovative and authoritative appraisals of current and emerging concepts, policies and practice about nuclear law. The journal style and dialogue will be inclusive and attempt to involve all those who are interested in issues of nuclear law.
IJNucL publishes original papers, theoretical (literature review based), empirical (work surveys and case studies) critically reflective work (thought-leadership commentaries) describing and developing pertinent insights into the broad subject matter, conference reports, relevant reports and news, book reviews and briefs. Commentaries on papers and reports published in the Journal are encouraged. Authors will have the opportunity to respond to the commentary on their work before the entire treatment is published.
Honorary Editor in Chief
El Baradei, Mohamed, , Austria
Editor in Chief
Handrlica, Jakub, Charles University, Czech Republic
(handrlicprf.cuni.cz)
Advisory Board
Cheong, Denise, National University of Singapore, Singapore
Heffron, Raphael, University of Dundee, UK
Johnston, Angus, University of Oxford, UK
Lakhno, Peter, Moscow State Lomonosov University, Russian Federation
Pielow, Christian, Ruhr University in Bochum, Germany
Quentin, Michel, University of Liege, Belgium
Reyners, Patrick, International Nuclear Law Association, Belgium
Talus, Kim, Tulane University, USA
Editorial Board Members
Al Faruque, Abdullah, University of Chittagong, Bangladesh
Ampovska, Marija, University "Goce Delcev", North Macedonia
Barnard, Michelle, University in Potchefstroom, South Africa
Bayazit, Bahar, Bilkent University, Turkey
Cook, Helen, Global Nuclear Energy Advisory, Australia
Danzi, Eliana, Studio Legale Danzi, Italy
Engstedt, Rasa, Permanent Representation of Sweden to the EU, Sweden
Jadalhaq, Iyad, Zayed University, United Arab Emirates
Jelovčić, Petra Amižić, University of Split, Croatia
Kecskés, Gábor, Széchenyi István University, Hungary
Kondylis, Vassilios, National and Kapodistrian University of Athens, Greece
Mallard, Grégoire, Graduate Institute of International and Development Studies, Switzerland
Mohan, M. P. Ram, Indian Institute of Management Ahmedabad, India
Mose, Tedd Moya, Environmental Change Institute, University of Oxford, UK
Novotná, Marianna, University of Trnava, Slovakia
Paile-Calvo, Sylvain, University of Liège, Belgium
Pentinnen, Sirja-Leena, University of Eastern Finland, Finland
Romanova, Viktoria V., Kutafin Moscow State Law University, Russian Federation
S, Nivedita, National University of Singapore, Singapore
Sancin, Vasilka, University of Ljubljana, Slovenia
Södersten, Anna, Swedish Institute for European Policy Studies, Sweden
Sousa Ferro, Miguel, University of Lisbon, Portugal
A few essentials for publishing in this journal
Submitted articles should not have been previously published or be currently under consideration for publication elsewhere.
Conference papers may only be submitted if the paper has been completely re-written (more details available here) and the author has cleared any necessary permissions with the copyright owner if it has been previously copyrighted.
Briefs and research notes are not published in this journal.
All our articles go through a double-blind review process.
All authors must declare they have read and agreed to the content of the submitted article. A full statement of our Ethical Guidelines for Authors (PDF) is available.
There are no charges for publishing with Inderscience, unless you require your article to be Open Access (OA). You can find more information on OA here.



Submission process

All articles for this journal must be submitted using our online submissions system.
View Author guidelines.